Review: Game of Thrones Episode 1 "Iron from Ice"
By Zach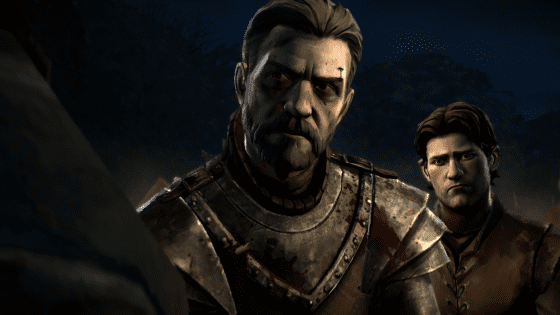 Telltale has been evolving their style from old school adventure games like Sam & Max to story driven adventures like The Walking Dead and The Wolf Among Us.  They've seemingly found the perfect next property for their unique blend of tough decisions and quicktime action with their newly launched Game of Thrones series.
Picking up between Season 3 and 4 of the HBO megahit (so spoilers if you are not caught up), you're thrust immediately into the fray as the members of House Forrester, as you must survive the infamous Red Wedding and then deal with the aftermath of your house losing it's main ally in the Starks.  What sets Game of Thrones apart from the other recent Telltale Games like The Walking Dead is that you'll be playing as five different characters scattered about Westeros, whether it's Gared, a Forrester squire who has to flee the wrath of the Boltons by going to The Wall, Mira Forrester, a handmaiden to Margery Tyrell in King's Landing or Ethan, the new lord of Ironrath, the Forrester keep.  There's not too much interaction between the characters in the first episode but it seems like there's definitely the possibility of a decision or conversation of one character rippling to the others, as Game of Thrones retains The Walking Dead and Wolf Among Us system of characters remembering your decisions and conversations.  With the multiple characters, it seems like you might not get quite as attached to them as say Lee or Clem from The Walking Dead, who you stuck with for the entire game and developed as a character.  The multiple characters does make the game seem like it will be more complex and interesting as you have to remember what you said as each character and try to keep in mind how it will affect House Forrester down the line, which perfectly ties into the political drama we've seen on the show.
As far as the gameplay goes, if you've played Walking Dead or any of the recent Telltale Games, you should feel right at home in Game of Thrones.  It has the same mix of dialogue choices, light exploration and quick-time action sequences.  The action sequences have gotten an upgrade in terms of the prompts and they are now crystal clear as far as what needs to be done in any given situation but also designed in such a way that that they don't get in the way of the action.  The real place where GoT shines though is in the various dialogue sequences.  Even more than Walking Dead, the dialogue options you choose are going to be the main factor in whether you win or you die and there's two big sequences where your negotiation skills will be put to the test.  You'll also face the usual grueling choices that you saw in other Telltale games, which are usually life or death but there's some, especially with Ethan Forrester, where you have to decide how to run Ironrath as lord and do things like deal punishments and choose your main advisor from two candidates.  You'll also get to see how your decisions matched other players at the end of the episode (I seemed to be in the minority for a number of them).  Since this is Game of Thrones and it's based on the show, you'll also be meeting and interacting with much of the cast from the show and the first episode features Natalie Dormer, Lena Headey, Peter Dinklage and Iwan Rheon as Margery, Cersei, Tyrion and Ramsey Snow respectively.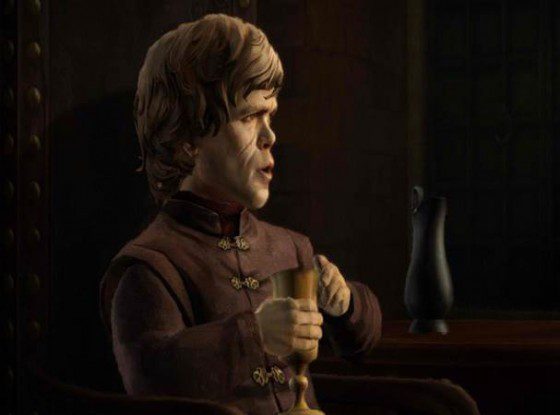 The stylized Telltale look is a little jarring at first when you see it applied to such recognizable actors but they all perform as great as on the show and there's more cast members coming in future episodes.  The rest of the voice cast is great as well and the look overall feels like the show but with the distinctive Telltale style that especially lends itself to facial animation and locations.  Ironrath looks fantastic and it's forested setting feels unique to anything we've seen on the show so far.
If you're a fan of Game of Thrones, this is a great way to get your fix before the next season and it's another fantastic entry in Telltale's recent catalog.  I'm definitely excited to see what my decisions in this episode do in the next episode and what GoT characters I'll run into next.
[rating=5]
Episode 1 of Game of Thrones is available on these dates on the various platforms:
Available Now on: PC/Mac, PS4 North America (SCEA)

Wednesday, December 3rd

– Xbox One, Xbox 360, PS4 Europe (SCEE)

Thursday, December 4th

– iOS via the App Store

Tuesday, December 9th

– PS3 SCEA

Wednesday, December 10th

– PS3 SCEE
I'm like the J. Jonah Jameson of Everything Action, writing and editing and constantly demanding pictures of Spider-Man.
Adventure
cersei lannister
game of thrones
HBO
house bolton
house forrester
house stark
iron from ice
margery tyrell
ramsey snow
red wedding
review
telltale games
tyrion lannister