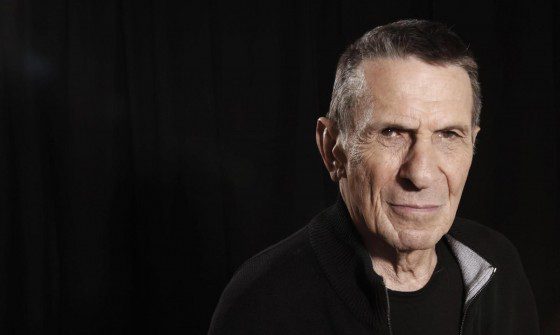 The world lost a legend today as Leonard Nimoy passed away at age 83 due to end-stage chronic pulmonary disease.  Nimoy cemented his legend status by playing Spock on the original Star Trek but he's had such a diverse, awesome career, dabbling in everything from music to photography to voice acting.
Nimoy portrayed Spock for 47 years, going back to the original series and through the motion pictures, appearances in the succeeding Star Trek series and, most recently, the link between the old and new school in JJ Abrams' Star Trek series:
Besides Star Trek, Nimoy was involved in all kinds of different projects, like the TV series "In Search Of…" where he lended his incredible gravitas to such ridiculous topics as Bigfoot, UFOs, remote viewing and other supernatural and paranormal topics, it was basically the 70's answer to Unsolved Mysteries:
https://www.youtube.com/watch?v=cHvRAWDQM3I
Nimoy also used his voice in projects like Atlantis: The Lost Empire, multiple appearances on The Simpsons and Futurama, Sentinel Prime in Transformers: Dark of the Moon, The Pagemaster and more.  He also had some forays into music, including the wonderfully bizarre "Ballad of Bilbo Baggins"
https://www.youtube.com/watch?v=AGF5ROpjRAU
Nimoy was also in tons of Westerns during the 50's and 60's prior to Star Trek, as most actors of that era were, and most recently, he was a recurring character on Fringe, Dr. William Bell, who is kind of the catalyst for all the crazy events that occurred during that series and he had a great back and forth with John Noble's Walter Bishop.  One of his other credits that kind of gets forgotten is that he directed not only Star Trek III and IV but also 3 Men and Baby:
and also Body Wars for Disney's EPCOT:
RIP Mr. Spock, boldly go to the next adventure.
I'm like the J. Jonah Jameson of Everything Action, writing and editing and constantly demanding pictures of Spider-Man.
3 men and a baby
atlantis the lost empire
bilbo baggins
body wars
futurama
in search of
leonard nimoy
News
RIP
spock
Star Trek
the pagemaster
the simpsons
transformers