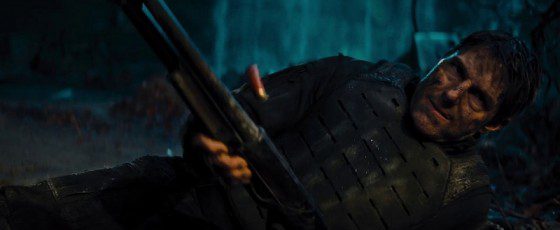 Amy Adams starring in HBO adaptation of Sharp Objects: Adams will star in an HBO series based on the novel by Gone Girl's Gillian Flynn, which finds a reporter who has to return to her hometown to investigate the murder of two teenage girls and reunite with her estranged mother and sister.  Jean-Marc Vallee, who directed Wild, will executive produce along with Jason Blum and screenwriter Marti Noxon.
Bioshock: The Collection gets rated by ESRB: Although it has not been officially announced, an upgraded collection of the Bioshock games was recently rated as M for PS4, Xbox One and PC on the ESRB website, so it should hopefully be confirmed soon.  It will most likely be very similar to the recent Nathan Drake Collection for Uncharted.
Sicario sequel may be on the way: Last year's excellent thriller Sicario may be getting a sequel, according to the producers.  A script is being written by the first film's screenwriter Taylor Sheridan and Benicio Del Toro, Josh Brolin and Emily Blunt are expected to return and the sequel would focus more on Benicio Del Toro's mysterious assassin character.
Starman getting a remake: John Carpenter's sci-fi romance Starman is apparently getting a remake at Sony.  The original starred Jeff Bridges as an alien who arrives on Earth and falls in love with Karen Allen.  The new movie will be directed by Night at the Museum/Real Steel director Shawn Levy.
Jessica Henwick cast as female co-star of Iron Fist: The Game of Thrones Sand Snake will play Colleen Wing in Iron Fist, a samurai turned PI and frequent ally of Danny Rand and Luke Cage.  She even teamed up with Misty Knight (who will be on the Luke Cage show) to form a team called The Daughters of the Dragon.
Script being written for Doctor Sleep movie: Akiva Goldsman, who previously wrote movies like The Da Vinci Code, The 5th Wave and both Schumacher Batman movies, is writing a script for an adaptation of Stephen King's sequel novel to The Shining, Doctor Sleep.  The book follows an adult Danny who has to use his psychic powers to protect a young girl from a "tribe of paranormals".
Dungeons & Dragons movie gets a director: Rob Letterman, who recently directed Goosebumps, will be directing the new movie version of D&D for Warner Bros.
Robin Wright joins the Blade Runner sequel: House of Cards' ruthless First Lady will be joining Harrison Ford and Ryan Gosling in the upcoming sequel to Blade Runner, although her character and the plot are still under wraps.  Sicario's Denis Villeneuve will direct the movie.
New Star Wars novel focusing on Ahsoka: Anakin Skywalker's apprentice is getting her own novel in the near future that seems like it will focus on what she was up to between Order 66 being given and her appearance on Star Wars Rebels.  The book will be out in October
Back to the Future: The Ride officially dead: The last running Back to the Future: The Ride attraction at Japan's Universal Studios will close on May 31st, leaving youtube as the only place to experience what was one of the best motion simulator rides of all time.
Texas Chainsaw Massacre BBQ resort coming to Texas: The gas station seen in the films was bought by Ohio businessman Roy Rose last year and it was announced this week that he will be turning it into a "BBQ Resort" themed around the movies.  The gas station be turned into a destination with a BBQ restaurant, a gift shop, a music stage, a movie screen and cabins for guests to stay at.  It's could possibly be open by July of this year in Bastrop, TX.
Moonbeam City cancelled: Comedy Central has cancelled their stylish and weird animated cop show after one season, leaving South Park to find another show to follow it yet again.
Ben Affleck has a solo Batman movie script written: Affleck was apparently working with DC's Geoff Johns on a project and it was announced this week that Affleck has a Batman script ready to go and it's one of a few WB has the option to use for the upcoming solo Batman movie that Affleck would star in and possibly direct.
Gambit movie delayed: Channing Tatum's Gambit was originally supposed to be out in the fall of this year but it's been delayed as script and casting details are still be hashed out.  Director Doug Liman is taking the delay to direct The Wall over at Amazon, which will be the site's first original movie on their Prime Video service.
The Blacklist getting a spin-off: The James Spader starring action show is apparently getting a spin-off following this season with Famke Janssen starring.  Janssen's character will be introduced in the May 5th episode of the show and then the pilot episode for a spin-off will basically be the 22nd episode of the season.  Janssen is playing Susan "Scottie" Halsted, who may be a Raymond Reddingtonesque character to Ryan Eggold's Tom Keene.
The Iron Giant coming to Blu Ray: Brad Bird's animated classic is finally coming to Blu Ray in September with a regular version and a massive collector's edition that will include an art book, art cards from Mondo and a statue of the Giant.  Both versions will be available on September 6th.
New Tales from the Crypt will have a Cryptkeeper, be stand alone episodes: M. Night Shyamalan was at the recent Wondercon and confirmed there will be a Cryptkeeper hosting the new TNT series, although he didn't confirm if it would be a puppet voiced by John Kassir or be more like the original comics Cryptkeeper.  The show will also be stand alone episodes like the original series and not be a season long arc like modern anthology series like American Horror Story.
Deadpool is the highest grossing R rated film of all time: Making $746 million dollar worldwide, Deadpool is now the highest grossing R rated film of all time, topping The Matrix Reloaded, which made $742 million worldwide.  It's still not the highest grossing domestic R rated film though, as The Passion of the Christ has $370 million to Deadpool's $349 milion.
I'm like the J. Jonah Jameson of Everything Action, writing and editing and constantly demanding pictures of Spider-Man.
ahsoka tanno
amy adams
back to the future: the ride
batman
ben affleck
bioshock
blade runner
deadpool
doctor sleep
dungeons & dragons
famke janssen
gambit
gillian flynn
HBO
iron fist
jessica henwick
moonbeam city
news shotgun
rob letterman
robin wright
sharp objects
sicario
star wars
starman
stephen king
tales from the crypt
texas chainsaw massacre
the blacklist
the iron giant