Movie of the Month: Small Soldiers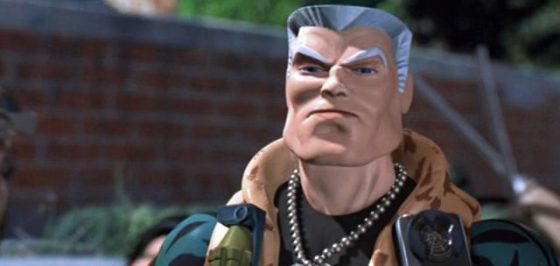 Arriving in the summer of 1998, Small Soldiers featured a war between two different factions of action figures and the humans caught in the middle:
Directed by Joe Dante, it attempted to do what he did with Gremlins and make a darkly comedic adventure but with all the sponsor tie-ins, like games, toys, board games and even a Small Soldiers branded NASCAR car, it had to be aimed more toward smaller kids than teens but the blend is still kind of off.  Being 12 in 1998 though, I know I was the perfect mark for the movie and had a bunch of tie in games but, strangely, none of the actual action figures.
The movie was the last on screen performance of Phil Hartman, who perfectly plays the smarmy Phil Fimple, father to Kirsten Dunst's Christy.  Of course, being a Joe Dante movie, Dick Miller appears as Joe, a delivery truck driver who sets things in motion when he agrees to let protagonist Alan Abernathy get a set of the Commando Elite and the Gorgonites for his father's small town toy shop.  Tommy Lee Jones voices the leader of the Commandos, Chip Hazard, and the rest of his crew is actually cast members from The Dirty Dozen, like Ernest Borgnine, Jim Brown and Bruce Dern while Frank Langella voices the heroic Archer, leader of the Gorgonites and the rest of that crew is actually members of Spinal Tap: Harry Shearer, Michael McKean and Christopher Guest along with the legendary Jim Cummings, who voiced characters like Darkwing Duck, Pete and Dr. Robotnik.  The movie also features a crazy cast of comedians in supporting roles like David Cross, Denis Leary, Jay Mohr, Wendy Schaal (Francine from American Dad) and a cameo from Cheri Oteri.
We'll dive into Small Soldiers at the end of the month and you can add it to your Netflix queue to get ready here: https://www.netflix.com/title/20129240
1998
action figures
archer
bruce dern
cheri oteri
chip hazard
christopher guest
commando elite
david cross
denis leary
ernest borgnine
frank langella
globotech
gorgonites
gregory smith
gremlins
harry shearer
jay mohr
jim brown
jim cummings
joe dante
kevin dunn
kirsten dunst
michael mckean
movie of the month
phil hartman
small soldiers
spinal tap
the dirty dozen
tommy lee jones
toy warfare
wendy schaal