Things are Insanely X-Treme in xXx: The Return of Xander Cage (Trailer)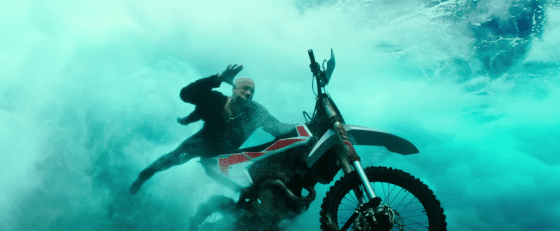 After the so-so attempt to have Ice Cube take over the franchise with State of the Union, Vin Diesel is back and bring his Fast & Furious sensibilities with xXx: The Return of Xander Cage.  Pulled out of hiding by the NSA, Cage has to infiltrate a deadly group led by Xiang (Donnie Yen), who have gotten their hands on a device called Pandora's Box that gives access to every military satellite on the planet.  Taking a cue from the Fast & Furious franchise and the millions it's made since rebooting as a team based action extravaganza, Cage has his own team of xtreme operatives including sniper Adele Wollf (Ruby Rose), tech expert Becky Clearidge (Nina Dobrev), driver Tennyson (Rory McCann) and a new NSA handler, Jane Marke, played by Toni Collette.  Tony Jaa is also in there somewhere and Samuel L. Jackson is back as Gibbons.  The stunts on display are on a completely other level from the previous xXx movies, including Xander riding a motorcycle into the ocean, skiing on a snowless jungle mountain and skateboarding downhill on a winding urban street.  This thing looks insane in the best way possible and it's out in January, check out the trailer below.
I'm like the J. Jonah Jameson of Everything Action, writing and editing and constantly demanding pictures of Spider-Man.
donnie yen
gibbons
january 2017
nina dobrev
nsa
rory mccann
samuel l jackson
satellite hijacking
the return of xander cage
toni collette
tony jaa
vin diesel
xtreme sports
xtreme stunts
xxx