Battle at the Box Office 4/2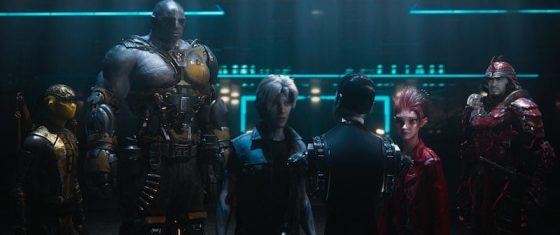 Steven Spielberg wasn't fooled over the Easter weekend, getting his biggest opening in 8 years with Ready Player One taking the top spot at the box office.
Ready Player One brought in $53.2 million for it's four days out, as it released on Thursday last week.  It's the fourth best opening overall for Spielberg, topping both Jurassic Park and Minority Report and sitting behind Indiana Jones and the Kingdom of the Crystal Skull, The Lost World and War of the Worlds.  As far as adaptations of sci-novels go, RPO is sitting between The Martian and The Divergent Series: Insurgent.
Acrimony took second place with $17.1 million, Tyler Perry's 14th best opening overall but his sixth best opening that wasn't a Madea movie.  It was just shy of the openings for his movies For Colored Girls and The Family that Prays and almost double what star Taraji P. Henson's Proud Mary made earlier this year.
Black Panther dropped to third place with another $11.3 million, bringing it's domestic total to $650.7 million and it's worldwide gross to over $1.273 billion.  On the all time worldwide charts, it's currently 11th and it's the fifth highest grossing film of all time domestically (or 36th adjusted for inflation between Shrek 2 and Butch Cassidy and the Sundance Kid)
I Can Only Imagine and Pacific Rim Uprising rounded out the top 5, with the former seemingly taking all the Christian/faith audience from its competition with another $10.7 million while Uprising nosedived and lost almost 70% of its box office from last weekend, only making another $9.2 million, although it has $186 million internationally for $231.9 million total for two weeks out.
Further down the charts, Tomb Raider and A Wrinkle in Time both lost over 1,000 theaters and dropped to eighth and ninth place respectively and both with around $4.7 million.  The weekend's other new release, God's Not Dead: A Light in the Darkness, opened outside the top 10 in 12th place with only $2.6 million. It's predecessor made $7.6 million and the original God's Not Dead made $9.2 in less than half as many theaters.  A Light in the Darkness was the fifth best opening overall though for Pure Flix, between Do You Believe? And Same Kind of Different as Me.
a wrinkle in time
acrimony
Battle at the Box Office
black panther
easter
god's not dead: a light in the dark
holiday weekend
i can only imagine
pacific rim: uprising
ready player one
spielberg
tomb raider
weekend box office