Battle at the Box Office 4/9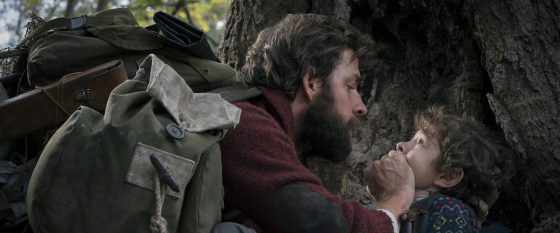 A Quiet Place had a massive debut for starring couple John Krasinski and Emily Blunt with one of the best recent openings for the horror genre.
A Quiet Place opened to $50 million, the best opening ever for Emily Blunt and the best live action debut for John Krasinski and also easily Krasinski's best opening as a director, since it was his first wide release.  Compared to other big recent horror movies, it topped all the Conjuring films and it's spin-offs, Split, all the Paranormal Activity films except #3 and all the Insidious films. It's also critically acclaimed with 97% on Rotten Tomatoes and got an OK "B+" from audiences responding to CinemaScore.
Ready Player One dropped to second place with another $25 million but it held on much better than anticipated, only losing 40% of last week's opening and just shy of $97 million domestically for its two weeks out.  Worldwide, the movie has made over $391 million.
Blockers opened in third place with $21.4 million, higher than Game Night's opening in February and in the general area of other R rated comedies like Neighbors 2, The 40-Year Old Virgin and This is the End.  For John Cena, it's not quite up to the two most recent comedies he was featured in, Daddy's Home 2 and Trainwreck but it's $8 million up from Sisters and last year's animated Ferdinand.
Black Panther dropped to fourth place with another $8.4 million, making its domestic total over $665 million and it's now the third highest grossing domestic release of all time, behind Avatar and The Force Awakens.  On the Adjusted for Inflation charts, it's now #34, passing Ghostbusters and just behind animated Disney classics Sleeping Beauty and The Jungle Book. Worldwide, Black Panther has made $1.299 billion.
I Can Only Imagine remained strong, rounding out the top 5 with another $8.4 million and only dropping another 20% from last week and it actually gained 246 more theaters.  It's made over $69 million so far and is currently the 6th highest grossing Christian/faith based movie of all time.
Outside the top 5, Kennedy drama Chappaquiddick outperformed expectations with $6.2 million, taking sixth place while Isle of Dogs expanded wider and took in another $4.6 and just made it into the top 10 before it's nationwide release next weekend.
Debuting outside the top 10, volleyball drama The Miracle Season only had $4.1 million for an opening but the audience that did see it gave it an "A" Cinemascore.  It's opening puts it between the lost Rob Lowe/Patrick Swayze hockey movie Youngblood and the Christian focused football drama Woodlawn.
I'm like the J. Jonah Jameson of Everything Action, writing and editing and constantly demanding pictures of Spider-Man.
a quiet place
all time box office
Battle at the Box Office
black panther
blockers
chappaquiddick
emily blunt
i can only imagine
john cena
john krasinski
ready player one
the miracle season
weekend box office totals