Battle at the Box Office 5/28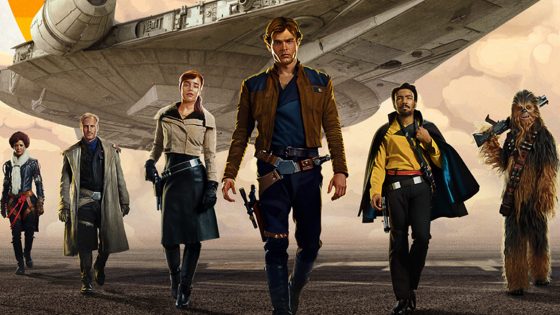 Whether it was the behind the scenes drama, the late debut of any promotion, the fact that it's only been a few months since The Last Jedi was out or a combination of those and more, Solo: A Star Wars movie had a disappointing opening by modern Disney/Star Wars standards.
For the regular weekend, Solo took in $84.7 million, which is $71 million below where Rogue One opened and $150+ million off from the openings of The Force Awakens and The Last Jedi.  With the Memorial Day holiday today, Disney is estimating a possible additional $20 million more that will put it just barely over $100 million but it's a huge chink in the armor for the current age of Star Wars.  Worldwide, Solo took in $65 million, so it's grand total for the weekend is $168 million but it cost over $300 million to make plus who knows how much in advertising, so it might end up costing Disney quite a bit. It also probably won't get any boost from China, as the Chinese proved with The Last Jedi that they couldn't care less about anything from a galaxy far far away.  If you adjust for inflation, Solo had the seventh best opening for Star Wars but it's behind all three prequels and all the prior new Disney movies.
Deadpool 2 dropped to second place with another $43.4 million, which was a pretty massive 65% drop off from last week's huge opening.  It's about $13 million off from where the first movie was in its second weekend and it's currently the 11th highest grossing R rated film of all time, sitting $7 million behind its friendly rival Logan.
Infinity War dropped to third with $17.4 million, bringing its domestic total to over $622 million.  Worldwide, it has made over $1.9 billion and is the fourth biggest opening of all time worldwide and the sixth highest grossing film of all time domestically.
Book Club and Life of the Party rounded out the top 5 and both seem to be benefiting from their role as counter programming to the big action blockbusters, as both films had a less than 30% drop from last weekend.  Book Club has made just over $32 million so far while Life of the Party is closing in on $40 million.
Elsewhere on the charts, Show Dogs continues to be an epic disaster, with the studio being forced to hastily re-cut and resubmit the movie to theaters after many critics and parents expressed concerns that it seemed to be condoning the tactic of "child grooming" that sexual predators use and dropped 45% from last weekend's already terrible opening with a measly $3.3 million.  On the flip side, documentary RBG is continuing it's fantastic limited run with another $1.3 million and is on track to potentially become distributor Magnolia's highest grossing film.
I'm like the J. Jonah Jameson of Everything Action, writing and editing and constantly demanding pictures of Spider-Man.
a star wars story
avengers
Battle at the Box Office
book club
controversy
deadpool 2
han solo
infinity war
life of the party
memorial day
RBG
show dogs
solo
star wars
weekend box office