Battle at the Box Office 6/4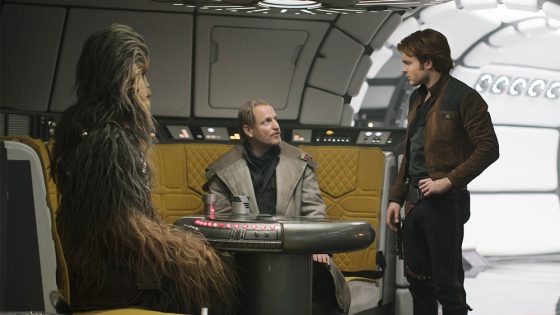 Solo remained on the top of the box office charts but it is definitely not performing anywhere near where Disney wanted it to be.
Solo made another $29.3 million, bringing it to $148 million domestically and $264 million worldwide.  Solo had a 65% drop off from last weekend and it's combined worldwide gross is $22 million below where Rogue One's domestic gross was in the same time frame and it's, at best, $138 million off from where Rogue One was domestically and, at worst, a staggering $392 million off where The Force Awakens was in the same 10 day period.  The budget was $250 million, which normally doesn't include promotion like commercials, posters, etc. and Disney could lose at least $50 million on the movie.
Deadpool 2 remained in second, and actually overtook Solo on the international charts, making another $23.3 million and bringing its domestic total to $254.6 million.  It is still about $109 million off from its predecessor but did jump into the top 150 all time worldwide at #140.
Adrift did the best of the new movies that kicked off June with $11.5 million.  That puts it slightly above last year's romantic survival drama The Mountain Between Us and the fifth best opening for Shailene Woodley, behind the Divergents and The Fault in Our Stars.  It was the third best opening for director Baltasar Kormakur, behind his Mark Wahlberg movies 2 Guns and Contraband.
Infinity War and Book Club rounded out the top 5, with the former only $35 million away from crossing over $2 billion worldwide. If it does it, it will become the fourth film in history to achieve that feat.
Upgrade took sixth place with $4.4 million but, since it's Blumhouse, it is most likely already or very close to being profitable.  It's the lowest opening as a writer and director for Leigh Whannell. Insidious Chapter 3 opened to $22 million for him as a director and the closest movie he wrote is Dead Silence, which opened to $7.8 million.
Action Point bombed in ninth place with $2.3 million.  All the Jackass movies opened to at least somewhere over $20 million, with Jackass 3D topping the heap with over $50 million for its opening.  Action Point's opening was one of the top 25 worst opening for a movie in 2,000-2,500 theaters, coming in 23rd between Deception and I Dreamed of Africa.
Documentary RGB took in over $1.1 million and is now officially the highest grossing release for distributor Magnolia.  Also in limited release, American Animals, a movie that MoviePass purchased and distributed with The Orchard took in $140,629 in four theaters for an extremely solid $35,157 per theater average.
I'm like the J. Jonah Jameson of Everything Action, writing and editing and constantly demanding pictures of Spider-Man.
a star wars story
action point
adrift
american animals
Battle at the Box Office
blumhouse
book club
box office
deadpool 2
infinity war
jackass
rgb
solo
upgrade