The Pull List – Dork Hardcover Edition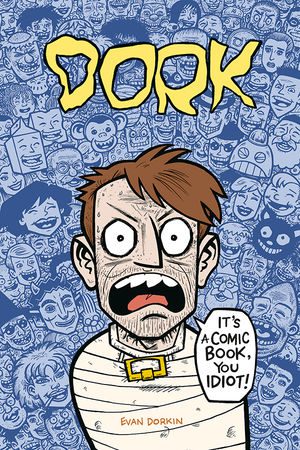 Take a peek into the mind that brought the world Milk and Cheese in a comic series that's a mix of dark humor vignettes and the coherent ramblings of a nerdy cartoonist. Evan Dorkin's Dork is a anthology series of short comics that represented his views on family, pop culture, commercialism, violence, Fisher-Price toys and many other random twisted thoughts that were drawn into panels by Dorkin. The Dork was published in the early 90's, completing a eleven issue run from SLG Publishing and appearing in various other comics and magazines. This hardcover edition of Dork contains select comic strips from the original Dork issues, with additional material from other works and a cover gallery. The entire collection is written and drawn by Evan Dorkin, with additional colors done by Sarah Dyer. 
Dork is a bizarre and funny comic that feels like the crude humor and embarrassing stories you only share with your best friends. The strips can range from simple satire to scenes of ultra violence, shocking the reader into seeing what weird ways Dorkin can make you laugh or gross you out. Dork is a great read for comic fans that enjoys inappropriate and black humor. Fans of the sketch show Robot Chicken will find this comic familiar and just as hilarious in tone. There are few subjects that Dorkin won't poke fun of and for comic fans that have a great sense of humor, then Dork should be a reading experience worth checking out. 
Dork Hardcover will be released July 18th 2018
Bitten by a radioactive video store rental employee and overcome by Pac-Man fever, Chris seeks new comic books, games, and movies to review.
dark horse comics
Dork
Evan Dorkin