The Pull List – Stranger Things #4
By Chris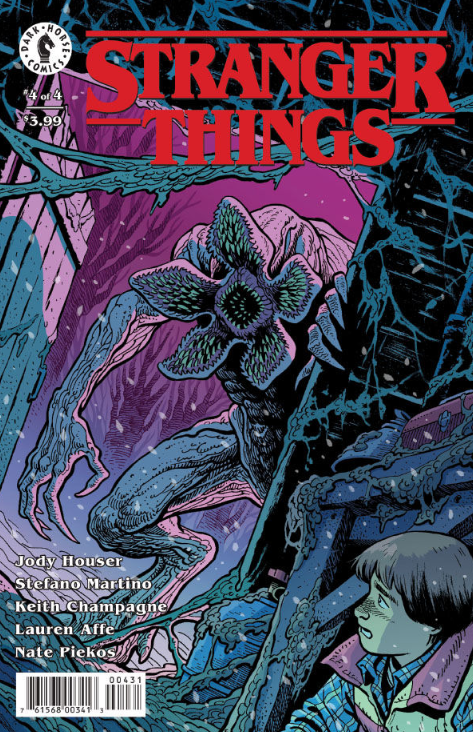 Tired, hungry and scared, Will reaches the breaking point of the Upside Down. Will has been on the run from the Demogorgon and the fatigue of the hunt has pushed WIll to his limit. Haunted by hallucinations and cryptics visions, his mind has begun to play tricks on his sanity. The ghostly world of the Upside Down is tightening its grip on Will, but how much longer can he hold out until he gives up hope of ever escaping?
The disturbing and grim surroundings of the Upside Down has toyed with Will long enough and his body is now slowing down from being in this world. Will has been locked in a place that is both familiar and foreign, never having a moment to feel safe. Time has lost all meaning when the perpetual darkness and isolation warps all sense of reality. Now at his most vulnerable state, Will digs within himself to find one last ounce of hope to see his way back home.
Jody Houser's expansion of Will Byer's story during the events of Stranger Things season one explores his character to reveal not just a boy locked away, but a young survivor facing extraordinary peril. Houser directs Will to undergo a terror pushes him to confront fears beyond his imagination and WIll finds the strength to endure the challenge that would slam most people. Will's trust in himself and others to find a way back home empowers his every move, up until his evidential fate in the Upside Down. Will gets a glimmer of events to come from the forces in the Upside Down, pressing the trouble dealings for the citizens of Hawkins, Indiana. Stranger Things fans should not miss out on this chilling adventure that shows Will horrifying moments in the Upside Down.
Stranger Things #4 will be on sale January 2nd, 2019.
Bitten by a radioactive video store rental employee and overcome by Pac-Man fever, Chris seeks new comic books, games, and movies to review.
comics
dark horse comics
netflix
stranger things