Everything Action Theater: Where On Earth is Carmen Sandiego?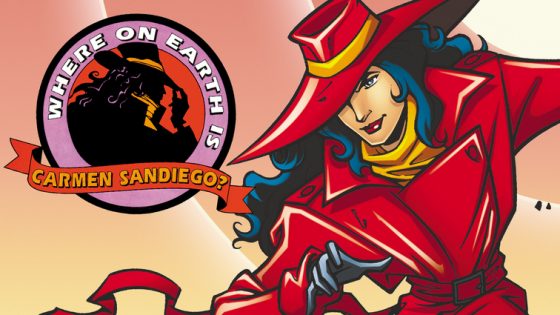 With the new Carmen Sandiego hitting Netflix tomorrow, it seems like the perfect time to revisit the 90s version, "Where On Earth is Carmen Sandiego?".  Part of an all-out onslaught of Carmen related media, including the games, books and the classic PBS gameshow (which was getting toward the end of it's run when Where On Earth started in 1994), Where On Earth is Carmen Sandiego? was an edutainment action/adventure show on Fox Kids where the "Player" (who is essentially controlling the action of the cartoon as a Carmen Sandiego PC game) helped ACME detectives (and siblings) Ivy and Zack chase down Carmen and whatever priceless artifact she happened to steal that week.  There were trivia bits and educational segments sprinkled throughout, usually when Zack and Ivy arrived in a new locale, presented by "The Chief", an extremely energetic AI who guides Zack and Ivy and The Player through each week's adventures.  The show was extremely well regarded and won a Daytime Emmy in 1995 for Outstanding Children's Animated Program, beating Animaniacs, Aladdin, and The Little Mermaid and the voice cast was stacked with legendary Rita Moreno voicing Carmen, Jennifer Hale voicing Ivy and Rodger "Squidward" Bumpass voicing The Chief.  You can check out the entire first episode below, as Zack and Ivy try to catch Carmen after she steals the face off Vincent Van Gogh's famous 1889 self-portrait.
I'm like the J. Jonah Jameson of Everything Action, writing and editing and constantly demanding pictures of Spider-Man.
1994
90s
broderbund
carmen sandiego
emmy winning
fox
globe trotting
ivy
jennifer hale
priceless artifiacts
rita moreno
rodger bumpass
the chief
the player
where on earth is carmen sandiego?
zack