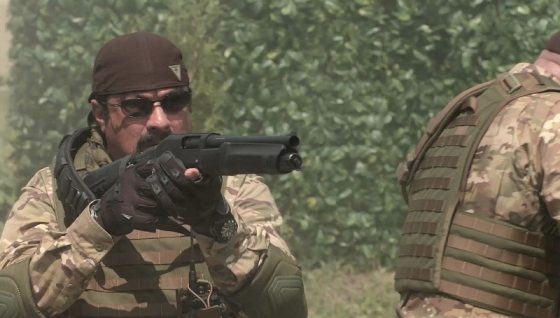 Toy Fair 2019 Reveals: Toy Fair is happening in NYC and some cool new products were revealed over the week.  There will be a Universal Monsters board game called Horrified where you and up to 5 players can team up to battle Dracula, Frankenstein's Monster, the Bride, The Invisible Man, The Wolf Man, The Mummy, and The Creature from the Black Lagoon.  There was also an official Jaws board game revealed that plays out in two acts with one player controlling Jaws and the other players having to first locate him in the waters around Amity Island and then battling it out on the Orca. Finally, Hasbro revealed that they are making a mash-up figure of Ecto-1 from Ghostbusters that transforms into a Transformer. It will be a Gamestop exclusive this summer.
Dune gets a release date and adds two more cast members: With what might be the most impressive cast ever assembled, Denis Villeneuve's Dune will arrive in November 2020.  Josh Brolin and Jason Momoa were announced as part of the cast this week as well and the cast also includes Timothee Chalamet, Javier Bardem, Rebecca Ferguson, Stellan Skarsgard, Dave Bautista, Oscar Isaac, and Zendaya.
Jason Bourne Stun Show may be coming to Universal Orlando: After Terminator 2 3D closed in 2017, there has been nothing put in its place but there's a rumor that Universal may be looking to create a Jason Bourne attraction that would feature live stunts and some sort of filmed portion with Matt Damon.  Comcast, Universal's parent company, apparently wants more of Universal's IP in the parks and the Bourne franchise has made a combined $1.6 billion worldwide, so it's apparently high on the list for theme park inclusion.
The Goldbergs will have a Highlander episode: The Goldbergs has featured a few brilliant themed episodes each season, most recently a hilarious Major League tribute,  we are getting a Highlander themed episode featuring Clancy Brown, who currently plays shop teacher Mr. Crosby on The Goldbergs and it's new spin-off, Schooled.  Adam Goldberg revealed that they are going to be replicating the sword choreography and costumes from the movie and got Queen's approval for music.  The episode is actually airing this coming week, on February 20th, so tune in or set your DVR.
Two Alien TV shows in development for Hulu: There are apparently two shows set in the Alien universe being developed for Hulu.  One of the shows will be produced by Ridley Scott and they both could explore different eras and unseen areas of the Alien universe but there's very little detail available.
Transformers animated prequel series coming to Netflix:  Hasbro has partnered with Rooster Teeth for an animated prequel series called Transformers: War for Cybertron.  The series will explore the time before the Transformers arrived on Earth and it will debut in 2020 on Netflix.
Urban Outfitters selling mystery VHS boxes:  Hipster clothing brand is trying to cash in on the massive 90s nostalgia wave we are in by selling mystery boxes of VHS tapes for $40.  The movies are all comedies from the 90s and a sample image includes VHS copies of A Night at the Roxbury and The Waterboy.  It seems you're mostly paying for irony, as you can literally go to any flea market or garage sale and find most of the tapes they are selling for $1 or less each.
Hellboy craft beers on the way: Just in time for the new movie, there are six craft beers based on Hellboy coming soon.  Oregon's Gigantic Brewing Company is making the beers which feature Mike Mignola art on the labels and are a Maple Syrup Pancakes beer for Hellboy, a Chocolate Mole Stout for Liz Sherman, a Citrus Wit for Dr Kraus, a Indigo Fruit Ale for Abe Sapian, a Cranberry Yuzu Sour for the Blood Queen and a British Barleywine for Dr. Bruttenholm.  The beers will first be available at Emerald City Comic Con and an off-site location near the brewery will also have them and the Hellboy flavor will be available nationwide on March 23rd.
Are You Afraid of the Dark? coming back to Nick: There's an Are You Afraid of the Dark? movie coming to theaters on October 4th this year but it was revealed this week that there will also be a revival mini-series of the TV show on Nickelodeon to coincide with the movie.  The new series will feature new members of the Midnight Society telling spooky stories around the campfire but it's not known if all the stories will be new or if there will be a few remakes of classic episodes from the original run.
Star Trek animated series coming to Nick: Also coming to Nick is a new animated series set in the Star Trek universe, although the particulars were not revealed yet so we don't know if it's TOS or TNG or the Kelvin timeline.  The showrunners are Kevin and Dan Hageman, who have worked on Trollhunters and the Lego Ninjago shows as well as movies like The Lego Movie and Hotel Transylvania.
All That coming back to Nick: The final bit of Nickelodeon news this week is that All That is being revived with a new cast of kids and Kenan Thompson as executive producer.  Nickelodeon president Brian Robbins said that along with the new cast, some of the original cast would most likely return for cameos, possibly reviving some of their famous characters.  There's no word on when the new All That will debut on Nick.
Terrifier 2 on the way: A sequel to Terrifier, featuring the horrifically sadistic Art the Clown, has just gotten a completed screenplay and they are looking to begin shooting soon.  David H. Thornton will return as Art to terrorize a new group of victims.
Batman vs TMNT movie on the way: Warner Bros. Animation, DC Entertainment, and Nickelodeon are teaming up for an animated adaptation of the Batman/Teenage Mutant Ninja Turtles comic crossover.  Troy Baker will be voicing both Batman and The Joker, Darren Criss will voice Raphael, Kyle Mooney will voice Michaelangelo, Baron Vaughn is voicing Donatello, Eric Bauza is Leonardo, Rachel Bloom is Batgirl, Tom Kenny is The Penguin, John DiMaggio is Mr. Freeze, Tara Strong is Harley and Ivy, Carlos Alazraqui is Bane and Cas Anvar is Ra's Al Ghul.  The movie will arrive sometime in late spring this year.
Chris Evans starring in Infinite from Antoine Fuqua: Chris Evans is starring in a new potential sci-fi franchise-starter Infinite for Equalizer director Antoine Fuqua.  Evans is playing Evan Michaels, a man who is seeking to join the ranks of a secret society, the Cognomina, whose members have total recall of all their past lives and use their knowledge to shape events throughout history.  It's based on D. Eric Maikranz's novel The Reincarnationist Papers.
Crank Yankers coming back to Comedy Central: Comedy Central is apparently looking to revive their prank calls and puppets series Crank Yankers.  The revival has gotten a 20 episode order from Comedy Central with Jimmy Kimmel and Adam Corolla back as producers and will expand beyond phone calls into the realm of social media and e-sports.
Epix debuts standalone streaming service: Epix has joined their fellow premium cable movie channel competitors by revealing a new stand-alone streaming service called Epix Now.  The service will be $5.99 a month and features Epix's library of movies from MGM, Paramount and Lionsgate along with original shows like Get Shorty, Berlin Station and Deep State.  The Alfred prequel series Pennyworth is also coming to the network soon.
Counterpart canceled at Starz: The brilliant JK Simmons sci-fi espionage show Counterpart has been canceled by Starz after two seasons.  The show was essentially a Cold War spy thriller but instead of the US vs USSR, it involved two parallel Earths, with most of the cast playing two roles.  Justin Marks hopes they can potentially find a new home for future seasons but the now series finale airs this coming Sunday.
The Devil in the White City limited series coming to Hulu: In development for years as a movie, Martin Scorsese and Leonardo DiCaprio are bringing The Devil in the White City to Hulu as a limited series.  Scorsese was going to direct the movie with DiCaprio starring as serial killer HH Holmes, who terrorized the 1893 Chicago World's Fair by building a massive hotel that lured in unsuspecting travelers who were murdered in various horrific ways.  Scorsese and DiCaprio are both producing the now TV series but it's not clear if they will be any more involved.
Marvel Animated Shows coming to Hulu: Also coming to Hulu are multiple adult-oriented Marvel animated shows.  Kevin Smith is producing a Howard the Duck series with David Willis, Patton Oswalt has MODOK with Jeph Loeb and Jordan Blum, Josh Gordon and Will Speck have Hit-Monkey and Erica Rivinoja and Chelsea Handler have Tigra and Dazzler.  All the shows will cross-over in a limited series called Marvel's The Offenders.
Savage Avengers comic announced: Conan the Barbarian is coming back to the Marvel Comics universe in a huge way, with two new solo series and he's also leading a new team called Savage Avengers.  The new series will be written by Gerry Duggan with art by Mike Deodato and features Conan, The Punisher, Venom, Elektra, Wolverine and Brother Voodoo and the unsanctioned team will be investigating a sort of magical black market where evil sorcerer's from Conan's world are trading magical items and spells to the likes of The Hand.  The team's first mission sends them into the Savage Land and the book debuts in May.
Chris Pratt starring in Ghost Draft sci-fi movie: Chris Pratt has signed on to star in a new sci-fi movie called Ghost Draft from Lego Batman director Chris McKay.  Skydance is producing the movie but there's really no other details besides the fact that it will be "grounded" sci-fi.
Breaking Bad sequel movie coming to Netflix, then AMC: The Breaking Bad sequel movie was officially confirmed this week as starring Aaron Paul and it will take place after the events of the show's series finale.  The movie will actually debut on Netflix first before airing sometime later on AMC.  There's no release date yet but it seems like possibly sometime in 2020.
I'm like the J. Jonah Jameson of Everything Action, writing and editing and constantly demanding pictures of Spider-Man.
Alien
all that
antoine fuqua
are you afraid of the dark?
art the clown
batman vs tmnt
board games
breaking bad
chris evans
chris mckay
chris pratt
counterpart
craft beer
crank yankers
dune
epix now
ghost draft
ghostbusters
hellboy
highlander
howard the duck
hulu
infinite
jason bourne
jason momoa
jaws
jesse pinkman
josh brolin
Marvel
News
news shotgun
ridley scott
savage avengers
Star Trek
streaming
stunt show
terrifier 2
the devil in the white city
the goldbergs
toy fair
transformers
universal monsters
universal orlando
urban outfitters
VHS