The Pull List – The Witcher: Of Flesh and Flame #4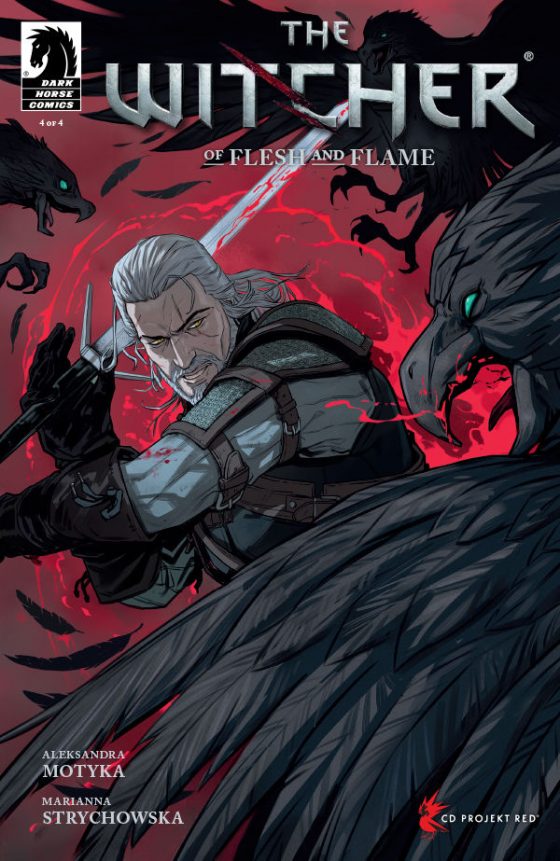 Imprisoned by King Nibras, Geralt faces judgment for his past encounters in the Ofieri kingdom. Wanted for the murder of a princess and the courtesan Zaira, King Nibras prepares to condemn the witcher to death. Dandelion persuades the king's court to let justice be served in their proper fashion, leaving Geralt a fighting chance. However, Radeyah watches over the proceeding, ensuring her malicious plan reaches its final act.
Geralt and Dandelion find themselves trapped in enemy land after a betray from a presumed ally. The pair initially thought they had found support to escape from Ofieri, but played right into the hands of the actual mastermind behind the murders. Unfortunately for Geralt, he realized the truth after he was captured. The charming Dandelion was able to keep his noble status with the King and associate with the right people. Dandelion calls in all his favors in a desperate attempt to save Geralt.
The Witcher: Of Flesh and Flame is an exciting story that appeals to all fans of the series. This mini-series is easily accessible for anyone to pick up and read without much knowledge of the previous works. Aleksandra Motyka delivers a tight and focused narrative, establishing great murder mystery that doesn't become overly complicated. Geralt is portrayed just like his video game adaptation: calm and a little arrogant at times. While he seems in control of his situation most of the time, he finds way people's true intentions at the worst times. Marianna Strychowska and Lauren Affe provide great visuals that accent the story with fun character expressions and action sequences. The Witcher: Of Flesh and Flame is an entertaining comic that keeps true the original source and gives a satisfying read.
The Witcher: Of Flesh and Flame #4 will be on sale on April 3rd, 2019.
Bitten by a radioactive video store rental employee and overcome by Pac-Man fever, Chris seeks new comic books, games, and movies to review.
CD Projekt Red
comics
dark horse comics
the witcher
The Witcher: Of Flesh and Flame
video games