The Pull List – Planet of the Nerds #2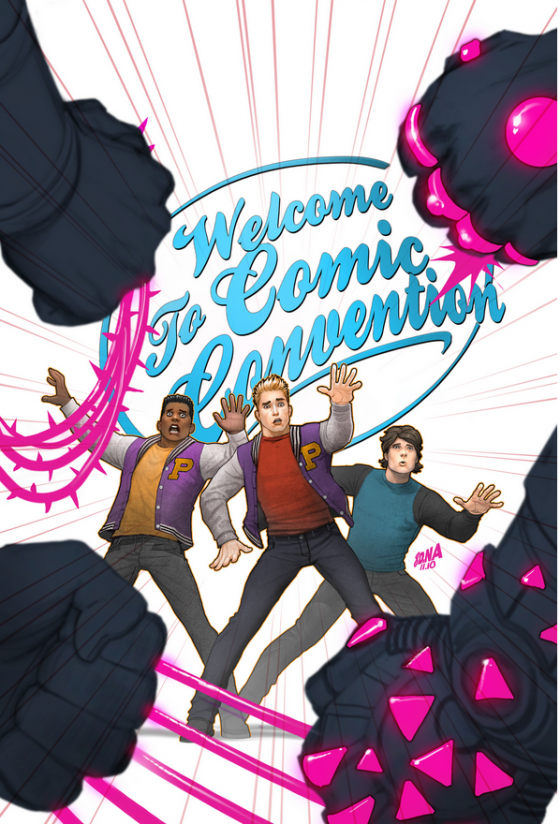 Planet of the Nerds #2 is packed with two comics and two short stories. The frozen jocks of the 80s walk into a convention dedicated to nerds of comics in this issue of Planet of the Nerds: War for The Planet of the Nerds, written by Paul Constant, illustrated by Alan Robinson, and colored by Felipe Sobreiro. A comic origin of one of the jocks experience handling his identity and society in Drew Johnson: Testing Week. A man starts in line to see a piece of the future in The Wait, written by Martyn Pedler and art by Dan Schoeneck. A ceremonial romance is presented as a sonnet in Love Story, by Lisa R. Jonté, with art by Lea H. Seidman.
In War for The Planet of the Nerds, Jocks Chad and Drew, and the reluctant Steven find themselves as strangers in their hometown. To make matters worst, they stumbled in a comic convention. Nerds have dressed up in costumes, can openly talking about their hobbies and take pictures on pocket devices. The nerd-hating Chad didn't see people having fun, but new victims to get bullied. In his frustration, Chad lashes out and starts a riot. The time-displaced trio must avoid trouble from the law while on the lookout for a pay phone to call home.
Paul Constant hilarious drops the 80s bullies into the loud and geeky celebration that are comic conventions. Instead of avoiding the nerds, the trio of teenagers immediately gets the crowd of nerds riled up. Unsurprisingly, today's nerds do not take kindly to some regressive behaviors of the 80s.
Drew Johnson: Testing Week explores the past of jock of Drew Johnson before the events of Planet of the Nerds. In Drew's story, it is testing week at the high school and this will determine if Drew is capable of achieving advance placement in his education career. Taking inspiration from his love of comics and his father's advice, Drew dedicates himself to be an excellent student. But the hard work and testing can go so far if the people at the top don't expect him to success.
The story of Drew Johnson is an unfiltered story that takes an honest look at how labels and biases views can limit someone's potential. Paul Constant does not offer a humous in this story. Going straight for the unfortunate experience that many people had suffered, Constant reveals a painful moment that forever changes Drew outlook on life. Testing Week captures Drew's character development with great emotional depth and works perfectly for a side story.
Planet of the Nerds #2 will be on sale on May 15th, 2019.
Bitten by a radioactive video store rental employee and overcome by Pac-Man fever, Chris seeks new comic books, games, and movies to review.
Ahoy Comics
comics
Planet of the Nerds