The Pull List – Planet of the Nerds #4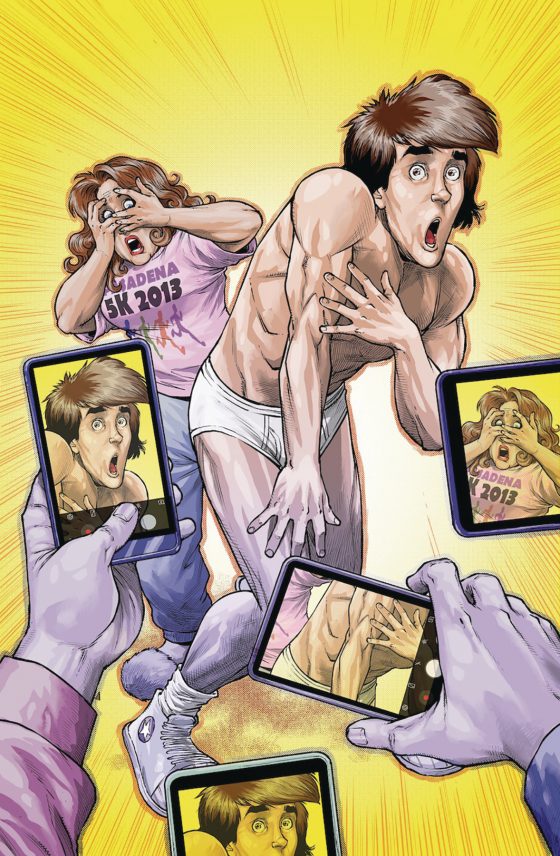 A blast from the past brings the 80s jocks closer to one person responsible for their cryo freeze, an adult Jenny Dover faces a difficult with choice and two short stories take an unfiltered look at mother nature in Planet of the Nerds #4. In Conquest of the Planet of the Nerds, Steve's high school girlfriend Jenny Dover offers the teens some shelter and support while they figure out how to contact Alvin Pingree. In a secondary story, Jenny Dover life after high school is filled with trials and tribulations in Jenny Dover: Before the Fall. A woman escapes from her worries and faces the stink of mother nature in Retreat, by Carol Lay. A forest spirit steps out to reclaims an offering in the tale To Rot, written by Mariah McCourt and illustrated by Ameilee Sullivan.
Conquest of the Planet of the Nerds picks up after Steve's old flame Jenny Dover, hears of the news of three rowdy teenagers causing disturbances across the city. The adult Jenny offers to house the teens while they figure out their next plan, and soon discovers that three teenagers under one roof can be a hassle. Meanwhile, Chad thinks of a way to get back at Alvin and hatches a plan for revenge. But how do they get in front of the world's most renown cryotechnology leader that they used to bully?
This chapter takes a closer look at the lifetime of events Steve, Chad and Drew missed. As they were perfectly frozen in time, everyone else carried on with their own journeys. In one accident, Steve's last movie date with a teenaged Jenny Dover jumped to finding her again in her 40s. Paul Constant reintroduces Jenny as an adult that has some struggles and is quietly keep up with life. But Jenny never forgot about Steve and reached out to help in any way she can. Constant's makes Jenny be a guide to the teens while hilariously dealing with the teenage attics. Alan Robinson's artwork is fantastic and provides why any household with teenagers need a knock first rule.
Jenny Dover: Before the Fall serves as a prequel story in Jenny's life where she faced a major decision. Jenny has been offered a dream position as a journalist, but most relocate to New York City. Breaking the news to her eccentric boyfriend Mark, who request to be called Mizzark. They decide to tell Jenny's mother about their plans together. However, moving across the country has more trouble than Jenny foresaw.
This moment in Jenny's past reveals Jenny's painful frustration that was hinted at in the main story. Her struggle to pursue a career in writing and becoming a journalist was met with resistance and some attachment issues. Paul Constant adds some comedy to cheer up a dramatic moment in Jenny's life, but the tension of making a big decision feels very real. Constant takes a very ordinary situation that some people can relate to, and adds in a surprise twist changes everything. Randy Elliott's character designs are amusing. Elliott's adds some funky patterns to up the strange, arrogant personality of Mizzark, and gives Jenny's mother a refined and cynical look. A panel absent of any dialogue, only with her drinking wine, captures the overconfident and sarcastic message.
Planet of the Nerds is setting up for a big finale where the past and present will collide, and where the tables turn on the bullies. This series has been a nostalgic trip that looks at the weird changes and keeps getting better with each issue.
Planet of the Nerds #4 was released on July 24th, 2019.
Bitten by a radioactive video store rental employee and overcome by Pac-Man fever, Chris seeks new comic books, games, and movies to review.
Ahoy Comics
comics
Planet of the Nerds