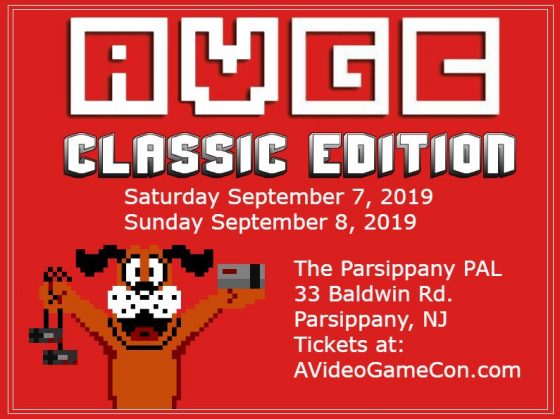 Looking for a retro game fix, we recently headed to Parsippany, NJ for A Video Game Con, which took place on September 7th and 8th at the Parsippany PAL. AVGC is on its fifth show, looking to gather video game collectors, traders, hobbyists, and enthusiasts all under one roof.
For this year guests, there was a mix of online reviewers, bloggers, and content creators who have been figures in expanding the gaming and nerdy community. From making skits, documenting game history or ranting like a fanboy, these guest were awesome people to see and meet in person. There was also a solid line up of cosplayers that dressed up in nerdy outfits and were keeping the vendor hall upbeat. There was a lot of well-made craft items on display as well, and they were eager to talk about their creations with anyone.
Vendor Halls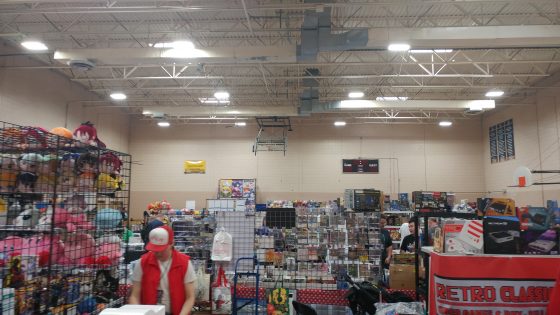 If you visited AVGC during one of its previous years at the PAL, you probably noticed, like we did, that the layout was totally different, and much better, this time around.  There were two huge, connected rooms full of great vendors with the free play and arcade machines off in its own area. This really lets you explore the vendor rooms and then if you need a break, you could head over to the console free play area and chill out with some classic retro games.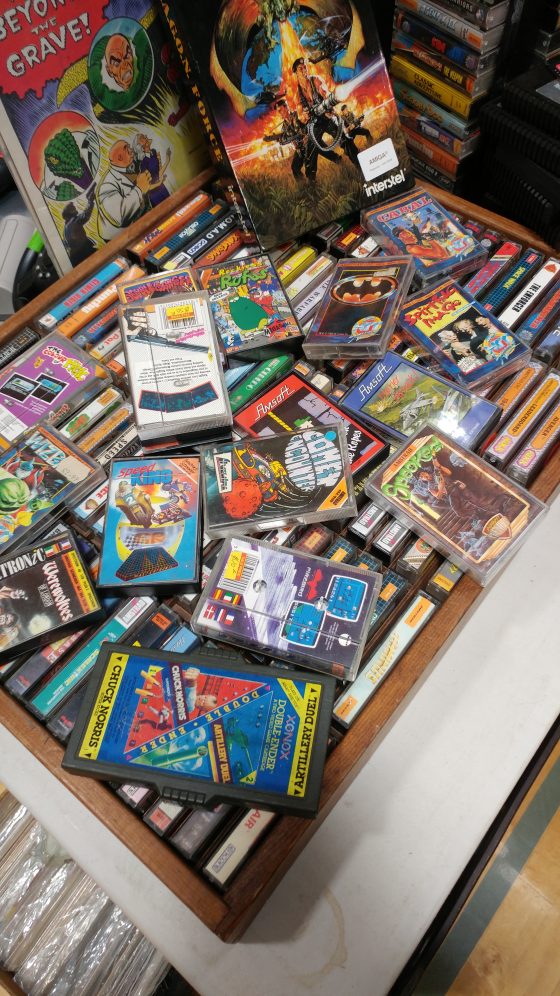 There were tons of vendors with tons of retro games for sale, as you would expect, but there were also lots of other vendors selling a wide area of nerdy junk and random ephemera.
One booth that seemed to have all that and more was the Video Game Trading Post booth, who seemed to manage to transport an entire store's worth of junk into the middle of the vendor floor and you could have spent most of the day just digging through and seeing what they had.  There were all kinds of toys and games, including what was easily the most classic PC cassette-based games we've ever seen that were for systems like the Commodore 64, the Amstrad and the ZX Spectrum.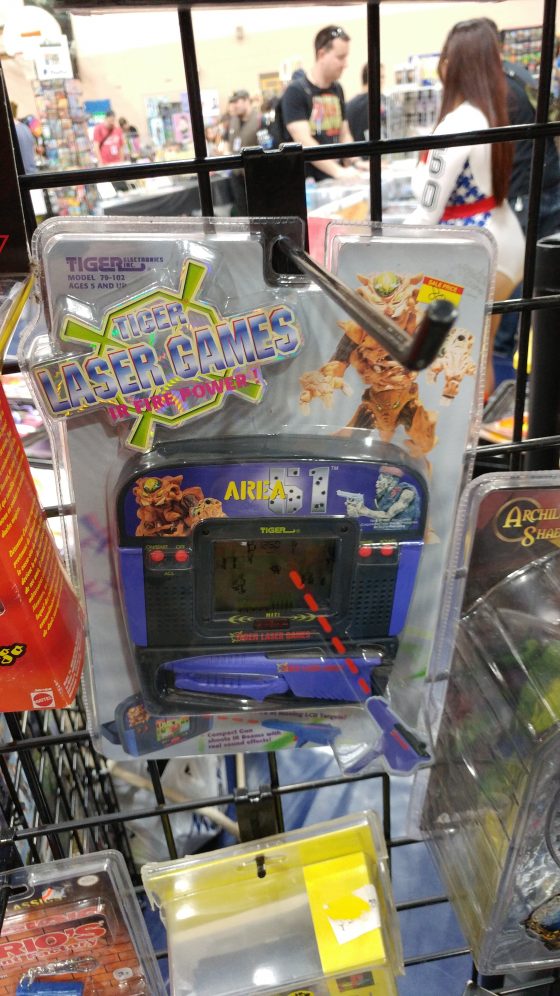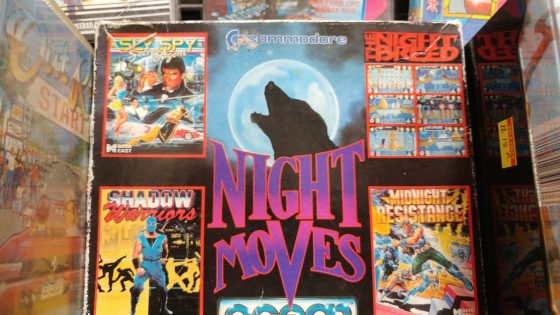 The latter is what Zach really looks for when he goes to these cons, he loves playing retro games but isn't really into collecting them but if there's comics, Nintendo Power issues or action figures, he's there to collect.
Zach found the entire run of Marvel's adaptation of Hook after digging through the booth. This was a retelling of Robin William's Peter Pan tale, with some suspenseful artwork. For some reason, they made Peter look 20 years younger than 90s era Robin Willaims and definitely made Dustin Hoffman more menacing.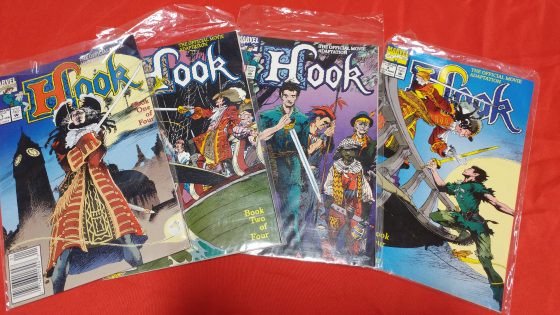 Chris picked up a Xenomorph print from Tiny Neenja. Nina's take on the vicious alien throws in some brighter tones to the typically midnight colored creature. The neon green head shows some of the interiors of the monster, making it look like one of those awesome Kenner Aliens toys that we grew up with.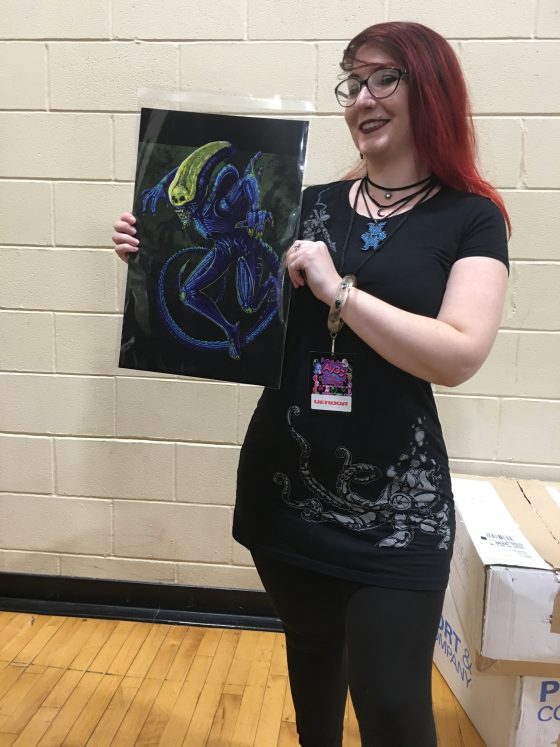 Speaking of growing up, the guys from the Too Many Games booth had a ton of classic big box PC games from the 90s available, including an FMV game based on the Pumpkinhead moves(!!) and the awesome Die Hard Trilogy, which featured three distinct game modes based on each of the movies in the original trilogy.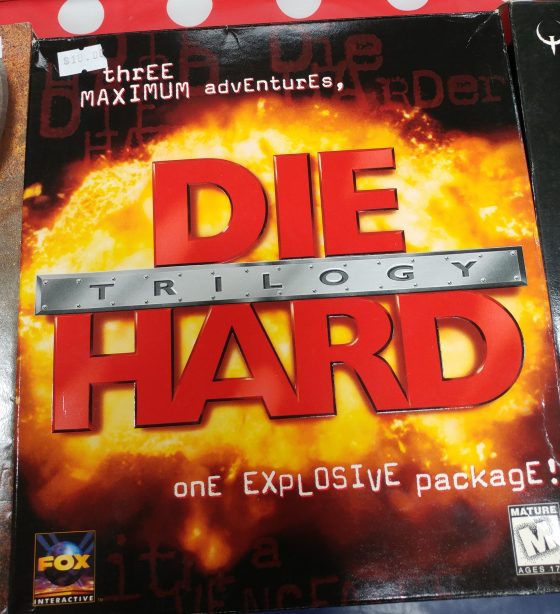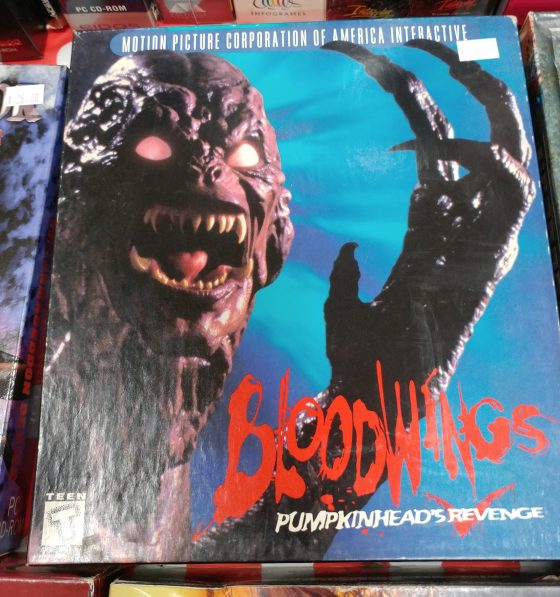 After running around the vendor area, you probably needed some energy and luckily Monster showed up with their lifted pick-up truck to fuel all the gamers in attendance on Saturday afternoon. The Monster was free and plentiful, enough Kyle energy to power 5 suns.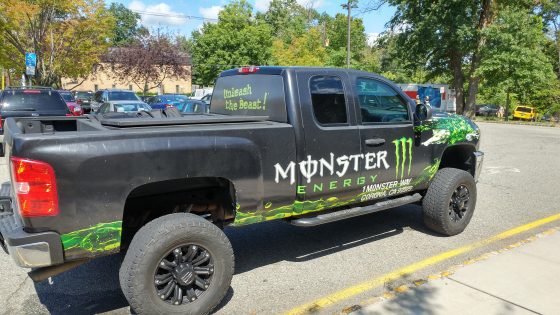 Game Room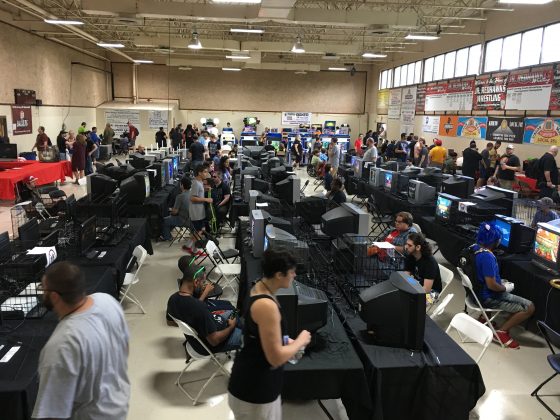 Fueled up on Monster, we checked out what was available in the free play area.  There was a wide selection of candy cabs, featuring tons of different fighting games along with shooters and beat 'em ups, like the classic Alien vs Predator arcade and other cool classics.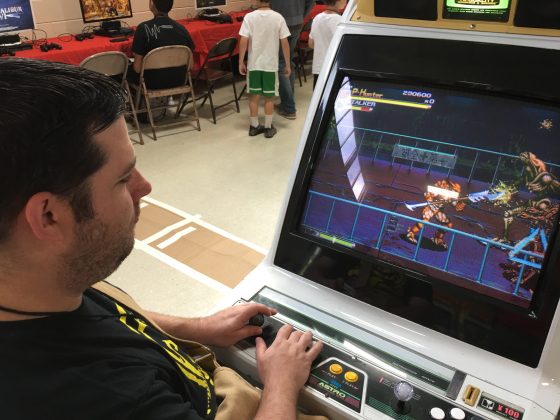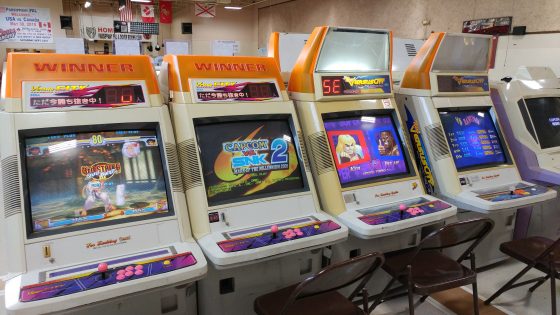 One game we played a bunch of over the weekend was the imported from Gundam vs Gundam Next. The game features an insane roster of Gundam mechs from various iterations of the anime and puts you into arenas for 2v2 battles.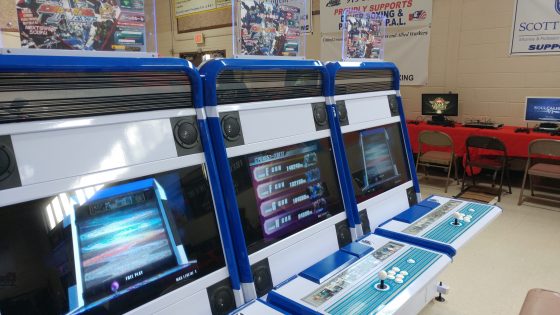 It reminded us a lot of Sega's classic Virtua On games, but with way more options and a slightly different control scheme (Virtua On used dual joysticks while Gundam has just a standard arcade stick).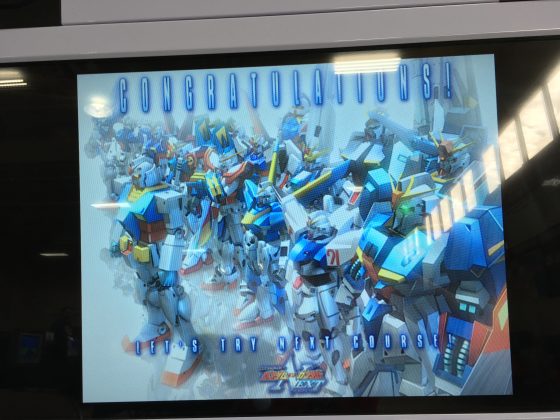 There were consoles available to play as well, ranging from the Atari up to Xbox One and PS4.  There were plenty of classic gems to play along with maybe some games you never got around to checking out. There were also some much more obscure consoles on display and available to play from Wedoca and Tony Majors, including stuff like the PC Engine Shuttle and the Tomy Tutor.
The Microsoft Store was there to show off a few new titles. Gears of War 5 was recently released and they held a tournament for 2v2 battles. The first two groups of winners got gift cards.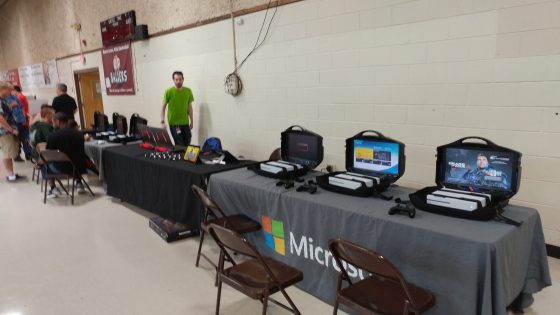 We did play a few rounds of our favorite rage-inducing hunting game, Duck Hunt.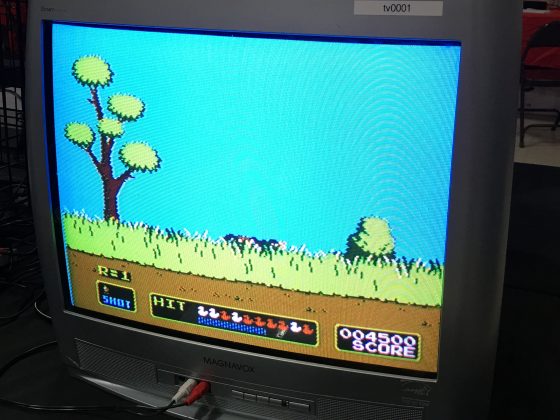 As much advancement there is in gaming, nothing beats point the ionic Nintendo Zapper at a CRT and making those ducks hit the ground. But for every miss duck, that damn dog is there to mock you.
Panels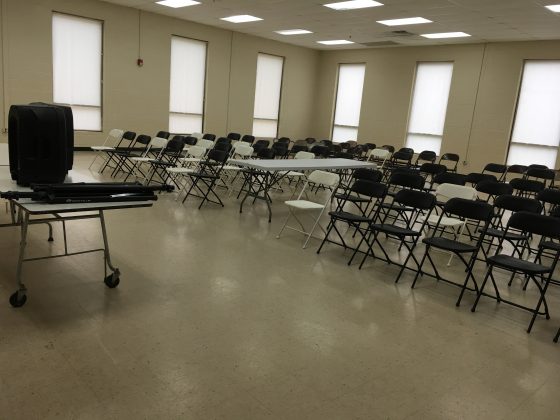 Along with the free playroom and the vendor rooms, AVGC also had two-panel rooms going all day with different events and guests.
We checked out the Dreamcast anniversary panel hosted by Adam Koralik as the Dreamcast's 20th anniversary was the following Monday and learned about some of the weird technical tricks you can use to optimize the Dreamcast for the modern-day and obscure gems to check out.
We attended SomeCallMeJohnny's panel, where Johnny showed his favorite clips he's made and answered questions from the fans.
Following the sounds of yells and cheers, we checked out The Gerudo Vagrants Belly Dancing Panel. These dancers tucked and twisted their waists to exotic music and nerdy soundtracks.
We also checked out the competitors at the cosplay contest that was held on Saturday afternoon. There were great costumes made by passionate people. The competition was kind of fierce with lots of fan-favorite designs, so judging them wasn't easy.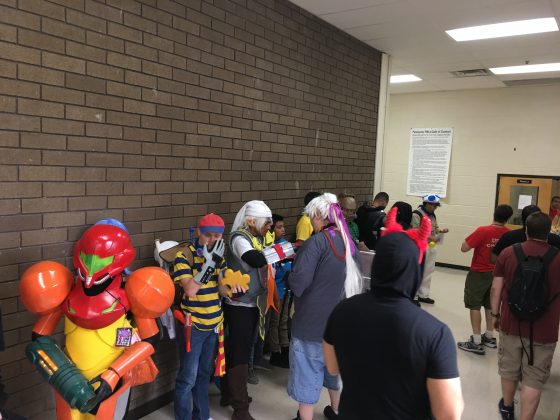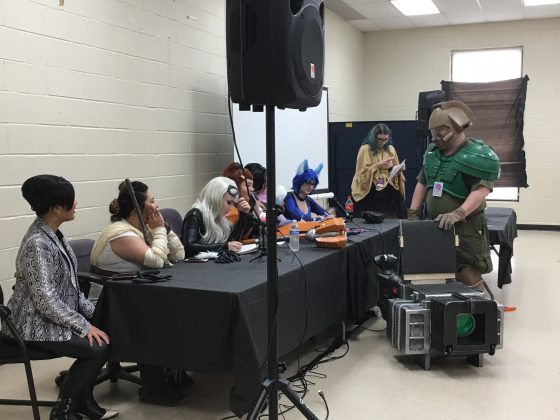 On Sunday, the cosplay guests held a panel to talk about their experience in the cosplay community and the many attempts it takes to perfect a costume.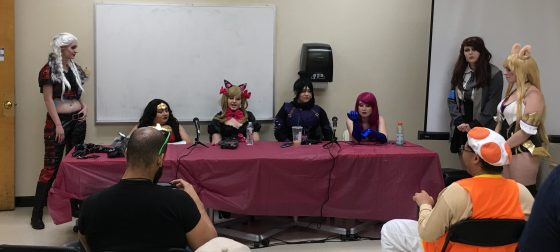 After Party
On Saturday night of AVGC, we headed to the nearby Recess Bar for an unofficial after-party and got some great, video game themed drinks and took in the awesome, chill atmosphere of the bar.  They have billiards and shuffleboard but you can also grab a couch and rent some games to play on the TVs and consoles they have set up. It was a fun night and a great way to cap off Day 1 of the con.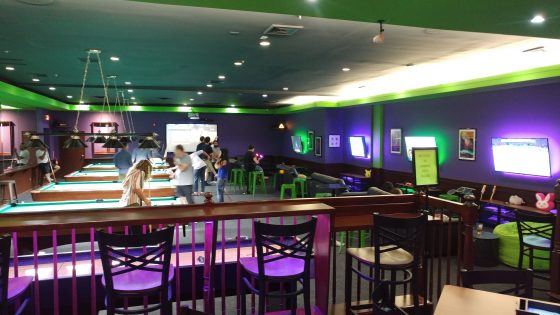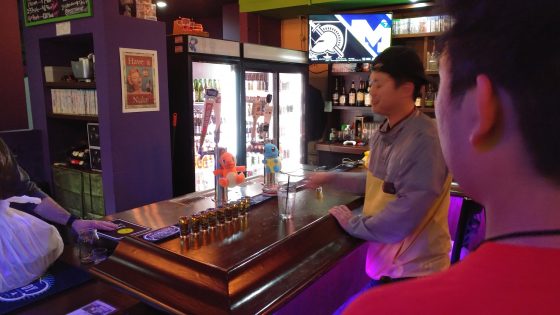 Final Thoughts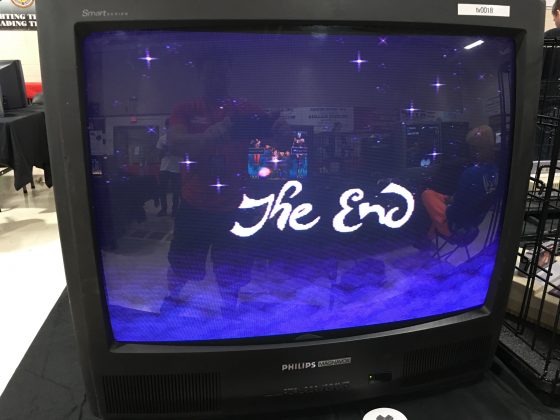 AVGC 2019 overall was a great time whether you were digging through bins of retro games, attending panels or hanging out with old or new friends and playing some arcade or console games.  We are definitely excited for next year's con and hopefully, it keeps getting bigger and better.
I'm like the J. Jonah Jameson of Everything Action, writing and editing and constantly demanding pictures of Spider-Man.
a video game con
adam koralik
Alien vs Predator
arcade games
avgc 2019
candy cabs
chris
Conventions
die hard trilogy
dreamcast
gundam vs gundam next
hook
Marvel Comics
monster
new jersey
pc engine
pc games
pumpkinhead
recess bar
retro games
tomy tutor
too many games
video game trading post
zach