The Pull List – Red Sonja & Vampirella meet Betty & Veronica #5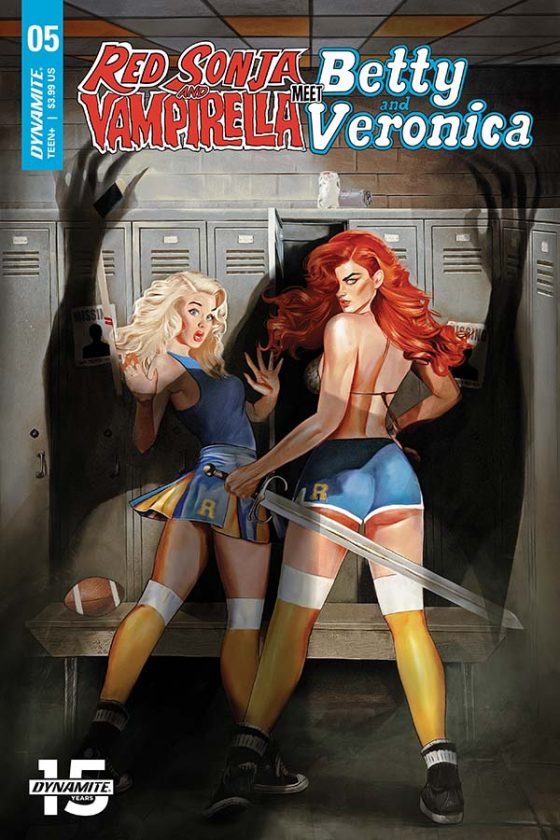 An attack at the Pussycat concert leaves Riverdale crippled with fear. Betty and Veronica uncover more clues about the mysterious killer, leading them to believe the killer didn't act alone. Waiting for the killer to make a second attempt on Dilton's life, Sonja and Vampirella stand guard while Betty and Veronica are called into a meeting with Riverdale High's editorial staff. Highschool drama gets taken to new depths when dark forces step out from the shadows and to claim their prey.
A town is in lockdown as demonic killers have paralyzed its citizens with fear. A surprise attack at a charity show clears the suspension of Sonja and Vampirella, but the killers remain unknown. Detective Walsh joins the group to help protect Dilton at the hospital, convinced the killers will strike again. Betty and Veronica get called back to the high school by Libby, the head editor of the school's newspaper. The news report Betty and Veronica created seem to generate the wrong attention the paper was hoping for. With the new evidence and a living witness, the mysterious killers make their move to silence the heroines once and for all.
Writer Amy Chu has pushed Riverdale on its edge, stripping away the usually campy nature of the place and replace it with chilling terror. Teenagers no longer worry about dating, football games, and college exams. Everyone is worried about being the latest victim torn apart. The visuals are awesome, playing up more of the horror elements and giving characters a touch of deeper shadowing. Riverdale at time night transforms the bubbly community into a haunted house of frights.  
This issue reveals the masterminds behind the killings and the final confrontation of good vs evil in the seemingly peaceful town.
Red Sonja & Vampirella meet Betty & Veronica #5 will be on sale on September 25th, 2019.
Bitten by a radioactive video store rental employee and overcome by Pac-Man fever, Chris seeks new comic books, games, and movies to review.
archie comics
Betty & Veronica
comics
dynamite comics
red sonja
Red Sonja & Vampirella meet Betty & Veronica