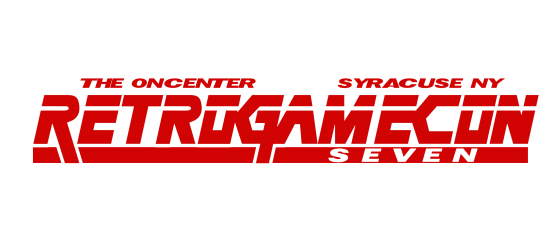 We recently headed out to The Oncenter in Syracuse, NY for the seventh annual RetroGameCon.  Taking over the entire convention center, RetroGameCon was bigger and better than ever, with tons of vendors to haggle with over games, toys and other nerd swag, various panels to attend, arcade and console games to play, bands to rock out to and much more.  Read on to find out everything we saw and did at the con.
Show Floor finds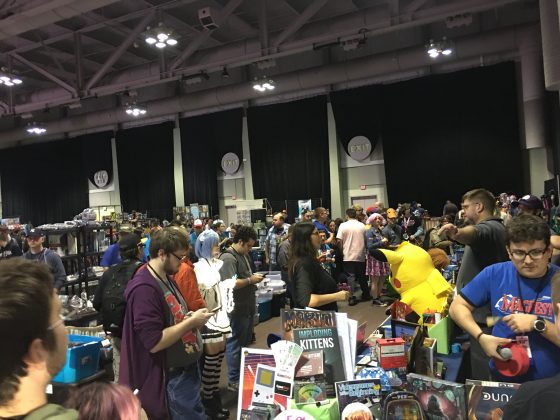 The show floor at RetroGameCon covered the entire main floor of The Oncenter and was divided into two sections.  The first section featured most of the vendors along with a board game freeplay area while the other section was the huge freeplay area that featured arcade cabinets, pinball, classic PCs and consoles going from the Odyssey to the PS4 and Xbox One.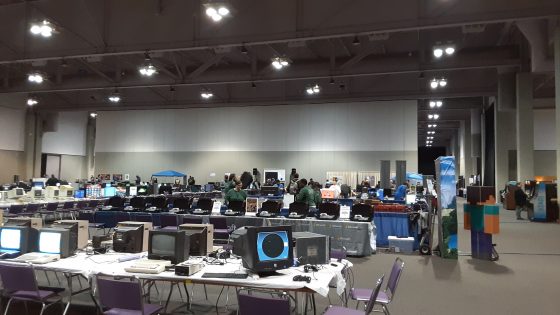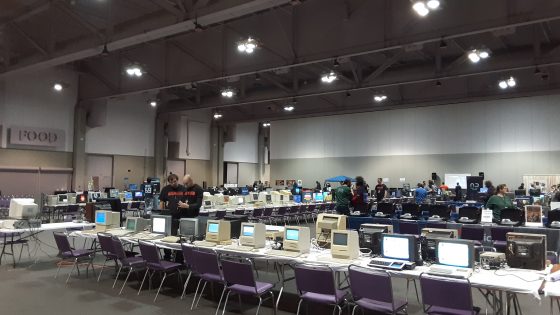 Also in the second area was the main stage where events like a charity auction, cosplay contest and musical performances were held throughout the day.  We spent a lot of time circling around both areas and it was nice to be able to stop and sit and take a break and play some games in the freeplay area after doing some business in the vendor area.  We didn't buy a whole lot of things from the vendors.  Zach got some Nintendo Power back issues and all four of the Funko mini Ghostbusters while Chris found one of the harder to find PS2 games he was looking for, Tenchu: Fatal Shadows.  We played a number of things in the freeplay area like the excellent X-Files and Attack from Mars pinball machines and the always fun Robocop arcade game.
They also had a high-end flight simulator set up that let you experience flying over Syracuse but let's just say we won't be applying to pilot positions anytime soon. The game was running on a beast of a hardware system to have the huge flight deck and had a remote device that could change the environment of the game.
There was also a cool photo-op set of an 80s style living room, complete with VHS tapes, vintage furniture, and an NES. On-screen was a Mega Cat Studio's Justice Duel which was programmed to look retro and plays like a classic NES title.
Panels

Running from the afternoon to the early evening were panels held by special guests and fans. They covered a range of topics like Q&A sessions, video game history, vintage collecting, and game development.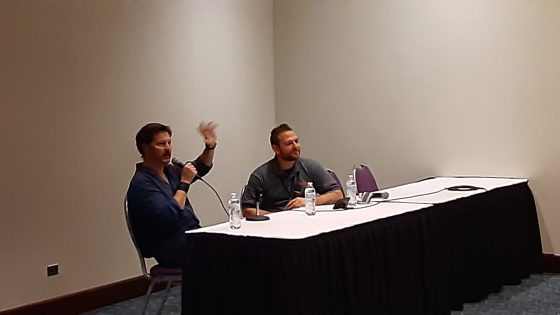 We caught voice actor, director and screenwriter David Hayter panel, best known as the voice of Snake in the Metal Gear Solid.  His panel was packed to standing room only and he talked about some of his favorite moments from the MGS series and some of his other projects.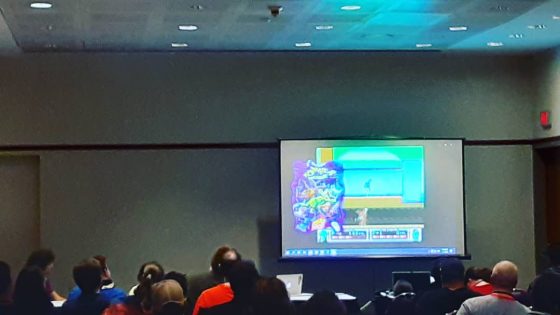 Pat Contri aka Pat the NES Punk was also attending the con and showed the most recent episode of his Youtube series that featured Monsters in my Pocket.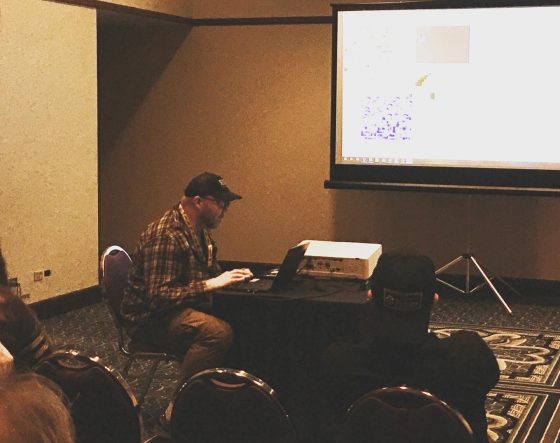 At his panel, John Riggs showed off some tips and tricks for hacking games and making fun creations. It was pretty informative to see what tools he used to reprogram the NES chipsets and was helpful in answering questions from the crowd.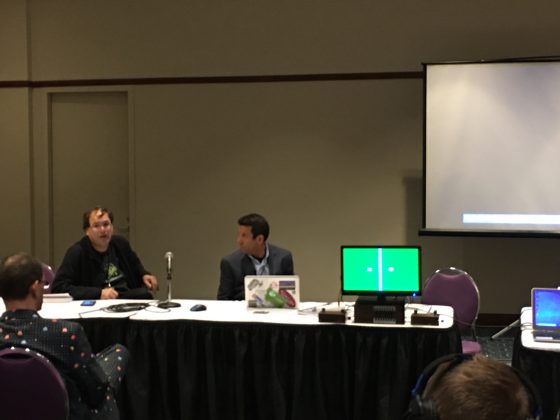 On Sunday, gaming historian Leonard Herman hosted a panel with Mark W. Baer, the son of the legendary Ralph H. Baer, to talk about his father's life and how he essentially created the concept of video games.
Indie Games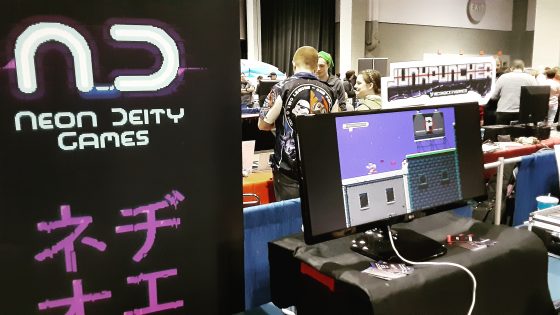 There were a bunch of indie game developers at RetroGameCon showing off their upcoming and currently available games.  We got to check out Junkpuncher from Neon Deity Games, which is a retro style action game that looks and feels like a classic NES game, particularly something like Shatterhand.  You punch and kick your way through the levels and looks and sounds great.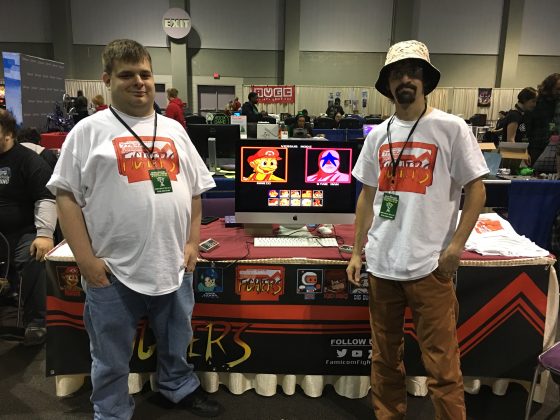 We also got to check out Famicom Fighters from KingPepe and MC Jimmy.  At first glance it seems like it might be a retro NES style version of Smash Bros, as various Nintendo characters are available to face off against each other but it's actually a Street Fighter inspired fighting game where its a 2D one on one fighter with Street Fighter style specials, power meters and other fighting game staples.  You pick your character and support character and then battle it out.  We had a ton of fun fighting each other as Mario, Simon Belmont, Ryu Hayabusa, Dig Dug and more.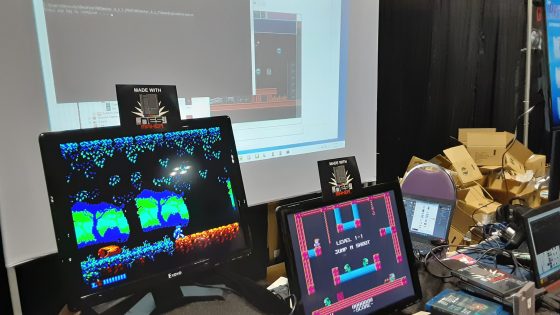 We also got to check out NES Maker, which is a development tool that lets you create your own NES inspired retro games with a massive set of tools and even the ability to transfer the rom of the game to a cartridge.  It seems like if you're interested in making your own games, this is definitely a tool to look into.
Music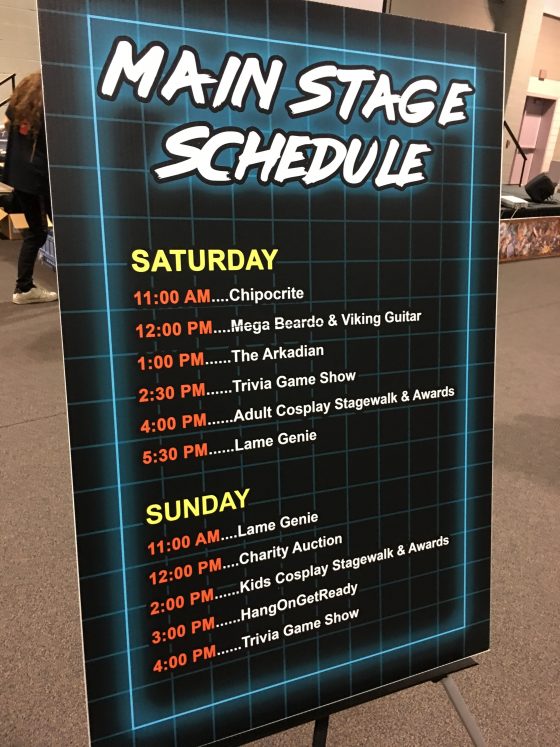 RetroGameCon was rocked all weekend by tons of great video game/nerd inspired bands. Throughout the main floor hours, you could hear different styles of music from Lame Genie, Chipocrite, Hangongetready, The Arkadian, Super Thrash Bros and Viking Guitar.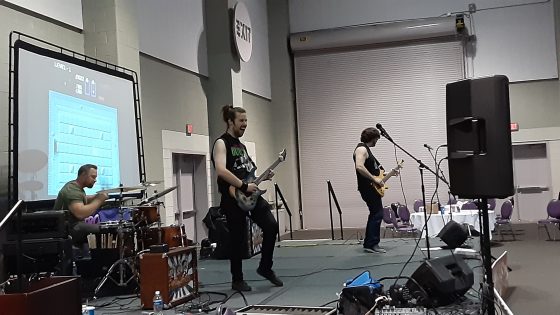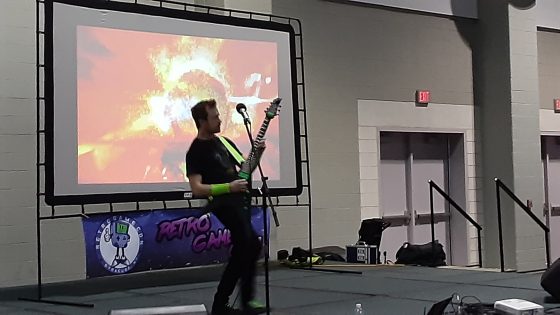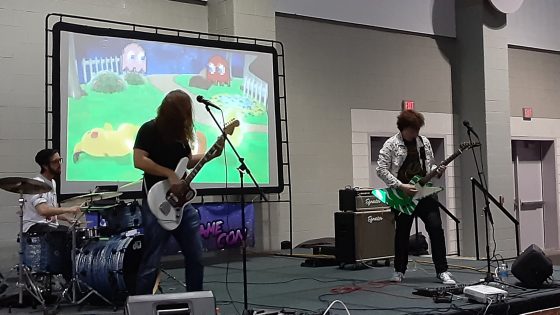 Afterparty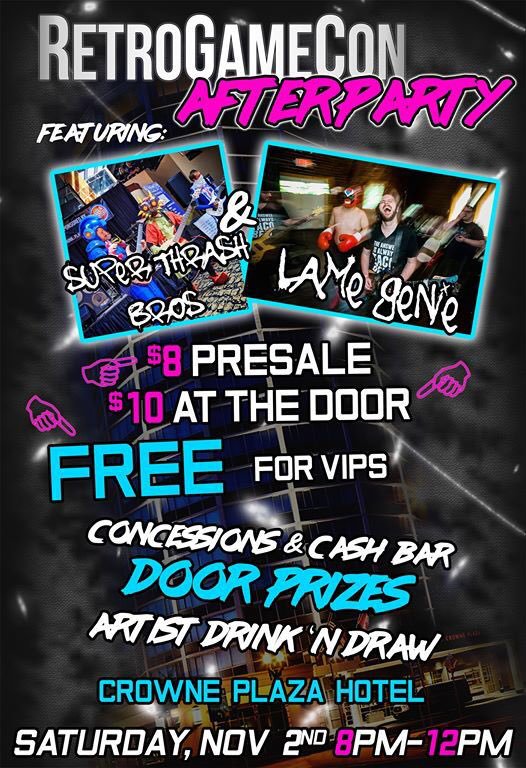 The After Party on Saturday night let attendees wind down from the busy first day, and grab a cold con beer from Buried Acorn Brewery. The beer was called Full Restore, an IPA with light floral notes and had a pokemon theme to it. The crowd was packed, quickly filling up the venue within the first hour, all ready to see Lame Genie and Super Thrash Bros, and win some cool door prizes.
Final Thoughts
RetroGameCon 7 is a great family-friendly convention that lets a lot of people revisit the days of past gaming. It was pretty easy to try to move around the expanded space and play any game in the arcade and free play selection. The special guest were nice and really awesome to check out, even grab a drink or two at the after-party.  RGC was a blast to attend and we will definitely be back next year for more music, swag, celebs and whatever else they have up their sleeve.
I'm like the J. Jonah Jameson of Everything Action, writing and editing and constantly demanding pictures of Spider-Man.
arcades
chipocrite
david hayter
famicom fighters
hangongetready
john riggs
junkpuncher
lamegenie
leonard herman
mark w baer
nintendo power
pat contri
pc gaming
pinball
ralph baer
retrogamecon
retrogamecon 7
super thrash bros
syracuse
tenchu
the arkadian
the immortal john hancock
the oncenter