News Shotgun 7/11
By Zach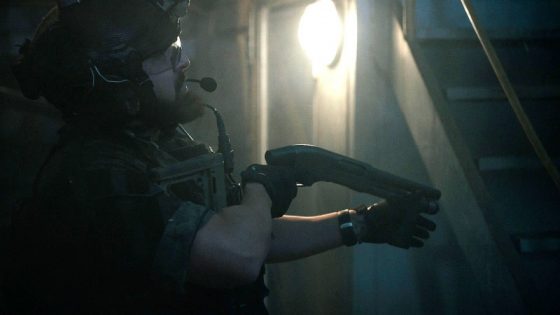 Blumhouse and Ryan Murphy teaming for Stephen King adaptation: The Stephen King adaptations continue to roll on and Blumhouse and American Horror Story's Ryan Murphy are teaming up for an upcoming one based on Mr. Harrigan's Phone from one of King's recent collections of short stories.  The Founder director John Lee Hancock will direct the movie, which follows a young boy who befriends an older billionaire who lives in his town, particularly bonding over the man's iPhone.  When the billionaire passes away, the boy finds out he can communicate with his dead friend by leaving voicemails on the phone he was buried with.  The movie will be a Netflix Original, the fourth King adaptation to join the streaming service.
Universal developing an "all ages" Monsters movie: Universal is trying several things with their Universal Monsters since the one-movie collapse of the Dark Universe and one of the many upcoming projects is an "all ages" Monster movie with Toy Story 4's Josh Cooley at the helm.  The movie will be a live-action/CG hybrid and will be "a love letter to classic Hollywood and the history of filmmaking with a story that takes a multigenerational approach to the monsters".
HBO Max getting a Batman original series: HBO Max is getting an original series that will be a spin-off from Matt Reeves' upcoming The Batman movie with Robert Pattinson.  Although it doesn't have an official title yet, it's clearly inspired by Gotham Central and will follow the GCPD of Reeves' Batman universe, although there's no casting yet and no word if Pattinson or Jeffrey Wright's Gordon will appear.
Far Cry 6 leaks: Presumably it would have been one of the big announcements at this weekend's Ubisoft event, Far Cry 6 was leaked by a few international Playstation Store listings and then confirmed by Ubisoft.  The game will launch next year for current and next-gen consoles, with a free upgrade if you buy the current-gen version and then later get a PS5 or Xbox Series X, and it will put you in the shoes of Dani Rojas, a guerrilla fighter on the island of Yara who is trying to free the island from the tyranny of the despotic Anton Castillo, played by Giancarlo Esposito.
Quibi lost 90% of its initial free trial users: Pretty much from day one, Quibi has been the MoviePass of streaming services and things got even direr this week.  A report from an analytics firm says that 90% of the users who signed up for Quibi and got the introductory 90-day free trial did not convert to a paying user at the $4.99 or $7.99 levels, which would mean of the 910,000 people who signed on, only 72,000 are now paying for Quibi.  The app also only has 4.5 million total downloads since launch, compared to, say, Disney+, which had 9.5 million downloads in three days.  Jeffrey Katzenberg and Meg Whitman, the founder and CEO respectively, both took 10% pay cuts and blame the Covid-19 pandemic as one of the chief factors for the lackluster performance.
Netflix cancels Chilling Adventures of Sabrina: Netflix has canceled their Riverdale spin-off Chilling Adventures of Sabrina, with the upcoming fourth season being its final season.  It's not clear what exactly prompted the cancellation, as Netflix only rarely reveals viewership numbers and the show has been consistently well-received by critics for its entire run.
The CW casts its new Batwoman: After a surprisingly short search, The CW has found a replacement for Ruby Rose's Kate Kane on Batwoman.  Javicia Leslie, most recently co-starring on God Friended Me, has been cast as the new Batwoman, Ryan Wilder, "likable, messy, a little goofy and untamed. She's also nothing like Kate Kane, the woman who wore the Batsuit before her. With no one in her life to keep her on track, Ryan spent years as a drug-runner, dodging the GCPD and masking her pain with bad habits. Today Ryan lives in her van with her plant. A girl who would steal milk for an alley cat and could also kill you with her bare hands, Ryan is the most dangerous type of fighter: highly skilled and wildly undisciplined. An out lesbian. Athletic. Raw. Passionate. Fallible. And very much not your stereotypical All-American hero".  It's not clear what the plan is for season 2 but Kate Kane will have disappeared and Ryan will take up the mantle in her absence.
HBO Max getting Action Park documentary: HBO Max has picked up the rights to a documentary about arguably the most infamous amusement park in history, Action Park.  Class Action Park is directed by Chris Charles Scott and Seth Porges and goes in-depth into the legends and truth of Action Park, interviewing visitors and staff and unearthing never before seen documents and footage.  The park was notorious for its absurdly dangerous rides, like the Alpine Slide, which was combined with extremely lax alcohol policy and barely enforced rules that led to a string of injuries and numerous deaths.
Ready Player Two novel coming in November: Ernest Cline is returning to the world of the OASIS with a sequel novel to Ready Player One, the appropriately named Ready Player Two, arriving in November this year.  There are no plot details yet but presumably, there will be some new threat to the virtual world that Wade Watts and his friends will have to deal with, probably with copious 80s references.  Most recently Steven Spielberg directed the movie adaptation, which brought in over $500 million worldwide.
Leigh Whannell directing the new Wolfman movie: After his successful reboot of The Invisible Man, Universal is having Leigh Whannell tackle another classic monster as he's signed on to direct a new Wolfman starring Ryan Gosling.  When Gosling was cast a short while ago, the movie was described as being inspired by Dan Gilroy's Nightcrawler but Whannell will write his own treatment for the movie.
Universal shifts several horror releases: Speaking of Universal horror, the studio shifted several dates for some upcoming titles.  The biggest shift was probably Halloween Kills, the sequel to Halloween 2018, which has been moved from October this year to October 15th, 2021.  Candyman is taking Halloween Kills' original spot on October 16th, 2020.  The final Purge film, The Forever Purge, now has a release date of July 9th, 2021, and Halloween Ends, completing the new trilogy, will release on October 14th, 2022.
Jude Law cast as Captain Hook for live-action Peter Pan reboot: Disney is rebooting their spin on Peter Pan with a new live-action reboot, Peter Pan & Wendy, and Jude Law has been cast as Captain Hook.  David Lowery, who directed the Pete's Dragon reboot for Disney, will be directing this new movie.  The movie is expected to hit theaters and not be a Disney+ original.
Stallone says there is a Rocky IV director's cut: One his Instagram, Sly Stallone revealed he's working on a director's cut for Rocky IV but didn't reveal any further details.  It's hard to imagine what else could be added to that movie, as it's 80% montages but maybe there's a scene that explains how Paulie reprogrammed his robot.
RIP Ennio Morricone: Legendary composer Ennio Morricone passed away at age 91 earlier this week.  Morricone composed iconic scores for movies like The Good, The Bad and The Ugly, For a Few Dollars More and A Fistful of Dollars along with The Mission, Orca, The Thing, The Hateful Eight, The Untouchables, Bugsy and many, many more.
Stargirl renewed for Season 2: Stargirl has been renewed for a second season but with a twist: it will only be a CW show.  Currently, Stargirl debuts first on DC Universe, then airs live on The CW and then is available on The CW app.  Season 2 will not be on DC Universe and, the way things are going, it seems like DC Universe may not even be around by the time Season 2 debuts.  Titans is currently the only DC Universe original series that is not available anywhere else.  Doom Patrol is now on HBO Max, Harley Quinn will be on HBO Max soon and Swamp Thing was canceled (but will air on The CW in the fall).
Brad Pitt starring in Bullet Train: Brad Pitt will star in the latest from director David Leitch, Bullet Train.  The movie, based on a Japanese novel, finds a group of hitman all on the same bullet train, all with different missions and intentions.
I'm like the J. Jonah Jameson of Everything Action, writing and editing and constantly demanding pictures of Spider-Man.
action park
batwoman
blumhouse
captain hook
chilling adventures of sabrina
disney
ennio morricone
ernest cline
far cry 6
javicia leslie
jude law
leigh whannell
mr harrigan's phone
netflix
News
news shotgun
peter pan
quibi
ready player two
rocky iv
ruby rose
ryan murphy
Stallone
stargirl
stephen king
the batman
universal monsters
wolfman