Everything Actioncast Ep 497 "Poirot, Kraven, Waterworld, Lovecraft Country and More"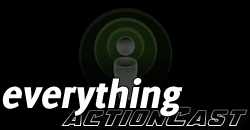 This week on the podcast, Zach and Chris talk about a potential Kraven the Hunter movie, the return of Hercule Poirot and his mustache, the premiere of Lovecraft Country, the mixed season of Perry Mason, Waterworld, Knock Off, the death of DC Universe, the return of Batfleck and more.
News: Death on the Nile trailer, Ben Affleck returning as Batman for The Flash movie, DC Universe is dead, Kraven the Hunter movie announced at Sony, a reboot of The Exorcist may be in development and Kevin Hart and Will Smith are co-starring a remake of Planes, Trains, and Automobiles.
Show and Tell: Chris watched the season finale of Perry Mason and started Season 3 of Dark on Netflix while Zach saw the premiere of Lovecraft Country and watched Waterworld, Knock Off, and Salt.
We want to hear your comments and feedback. Send them all to [email protected]. Also, be sure to subscribe, rate, and review us on Apple Podcasts (https://podcasts.apple.com/us/podcast/everything-actioncast/id368044198?ls=1&mt=2) on Stitcher (https://www.stitcher.com/podcast/everything-actioncast/everything-action) or on Spotify (https://open.spotify.com/show/04QRG5XDalm3iKNWIr1dds?si=CSPoHUPAQAKT4FD4hX9gXQ) and follow us on Twitter (@evaction) Facebook (www.facebook.com/everything.action), and Instagram (@everything.action).
Podcast: Download (Duration: 1:16:24 — 128.3MB)
angelina jolie
batman
ben affleck
chris
dark
dc universe
death on the nile
episode
Everything Actioncast
HBO
hercule poirot
jcvd
kevin costner
kevin hart
knock off
kraven the hunter
lovecraft country
netflix
perry mason
planes trains and automobiles
podcast
salt
the exorcist
the flash
waterworld
will smith
zach