The Pull List – Cyberpunk 2077: Trauma Team #1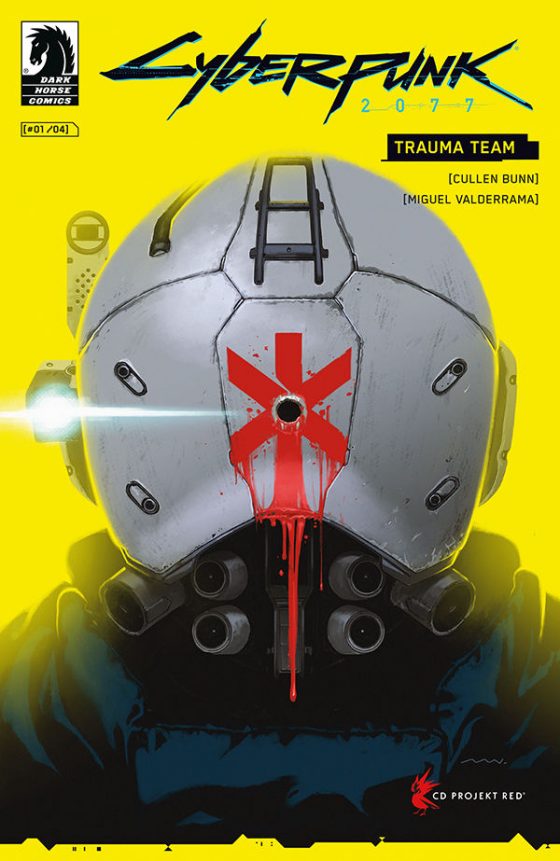 Publisher: Dark Horse Comics
Writer: Cullen Bunn
Art: Miguel Valderrama
Color: Jason Wordie
Night City is an electrified location, filled with advanced tech corporations, costly luxuries, and the wealthy elite. But under the neon color facade, Night City is also a battleground. Gangs and drugs flood the streets with violence. If the money is right, citizens can hire Trauma Team International, a private para-military company that specializes in emergency extractions. However, even the Trauma Team is not immune to Night City's deadly activities. Nadia, an assistant EMT, was a member of a failed rescue mission that left her the sole survivor. After an evaluation, she is re-instated and paired with a new team. Alongside her teammates, Nadia heads off into the city to save their latest client, unaware that her first mission back might be her last.
Trauma Team International is a business that focuses on securing the safety of its client at a premium cost. Yet for Nadia, protecting the client had cost too much and left her shaken in the aftermath. Trying to overcome the past, Nadia joins a new team in hopes to regain something of her former self. Her return to duty has a troubled start as she is haunted by her traumatic experience. However, in the heat of combat, she is able to recover and aid her team. But just when she seems to improve, a familiar face reappears and threatens to undo her progress.
Cullen Bunn introduces just a small insight into one character caught in the complex world of Cyberpunk. Instead of a character with a blank slate to fill in by the reader, Bunn is able to capture the humanity of Nadia very early on. Her violent encounter gives a preview of the environment and people that inhabit the world. From the first few pages, Bunn gives Nadia the consequences of her duty and a real sense of vulnerability. However, the introduction doesn't explore much about the lore of Cyberpunk, the comic drops straight into the fray without alerting newcomers. Readers might have to be a little familiar with the franchise to at least understand the sci-fi setting.
Miguel Valderrama and Jason Wordie have eye-catching artwork that helps ease readers to understand the gritty neon backdrop. Valderrama builts up intense visuals by weaving in and out of great action points. There are lots of great sci-fi designs mixed with some blood-soaked violence. Wordie's color work has a smokey engulfment that gives the surrounding a strange brightness amongst the gloomy.
Cyberpunk 2077: Trauma Team does a good job of establishing an interesting character to follow. Fans of Cyberpunk can easily be engaged by the premise and see the dystopian scenes come to life. Newcomers will be drawn in by Nadia's dramatic struggle and be delighted by the creative team's exciting visuals.
Cyberpunk 2077: Trauma Team #1 was released on September 9th, 2020.
Bitten by a radioactive video store rental employee and overcome by Pac-Man fever, Chris seeks new comic books, games, and movies to review.
CD Projekt Red
comics
Cullen Bunn
cyberpunk 2077
Cyberpunk 2077: Trauma Team
dark horse comics
Jason Wordie
Miguel Valderrama