The Pull List – The Witcher: Fading Memories #1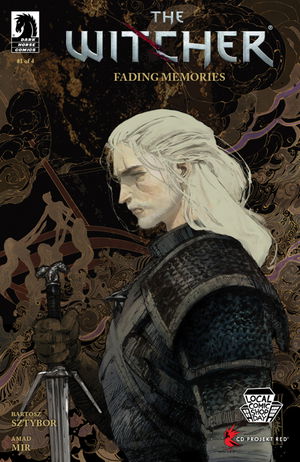 Publisher: Dark Horse Comics
Writer: Bartosz Sztybor
Art: Amad Mir
Colorist: Hamid Sheykh
Letter: Steve Dutro
Monstrous threats and vile plagues have become too far and few in the world, diminishing the need for witchers. Without prey to stalk and towns to protect, Geralt seems lost in a new age. As he begins to find possibilities, a request from the mayoress of Badreine returns him to his former role. This latest journey appears to be one of many adventures he has fought and survived, but will this continue his old path or will it be lead to something different?
In a more tamed world, Geralt increasingly feels like a welcomed outsider. With the witcher's position in society shrinking, Geralt wonders what his future holds. Monsters have seemed to disappear and all that is left is mankind. However, Geralt is able to find earn his keep as a helper to a fisherman. The days of hunting as a witcher could have been behind him if the mayoress of Badreine had not personally asked for his service.
The Witcher: Fading Memories takes a dramatic look at Geralt where his identity as a witcher is slowly peeled back and he is faced with the reality of what holds him together. Bartosz Sztybor pens an interesting opening chapter that shows an even more downcasted Geralt. Long before the world had changed, people had feared and envied the Geralt, which brew a lot of resentment. Sztybor takes that a step further by making Geralt appear more and more like a stranger in this new world that has to fight to remain something of his former self.
The visual works of Amad Mir and Hamid Sheykh nicely set the tone of this moody story. Amad Mir uses the familiar designs of Geralt from his appearance in the Witcher 3, spotting him with a neat trim beard and sleek armor. Combine with Sheykh's gothic colorwork and Steve Dutro lettering, the visuals really help intensify the experience.
This excellent first chapter explores an interesting plot with great visuals. Fading Memories looks to be an exciting character study of Geralt facing not only great dangers but his own place in the world that constantly rejects him.
The Witcher: Fading Memories #1 will be released on November 25, 2020.
Bitten by a radioactive video store rental employee and overcome by Pac-Man fever, Chris seeks new comic books, games, and movies to review.
Amad Mir
Bartosz Sztybor
CD Projekt Red
comics
dark horse comics
Hamid Sheykh
Steve Dutro
the witcher
The Witcher: Fading Memories #1