The Pull List – DIE!NAMITE #3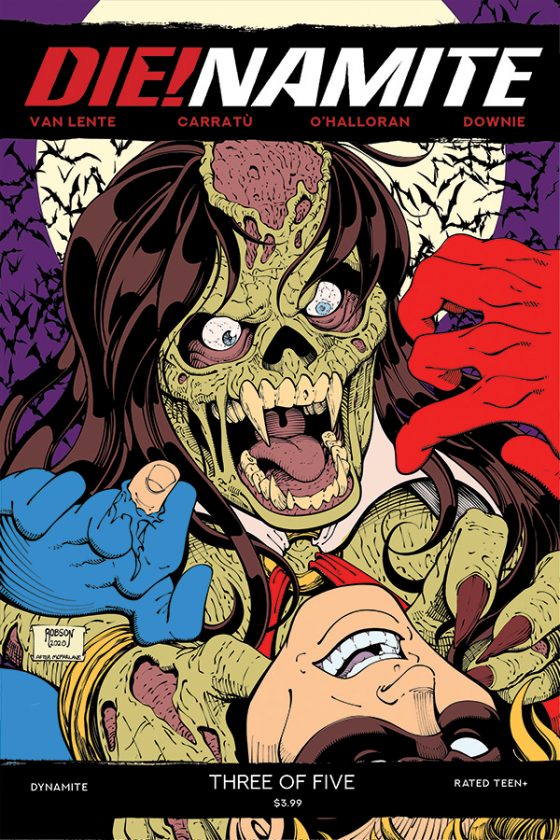 Publisher: Dynamite Comics
Writer: Fred Van Lente
Art: Vincenzo Carratu & Pasquale Qualano
Color: Kike J. Diaz
Blood and flesh are appetizing to the evil living dead, no matter if they belong to the superpowered or not. When the undead sinks their teeth into members of Project: Superpowers, the fantabulous heroes transformed into fiendish monsters. Meanwhile, Earth isn't the only planet suffering a diabolic pandemic. The undead had invaded Mars, leaving Dejah Thoris desperately defeating Barsoom. Help arrives when Sonja and Vampirella appear, but trouble has followed them too. The threats keep coming when every living creature can be the next enemy.
With superpowered zombies now having a taste for fresh meat, the world is more in danger than before. The undead heroes have become killer virus spreaders, using their powers to wreak havoc and infect innocent lives. Thunderbolt was too late to warn Project: Superpowers but manages to meet with Miss Fury. Together they fend back some of the zombie hordes but are overwhelmed by the growing numbers. Across space, Vampirella survives her close encounter on the Drakulon vessel. She manages to arrive on Mars alive, but not without some scratches. She is greeted by Sonja, who has traveled by Mars by a magical portal to find the source of the undead.
Issue #3 kicks up the chaos as super-spreading zombies tear up the place and the heroes find themselves backed into tight corners. Van Lente mixes the humor and the morbid action well. It's fun to see Peter Cannon meet and fight his superhero idols while trying to stay focus on his mission. And Vampirella does not fair any better. Her relaxing voyage in space has completely changed into an exhausting adventure, that gets worst for her at every step.
This issue hopefully sets up bigger and deadly fights ahead. Superpowered zombies are not going to be easily persuaded to not eat people. There's still plenty of plot left to expand on the great evil and what other characters can join in on the mayhem.
Bitten by a radioactive video store rental employee and overcome by Pac-Man fever, Chris seeks new comic books, games, and movies to review.
comics
Dejah Thoris
DIE!NAMITE
dynamite
dynamite comics
Fred Van Lente
Kike J. Diaz
Pasquale Qualano
Peter Cannon
Project Superpowers
red sonja
Smiley
Thunderbolt
Vampirella
Vincenzo Carratu