Everything Actioncast Ep 516 "Buckaroo Banzai, Lucasfilm Games, Risk, Queen's Gambit and More"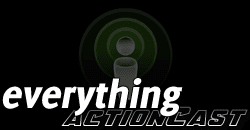 This week on the podcast, Zach, Chris, and a returning Joe talk more Wonder Woman 1984, a Risk TV show, the return of Lucasfilm Games, a Buckaroo Banzai book sequel, Vikings, Tenet, The Tax Collector, The Queen's Gambit, and more.
News: Lucasfilm Games is back and co-publishing a Ubisoft open-world Star Wars game and a Bethesda Indiana Jones game, new movies heading exclusively to streaming, Buckaroo Banzai getting a novel sequel, Risk getting a TV series, The Sparrow Academy cast for The Umbrella Academy Season 3 and Chris Evans may be returning to the MCU.
Show and Tell: Joe (and Chris) saw Wonder Woman 1984 along with The Mandalorian Season 2 and Tenet, Chris watched The Queen's Gambit and finished Sweet Home and Zach saw The Tax Collector and the series finale of Vikings.
We want to hear your comments and feedback. Send them all to [email protected].
Also, be sure to subscribe, rate, and review us on Apple Podcasts, Stitcher, Amazon Music, & Spotify
Check us out on Twitter (@evaction) Facebook (www.facebook.com/everything.action), and Instagram (@everything.action).
Podcast: Download (Duration: 1:23:57 — 60.6MB)
bethesda
boss level
buckaroo banzai
captain america
chris
chris evans
everything action
Everything Actioncast
indiana jones
joe
kitbag
lucasfilm games
MCU
podcast
risk
sweet home
tenet
the mandalorian
the queen's gambit
the sparrow academy
the tax collector
the tomorrow war
The Umbrella Academy
ubisoft
vikings
wonder woman 1984
zach