The Pull List – James Bond: Agent of Spectre #1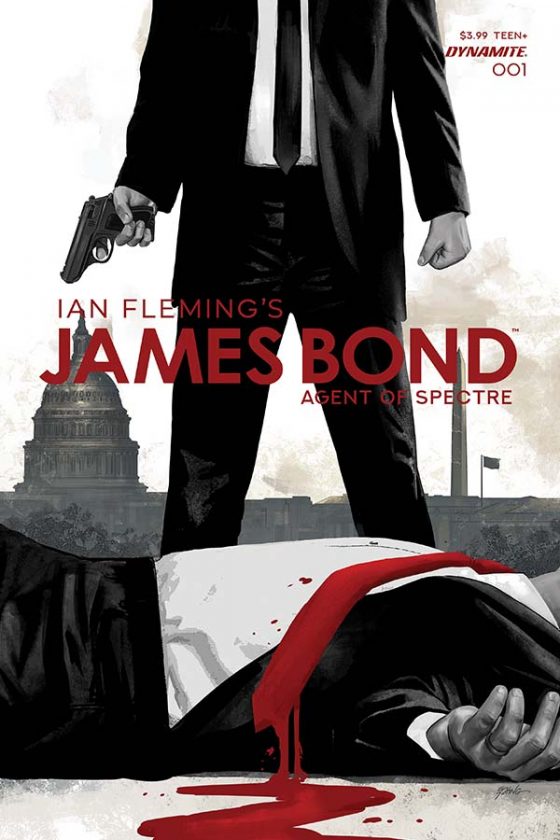 Publisher: Dynamite Comic
Writer: Christos Gage
Art: Luca Casalanguida
Colorist: Heather Moore
Spectre is a criminal organization that has operated in the shadows to secretly control the world. Its mysterious directors, undercover agents, and ruthless tactics have made them a feared foe for M.I.6. However, a power struggle in Spectre is causing a rift with its leaders. To secure his position, Ernst Stavro Blofeld recruits an outsider no one sees coming. Blofeld offers a deal with James Bond to be his personal assassin to eliminate a rival Spectre figure. With many lives in jeopardy and a chance to infiltrate Spectre, Bond walks down a dangerous path that may not have a return.
On his latest assignment, Bond tracks and corners a Spectre agent on a ferry boat but Bond fails to secure the agent safely. Recovered documents from the agent reveal Ernst Stavro Blofeld's meeting location. Ordered by M, Bond is to ambush the meeting and confront Blofeld's any means possible. However, Blofeld's meeting is not what it appears to be. Blofeld's expected 007's arrival and offers an arrangement. Bond will eliminate a rival Spectre leader in exchange for the safety of Felix Leiter. Going against his duties for M.I.6, Bond accepts his new role.
Christos Gage pens an exciting story about Bond forced to blur the lines between loyalty and duty. Tapping into the classic Bond formula, Gage shows 007 to be a clean and efficient agent, with has no problem getting his hands dirty. As Bond is challenged to work with his enemy, Gage explores the depths of Bond's devotion to his friends and his service to Queen and Country.
Luca Casalanguida and Heather Moore bring excellent visuals to capture the suspense and action from Bond's adventure. Casalanguida's design for Bond has him a little more refined details, like a grizzled Roger Moore version of 007. However, age does not slow down Bond. He is quick to exchange gunfire and his fist when the action kicks off. Moore's colorwork boosts Casalanguida's work to show Bond an intense focus and combat skills. The visuals work in this first issue sets up anticipation to see Bond take on a car chase or use deadly spy gadgets.
James Bond: Agent of Spectre has Bond step into Spectre's shadow and push his limits as an agent and a friend. Bond fans will find familiarity and surprises in Gage's story, with great visuals from Casalanguida and Moore. There is no time like the present to get an exciting 007 adventure now when this comic is released this week.
James Bond: Agent of Spectre #1 will be released on March 3rd, 2021.
007
Christos Gage
comic
dynamite
dynamite comics
Heather Moore
james bond
James Bond: Agent of Spectre
Luca Casalanguida
the pull list