The Pull List – Orphan and the Five Beasts #1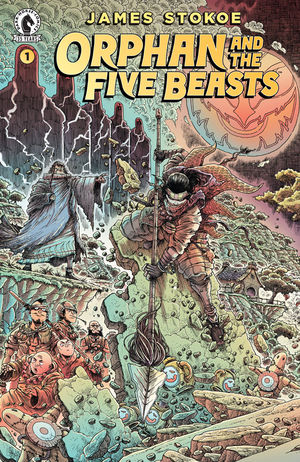 Publisher: Dark Horse Comics
Writer & Artist: James Stokoe
Sent on a mission by his master, Orphan Mo sets off to find and defeat the five former disciples that reign over a once peaceful land. These masters of deadly martial arts have spread corruption with their reach. The young warrior Mo must face off against a horde of bandits, thieves, and beasts in a chaotic realm in need of order.
In a quiet, remote valley, Orphan Mo discovers a body with a mysterious branding. Mo's dying master acknowledges the time has come for Mo to correct a mistake from the past. Long ago, the Master had trained five disciples that used their ability for good. However, they had strayed from a righteous path and become terrifying beasts, hunger for power. Honoring her master's last wish, Mo ventures off to rid the land of evil.
James Stokoe finds a good balance of his writing and artwork to introduce the premise and characters. The story has familiar tones of old martial arts movies that move the plot fairly quickly. The amazing manga-inspired visuals are dense with hand-drawn features that showcase Stokoe's attentive eye for details.
Orphan and the Five Beasts #1 checks off every mark for an action comic fan to follow Mo's adventure. The first chapter builds a solid foundation for an epic martial arts tale with dramatic heroics and thrilling action. The great visuals and fast pace story should keep readers reading with excitement.
Orphan and the Five Beasts #1 will be released on March 17th, 2021.
Bitten by a radioactive video store rental employee and overcome by Pac-Man fever, Chris seeks new comic books, games, and movies to review.
comics
dark horse comics
James Stokoe
Orphan and the Five Beasts
Orphan Mo