4 Comics & Graphic Novels to read for more Falcon and Winter Soldier.
By Chris

Sponsored by Comixology
Steve Rogers has worked with countless heroes to save the day. But his more trusted allies have been Sam Wilson and Bucky Barnes, better known as the Falcon and the Winter Soldier. Each had a distinct role and style when teaming up with Rogers, and each has taken up the mantle of Captain America. However, Sam and Bucky working with Steve is one thing, working together without Steve is another. The Falcon and the Winter Soldier have a complex relationship of being rivals, partners, and eventually friends. In celebration of the premiere of Disney+'s The Falcon and the Winter Soldier this week, we teamed up with Comixology to look at four select comics & novels to read on Comixology Unlimited for fans looking to read up on the action pack comic history of these red, white, and blue heroes.
Captain America and The Falcon: Secret Empire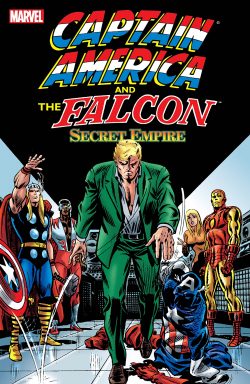 Back in 1968, Marvel experimented with the idea of a world without Captain America. The Secret Empire arc had Steve Rogers question his role as an American hero as a conspiracy unfolds to turn America against the leader of the Avengers. As Steve feels the distrust amongst his government and his peers, this would be Rogers's first exit as Captain America, to become Nomad. While Nomad wasn't a fan favorite, the change didn't last long, and the impact of Rogers no longer being Captain America was pretty shocking. The world wasn't ready for America to be without a Captain, and it would be a while for anyone to pick up where Rogers left off. Link to comic here.
Captain America & The Falcon by Christopher Priest: The Complete Collection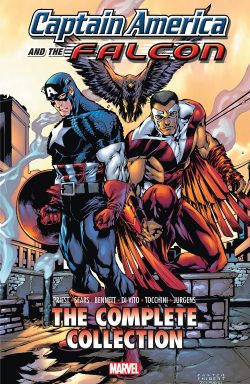 Christopher Priest explores the partnership of Captain America and the Falcon in an exciting story about gangs, super soldiers, and superhero romance. Sam Wilson is framed for a crime and S.H.I.E.L.D. issues an arrest. In order to save Sam, Steve is given 24 hours to find Sam before S.H.I.E.L.D. steps in. As Steve purses Sam, they uncover some surprises twist, and blur the lines between heroism and vigilantism. Link to comic here.
Winter Soldier: The Bitter March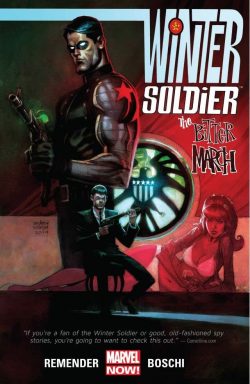 Bucky Barns was long to be dead during the events of WW2, but he was rebuilt into the Russian super-weapon Winter Soldier. Armed with a bionic arm, super strength, and a deadly aim, the Winter Soldier was a cold, efficient killer. Winter Soldier: The Bitter March takes place in the '60s when the Winter Soldier is on a mission to retrieve two Nazi scientists. However, they are also sought out by S.H.I.E.L.D. and Hydra agents. It will be a spy vs spy fight for everyone trying to gain a hot edge in the Cold War. Link to comic here.
Falcon & Winter Soldier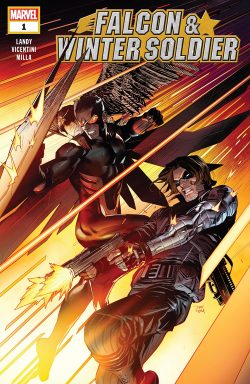 Hydra has re-emerged and is looking for payback. A hit has been put out on Bucky Barns, so he turns to another hero that can cover his back, Sam Wilson. They team up to take on Hydra agents and its new mysterious leader. It's a race against the clock as they must fight to save themselves and the rest of the world from Hydra's evil plan. Link to comic here.
If you want to read all these stories and more, head over to the Comixology to browser from a massive selection of great comics. If you don't have Comixology Unlimited, you can sign up for a free trial to get access to countless titles with their service. Click here to see the Falcon and Winter Soldier collection.
Bitten by a radioactive video store rental employee and overcome by Pac-Man fever, Chris seeks new comic books, games, and movies to review.
captain america
comics
comixology
Comixology Unlimited
falcon
Marvel
Marvel Comics
the falcon
the falcon and the winter soldier
the winter soldier