Everything Action Theater: Mars Attacks!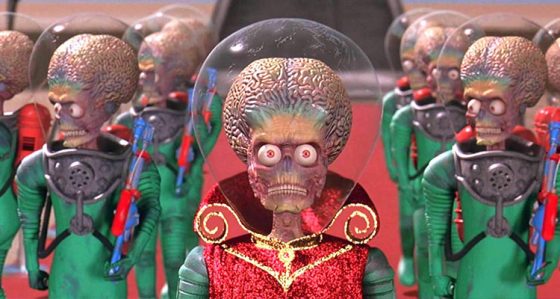 The greatest movie ever based on a series of trading cards, Mars Attacks! had the misfortune of coming out in 1996 the same summer as Independence Day, and its wacky, cynical humor was overshadowed by that movie's gigantic special effects-filled action.  Loosely based on the Topps card set from 1962, Tim Burton directed Mars Attacks! after his brilliant biopic Ed Wood and it featured an absurd roster of stars including Jack Nicholson, Annette Benning, Glenn Close, Pierce Brosnan, Jack Black, Michael J. Fox, Sarah Jessica Parker, Danny Devito, Martin Short, Lukas Haas, Pam Grier, Jim Brown, Natalie Portman, Tom Jones and more.  When a fleet of ships arrives from Mars, humanity prepares for first contact but they quickly discover that the Martians are assholes who want to cause as much destruction and chaos as possible, including destroying multiple branches of the US government, turning world landmarks to rubble, etc.  The aliens were created with CG, although Burton initially wanted to make them stop motion in a homage to Ray Harryhausen.  The movie made $101 million worldwide but since its budget was $100 million without the additional costs of advertising and promotion, it was considered a box office bomb at the time by Warner Bros.  It has since developed a cult following and some (including myself) consider it among Tim Burton's best movies.  You can check out the entire movie below thanks to YouTube.
https://www.youtube.com/watch?v=wtWJIUhKEh4
I'm like the J. Jonah Jameson of Everything Action, writing and editing and constantly demanding pictures of Spider-Man.
1996
90s movies
alien invasion
annette benning
danny deviot
everything action theater
full movie
glenn close
independence day
jack black
jack nicholson
jim brown
lukas haas
mars attacks
martians
natalie portman
pam grier
pierce brosnan
sarah jessica parker
tim burton
tom jones
topps trading cards