The Pull List – Jenny Zero #1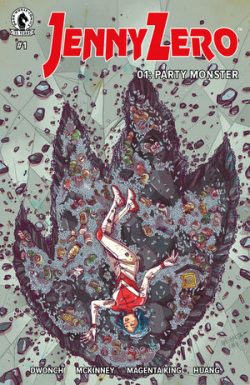 Publisher: Dark Horse Comics
Writer: Dave Dwonch and Brockton McKinney
Art: Magenta King
Colorist: Megan Huang
For some people, it's hard to live up to a family legacy. It's especially so you are a daughter of a beloved superhero. Mega Commander Zero defended humanity against the rising threats of monstrous kaijus in Japan. But his daughter Jenny chose a different path. Instead of joining the Action Science Police like her father, Jenny indulged in debauchery over heroics. However, the world desperately needs a hero when kaijus return. Can Jenny make a heroic rebound or will she have a VIP seat to the end of the world?
From fighting monsters to being a party monster, Jenny Tetsuo was an elite agent of the Action Science Police. A falling out with her family caused her to find a life partying at clubs, clashing thrills, and recovering from hangovers. It would be the last thing on her mind to return to A.S.P if the world was not in immediate danger. Approached by her uncle, General Fujimoto, Jenny is the only person capable to stop the invading kaiju creatures, even if she's not 100% sober for the job.
With nods to classic anime and monster movies, Jenny Zero is a colorfully imaginative world with a fun premise. Dave Dwonch and Brockton McKinney introduce Jenny to be kind of a mess of a character, who reluctantly accepts her role as a hero. But just like Jenny, the plot is not what it seems just so easily at first. Dwonch and McKinney patiently wait to show off the true potential of the story at the right moment. Magenta King's visuals are fluid and spacious. and Megan Huang's colorwork uses a familiar bright neon palette to accent the futuristic sci-fi weaponry and monsters.  Everything visually really comes together when Jenny starts taking on the kaijus.
If you are in the mood for some kaiju action this month, Jenny Zero is a fun read that sets up an interesting sci-fi story. It leads into familiar territory with some of the elements but manages to strike an interesting distinction by end of the first chapter.
Jenny Zero #1 will be released on April 14th, 2021.
Bitten by a radioactive video store rental employee and overcome by Pac-Man fever, Chris seeks new comic books, games, and movies to review.
Brockton McKinney
comics
dark horse comics
Dave Dwonch
Jenny Zero
Magenta King
Megan Huang