The Pull List – Red Sonja: Black, White, Red #1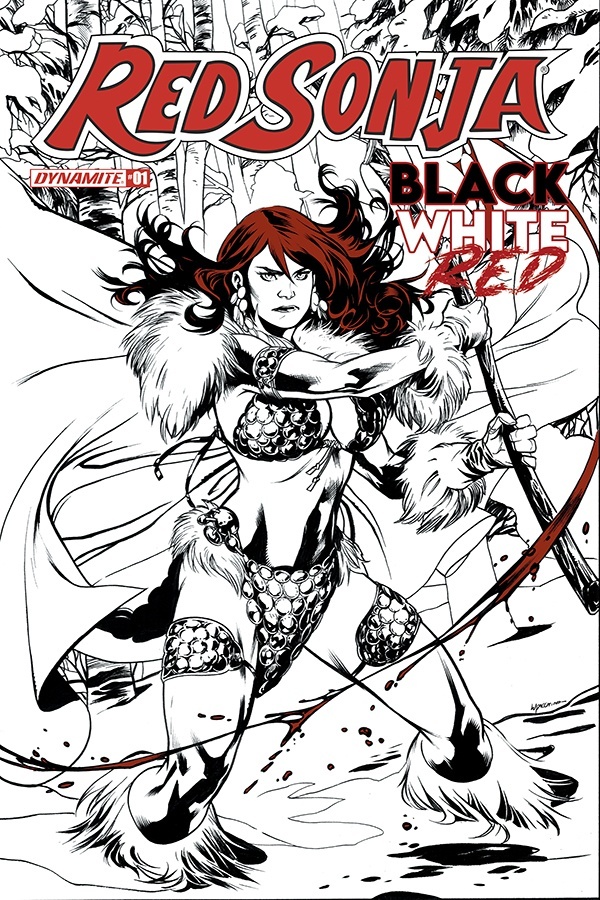 Publisher: Dynamite Comics
Writers: Kurt Busiek, Amanda Deibert, Mark Russell
Artists: Benjamin Dewey, Cat Staggs, Bob Q
Letters: Hassan Otsmane-Elhaou, Simon Bowland, Nate Cosby
In a collaborative project that brings top comic creators, Red Sonja: Black, White, Red tells three exciting Sonja adventures that artfully uses just three titular primary colors. Each tale is told by a different team of creators, offering a differing premise of Sonja's adventures, told in a non-connection anthology. The focal point of these comics is telling an exciting compact story and deliver a good splash of red on the pages.
The Sorcerer of Shangara! by Mark Russell, Bob Q, and Hassan Otsmane-Elhaou, follows Sonja as she attempts to rescue captives from a castle. However, she finds that the prisoners she meets are under a strange influence and no desire to leave.
The Hunted by Amanda Deibert, Cat Staggs, and Hassan Otsmane-Elhaou, finds Sonja as she is being chased by bandits in the wintry woods. She encounters a couple and protects them against thieves, but the odds of survival get degrees just like the winter gets colder.
Seeing Red by Kurt Busiek, Benjamin Dewey, and Simon Bowland, picks up as Sonja quietly sneaking into a tomb. She is tasked with retrieving a prized ruby but a mysterious and vicious guardian awaits any intruder for the challenge.
These stories are well-paced in the limited narration space. The visuals are stunning, even with the restricted color palette there is lots of detail in the work. The use of red is nicely added to enhance both Sonja's presence and the brutality she can dish out.  Overall, Red Sonja: Black, White, Red offers thrilling sword and sorcery tales in condensed segments, making them perfectly easy to pick up and read for anyone.
Red Sonja: Black, White, Red #1 will be released on July 7th, 2021.
Bitten by a radioactive video store rental employee and overcome by Pac-Man fever, Chris seeks new comic books, games, and movies to review.
Amanda Deibert
Benjamin Dewey
Bob Q
Cat Staggs
comic book
comics
dynamite
dynamite comics
Hassan Otsmane-Elhaou
Kurt Busiek
Mark Russell
Nate Cosby
red
red sonja
Red Sonja: Black
Simon Bowland
Sword and Sorcery
the pull list
White