The Pull List – Ninjak #1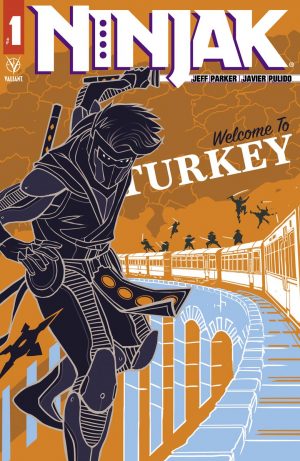 Publisher: Valiant Comics
Writer: Jeff Parker
Artist: Javier Pulido
Colorist: Lovern Kindzierski
Letterer: Taylor Esposito
Colin King fought for Queen and Country as the highly skilled MI-6 agent Ninjak. But recent events had severed King's ties MI-6, who had disavowed Ninjak. Now operating independently, King has been working off the grid. However, when a massive data breach hits MI-6 and the identities of its covert agents are stolen, King is open to the public with a large target on his back.
When two high rankings MI-6 officials have their memories scanned by a mysterious pair of thieves, MI-6's most classified information is given to the wrong hands. While the MI-6 goes on lockdown, agents around the globe become compromised and are hunted down. As King mops up an assignment in Istanbul, the fallout of MI-6's leak makes its way there. Myna, an MI-6 surveillance agent tailing King, is saved just when her position is jeopardized by armed thugs. Too vulnerable aboard, King and Myna make their way back to England, but encounter some deadly resistance.
Ninjak #1 is a sleek opening chapter that sticks to the basics of a spy story. Jeff Parker goes for a direct approach with the premise, giving this series a very classic spy movie feel, with an added Ninja bonus. King is front and center in the plot, but there is room for the new character Myna to share some space. Javier Pulido's visual pairs well with the story elements. His bold and clean linework amplifies the retro elements of the story, giving the comic a fun pulp look.
Ninjak has a lot of promise to be a great spy thriller that is a cross between a Jason Bourne movie and a superhero flick. While the story is not a change of pace for the Ninjak series, it's a happy return to form that fans should eager to read.
Ninjak #1 will be released on July 14th, 2021.
Bitten by a radioactive video store rental employee and overcome by Pac-Man fever, Chris seeks new comic books, games, and movies to review.
Colin King
Javier Pulido
Jeff Parker
ninjak
valiant
valiant comics
Valiant Entertainment