The Pull List – Savage Hearts #1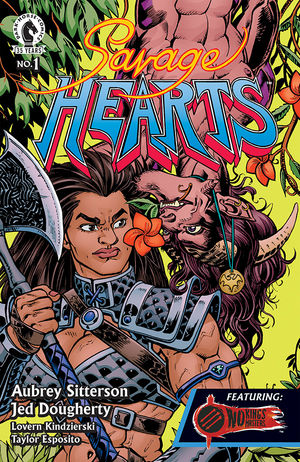 Publisher: Dark Horse Comics
Writer: Aubrey Sitterson
Artist: Jed Dougherty
Colorist: Lovern Kindzierski
Letterer: Taylor Esposito
Can love blossom on a quest for revenge? A love-struck jungle beastman believes so, but maybe not so much for the jacked barbarian he admires. Graow is a carefree, wild beastman that spends his time speaking to dinosaurs to pass the time. Bronwyn is a hulky warrior, seeking vengeance against an evil wizard that scorned her. Their chance for love occurs when Graow encounters Bronwyn and her companions while they are traveling thru the jungle landscape. Will this mismatched pair find love or will fate bring them further apart?
The jungle is a lively environment but can be lonely without the right company. Graow has dinosaurs friends to talk to, yet he feels something is missing in his life. That all changes when Bronwyn stumbles into his world. Bronwyn and her companions are on a quest to find a valley where an evil wizard hides but the party is unfortunately lost. Luckily, Graow has taken interest in the group, particularly Bronwyn, and offers to join them as their guide. Graow is not shy about his feelings and tries to gain Bronwyn's affection. But it looks like it will take more than fancy words and navigation skills for Graow to impress Bronwyn's buff heart.
The sword and sorcery genre gets a touch of romantic comedy as Aubrey Sitterson delivers a fun story that is both familiar and unexpected. Graow and Bronwyn are complete opposites, with one-sided chemistry. Graow is a hopeless romantic loser that tries to be smooth, even when getting constantly shot down. Bronwyn is a brooding mix of a Red Sonja and a WWE wrestle. While the goal of their partnership follows the typical plot of a tyrannical figure that needs killing, Graow and Bronwyn interactions carry most of the story.
Jed Dougherty and Lovern Kindzierski build a stunning world, with larger-than-life characters and settings. Bronwyn wields a huge axe that compensates for nothing as she is built like a tank. Graow is like a tribal faun, with purple skin and a huge trimming smile. Dougherty also supersizes giant birds that may not look deadly but appears extremely annoying to be hassled by. Kindzierski uses a wide range of bright cheer colors for the tropical elements and does an excellent job to show off Bronwyn's rage.
Savage Hearts is a fun take on the fantasy genre that plays well to its strengths. Graow and Bronwyn's relationship is something for readers to cheer on, if the jungle fool and barbarian brute don't manage to get each other killed.
Savage Hearts #1 will be released on July 14th, 2021.
Bitten by a radioactive video store rental employee and overcome by Pac-Man fever, Chris seeks new comic books, games, and movies to review.
Aubrey Sitterson
comics
dark horse comics
Jed Dougherty
Lovern Kindzierski
Savage Hearts
Taylor Esposito