Everything Action Commentary: The Octagon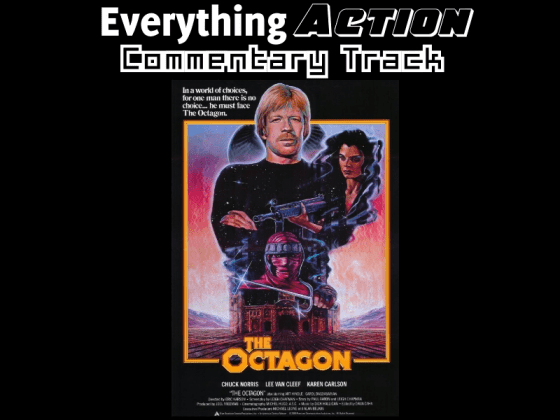 For the latest Everything Action Commentary, Zach, Chris, and special guest Addam enter The Octagon with Chuck Norris.
Norris plays Scott James, a retired karate champ who gets involved in an elaborate scheme to stop The Octagon, a secret training camp that gives criminals, terrorists, and other nefarious people the skills of a ninja.  Scott's estranged adopted brother Seikura is the leader of The Octagon and Scott seems reluctant to face him and possibly be forced to kill him.  As things get more complicated, Scott is eventually forced to seek out The Octagon and its deadly challenges.  While watching the guys discuss the weird, creepy ASMR voiceovers from Chuck, try to figure out the schemes and motivations of the various characters, the training regime of The Octagon, the film debut of Richard Norton, what exactly is a "rock heart", the teasing of martial arts from Ernie Hudson and more.  The Octagon is available to stream on Prime Video and you can sync it up to the commentary below and watch along with the Everything Action crew.
You can find Adam at @addamthecomic on Twitter and Twitch and at theadman2315#2135 on Discord
We want to hear your comments and feedback. Send them all to [email protected].
Also, be sure to subscribe, rate, and review us on Apple Podcasts, Stitcher, Amazon Music, & Spotify
Check us out on Twitter (@evaction) Facebook (www.facebook.com/everything.action), and Instagram (@everything.action).
Podcast: Download (Duration: 2:06:31 — 67.8MB)
80's action
addam
art hindle
asmr
carol bagdasarian
chris
chuck norris
eric karson
ernie hudson
everything action
jack carter
karate
karen carlson
kurt grayson
lee van cleef
martial arts
movie commentary
ninjas
richard norton
scott james
tadashi yamashita
the octagon
zach