News – What about First Breakfast? A 24-Hour Lord of the Rings Minecraft Marathon Charity stream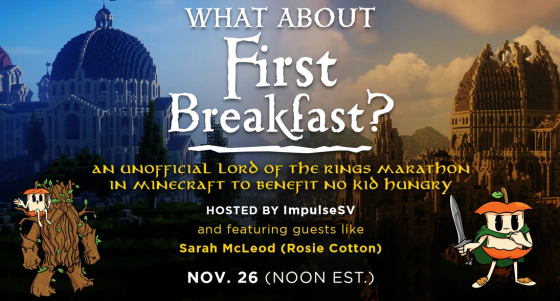 As we prepare for the holiday season, let's make sure that children across the country are able to take part in the festivities with proper meals. ImpulseSV and Minecraft Middle Earth are teaming up for a 24 Charity stream for No Kid Hungry. Starting this November 26 at 12 PM EST, ImpulseSV will be live on Twitch for 24 hours, this chat-driven adventure on the legendary Minecraft Middle Earth server. There he will be exploring over 10 years of fan-built moments and re-visiting dozens of scenes from the Lord of the Rings films. All funds raised will go towards No Kid Hungry and support their mission to help feed the millions of children in the United States.
You can see more details about the stream over from the No Kid Hungry press release. You can tune into the event Tiltify page to watch and to donate. Every $1 donated can help connect children to 10 meals.
24 Hour Stream
charity
Charity Stream
ImpulseSV
lord of the rings
LOTR
Minecraft Middle Earth
No Kid Hungry
Sarah McLeod
stream
streaming
twitch
What About First Breakfast?