Here's all the movie and TV news you need to know from the past week, it's the News Shotgun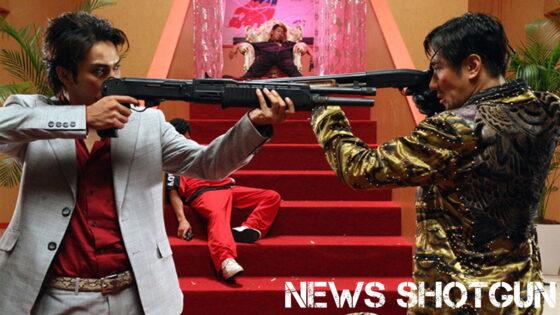 Wonder Twins cast for HBO Max movie: The Wonder Twins have been cast for an upcoming HBO Max DC movie with Riverdale's KJ Apa playing Zan and 1883's Isabel May playing Jayna.  The Wonder Twins were introduced in the 1970s cartoon The All-New Super Friends Hour and have popped up somewhat in other forms over the years but this would definitely be their biggest showcase.  After combining their powers, Zan can transform into any form of water while Jayna can transform into any animal.  Adam Sztykiel, who wrote Scoob!, Black Adam, and Rampage, is making his directorial debut with Wonder Twins.
DC overhaul may be underway soon: As the Warner/Discovery merger is fully complete, the new heads of the company may be looking to fully revamp the DC Entertainment side of the company.  David Zaslav, the new CEO of Warner Bros Discovery, is apparently looking to reshape DC into something similar to what Disney has with Marvel, with a singular force a la Kevin Feige, overseeing everything across movies, TV, and elsewhere.  There are currently remnants of the Snyderverse along with standalone movies, the Arrowverse and its related shows, and the comics and animated shows and movies.
Susan Sarandon replaces Sharon Stone in Blue Beetle: Only being in talks recently, negotiations with Sharon Stone fell through and now Susan Sarandon will be the main villain of the upcoming Blue Beetle movie.  Xolo Mariduena of Cobra Kai is playing Jamie Reyes aka Blue Beetle, who fuses with an alien scarab that gives him a superpowered suit of armor and weaponry.  Sarandon will play Victoria Kord, a new character created for the movie, who must have some sort of connection to Ted Kord, the second Blue Beetle in DC continuity.
Doom Patrol spin-off in development: Doom Patrol is getting a spin-off in the form of Dead Boy Detectives, based on characters who appeared in the third season and are also from Neil Gaiman's Sandman universe.  George Rexstraw, Jayden Revri, and Kassius Nelson will reprise their roles from Doom Patrol with Rexstraw and Revri as dead British teen detectives who solve mysteries with their living friend Crystal Palace, played by Nelson.  Steve Yockey, showrunner on The Flight Attendant, will also show run Dead Boy Detectives with Greg Berlanti and Sarah Schechter executive producing. Lee Toland Krieger, who directed the pilot of Superman & Lois, will direct the first episode of Dead Boy Detectives.
Netflix buys action/comedy The Man from Toronto: Netflix has bought the action/comedy The Man from Toronto from Sony, moving it from a theatrical release to streaming on Netflix.  Woody Harrelson and Kevin Hart are co-starring and the movie follows the world's greatest assassin and a New York screw-up as they are mistaken for each other at an Airbnb.  Kaley Cuoco, Jasmine Mathews, Ellen Barkin, Lela Loren, Pierson Fode, Jencarlos Canela, Tomohisa Yamashita, and Alejandro De Hoyos co-star and Patrick Hughes, who directed The Hitman's Bodyguard and its sequel, is directing.
The Witcher Season 3 adds new cast members: A bunch of new characters are arriving on The Continent for Season 3 of The Witcher with Robbie Amell, Meng'er Zhang, Hugh Skinner, and Christelle Elwin joining the cast.  The filming for the third season began early this month.
Peacock's Ted show finds its cast: Foul-mouthed teddy bear Ted is coming to Peacock with a TV series and Giorgia Whigham, Max Burkholder and Scott Grimes will join Seth McFarlane on the new show.  The show will be a prequel to the movies featuring a 16-year-old John Bennet, played by Burkholder (and who eventually grows into Mark Wahlberg), living in Boston with his aunt, uncle, and older cousin Blaire, played by Whigham.
Zoe Bell directing action/comedy based on her viral video: Much better received than Gal Gadot's horrendous "Imagine" video, Zoe Bell's quarantine project was "Boss Bitch Challenge", which found Bell and famous friends like Halle Berry, Scarlett Johansson and Margot Robbie having a global brawl across Zoom.  Bell will direct some sort of movie inspired by the short with the script being written by Kirsten "Kiwi" Smith and Mamrie Hart.  Smith has written a ton of comedies including Legally Blonde, 10 Things I Hate About You, She's the Man, and The House Bunny while Hart wrote indie comedies Camp Takota and Dirty 30.
Downtown Owl cast set: Based on the Chuck Klosterman novel Downtown Owl, the movie adaptation has found its main cast with Lily Rabe, Vanessa Hudgens, Ed Harris, Jack Dylan Grazer, August Blanco Rosenstein, and Finn Wittrock.  The book and movie are set "somewhere in rural North Dakota in 1983 and in the fictional town called Owl where you won't find cable or pop culture, but you will find a downtown with a first-rate Chevrolet dealership, three bars, and a new high school English teacher whose presence upends the lives of locals just in time for a white-out blizzard for the ages".  Rabe will co-direct the movie with Hamish Linklater.
The Flash may end with a shortened final season: Although it was renewed for a ninth season, the end seems close for The Flash on The CW.  Currently, the eighth season will end at the end of June this year and news came out that long-time cast member Jesse L. Martin is leaving the series in the next season.  Arrow also ended with an abbreviated final season and that seems like what might be in the works for The Flash, which is now the longest-running show in the Arrowverse.
Greyhound getting a sequel on Apple TV+: Tom Hanks' World War II movie Greyhound is apparently getting a sequel on Apple TV+.  Greyhound was based on a book by C.S. Forester and Hank's character from Greyhound doesn't appear in any other books but there's a wide world of World War II to mine across the different theaters of war.  Hanks signed a multiple-year contract with Apple recently for his Playtone Company to develop all kinds of programming for the streaming service.
RIP Gilbert Gottfried: Legendary comedian Gilbert Gottfried passed away this week at age 67 after a lengthy illness.  Gottfried was a stand-up legend as well as a prolific voice and film actor, most famously in movies like Aladdin, Problem Child, Doctor Dolittle, Beverly Hills Cop II, and more.  He also hosted USA's "Up All Night" show, which was similar to contemporary Monstervision over on TNT with Joe Bob Briggs.  He was also a staple of the reboot of Hollywood Squares and many VH1 specials like I Love the 80s, 70s, 90s, etc. along with their show Best Week Ever.
Ghost of Tsushima movie finds a screenwriter: Playstation Productions has found a screenwriter for its Ghost of Tsushima movie with Takashi Doscher.  Doscher also wrote a kaiju movie called Blue that is in development and the sci-fi romance movie Only.  Chad Stahelski, director of the John Wick films, is directing the movie.
Justin Bartha returning for National Treasure series: Justin Bartha will be reprising his role as "guy in the chair" Riley Poole for the upcoming National Treasure Disney+ series.  The new show stars Lisette Alexis and Catherine Zeta-Jones and concerns a lost Pan-American treasure with ties to new heroine Jess (Alexis) and the history of her family.  The show is currently in production now.
Spirit Halloween movie in development: The pop-up Halloween store Spirit Halloween is getting its own movie, arriving in October this year. Christopher Lloyd and Rachel Leigh Cooke will star along with younger actors Donavan Colan, Dylan Frankel, Jaiden Smith, and Marissa Reyes.  The movie follows a group of teens who decide to hide and spend a night in a Spirit Halloween in their town but the store is haunted by an evil spirit that brings the store's animatronic decorations to life and wants to possess the bodies of the teens.  Short film director David Poag is directing the movie.
Casper reboot in the works for Peacock: Casper the Friendly Ghost is coming back with a new Peacock live-action series but it might be slightly less friendly than the 90s movie or previous incarnations.  Apparently inspired by Riverdale, the new show follows "a new family (that) arrives in the small town of Eternal Falls, (and) Casper finds himself entangled in a mystery uncovering dark secrets that have been buried for over 100 years".  Kai Yu Wu, who was the head writer for Netflix's The Ghost Bride, is writing and executive producing the new Casper show.
Percy Jackson cast for Disney+: Disney has found its new Percy Jackson with The Adam Project's Walker Scobell starring in the upcoming reboot series.  The new show will follow the plot of the first novel, written by Rick Riordan, as teen Percy Jackson discovers that he's the son of Poseidon and he gets accused of stealing Zeus' lightning, which sets him on a massive mythological adventure.  Logan Lerman previously played Percy in the two movies that were made based on the novels.
Will Ferrell joins Barbie movie: Will Ferrell has joined the upcoming Barbie movie as the CEO of a toy company.  Margot Robbie is playing Barbie while Ryan Gosling is Ken and Simu Liu, America Ferrara, Alexandra Shipp, and Kate McKinnon are co-starring. Greta Gerwig, who is coming off Little Women and Lady Bird, is directing the Barbie movie, which is coming in 2023.
Brie Larson joins Fast 10: Captain Marvel is coming to the Fast universe as Brie Larson has joined the cast of Fast 10 (or F10 or whatever they are going to call it).  Vin Diesel announced the news on his Instagram but Larson's role is not known.  Jason Momoa was cast as the new villain taking on the Fast Family and the movie will be part 1 of a 2 part finale that will wrap up this main Fast & Furious story and Justin Lin is on-board to direct both movies.
I'm like the J. Jonah Jameson of Everything Action, writing and editing and constantly demanding pictures of Spider-Man.
barbie
blue beetle
boss bitch challenge
brie larson
casper
christelle elwin
chuck klosterman
DC
dead boy detectives
doom patrol
downtown owl
fast 10
fast and furious
ghost of tsushima
gilbert gottfried
greyhound
hbo max
hugh skinner
isabel may
justin bartha
kevin hart
kj apa
meng'er zhang
national treasure
news shotgun
peacock
percy jackson
robbie amell
seth mcfarlane
spirit halloween
susan sarandon
ted
the flash
the man from toronto
the witcher
tom hanks
walker scobell
will ferrell
wonder twins
woody harrelson
zoe bell