Here's the movie and TV news you need to know from the last week, it's the News Shotgun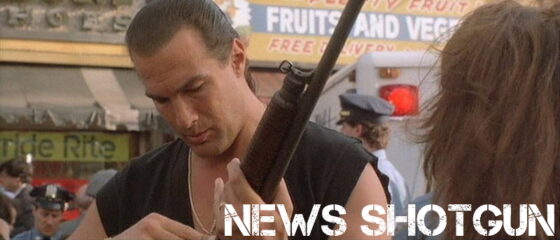 Magnum PI renewed by NBC: Canceled earlier this year by CBS, the Magnum PI reboot has been saved and will move to NBC for two more seasons.  NBC picked up the show for 20 episodes spread across two seasons with the main cast all set to move networks with the show.  This is the second time recently that NBC saved a show from another network, rescuing Brooklyn Nine-Nine after Fox canceled it after five seasons and gave it three more seasons.
Tom Swift canceled at The CW: The CW continues to clean house in the wake of their potential sale and the WB/Discovery merger, canceling the Nancy Drew spin-off Tom Swift after one season.  The show is only 6 episodes into its inaugural season but ratings were low and, while it will finish out this first season, it won't return on The CW but CBS Studios is looking for another home for the series.
The Russo Brothers set next Netflix movie: Avengers directors The Russo Brothers have their big Netflix action movie The Gray Man coming up soon and they're set to direct another film on the streaming service, The Electric State.  Stranger Things Millie Bobby Brown will star in the film, set in a steampunk American West where a young woman travels in search of her brother with a robot and a drifter.  Chris Pratt is apparently in talks to co-star.  The movie is based on the illustrated novel by Simon Stålenhag.
Cameron Diaz returning to film in Back in Action: Also coming to Netflix, Cameron Diaz is coming out of retirement to co-star in a new action/comedy Back in Action with Jamie Foxx, the news of which Foxx shared on social media.  Diaz retired in 2018 with her last role being the reboot of Annie in 2014.  There's no details on what Back in Action will be about.
Mr. and Mrs. Smith reboot adds cast members: Prime Video is turning Mr. and Mrs. Smith into a TV series with Donald Glover and Maya Erskine in the title roles and they've added Michaela Coel, John Turturro and Paul Dano to the cast.  The show will follow the same plot as the movie, with a married couple unaware that they are both assassins until they are hired to kill each other.
Hugh Grant starring in Netflix Greek mythology show Kaos: Netflix is developing a dark comedy version of Greek mythology called Kaos and Hugh Grant is set to star as Zeus, who becomes paranoid that his fall is coming and starts seeing signs of it everywhere, like waking up with a new wrinkle.  David Thewlis, Janet McTeer and Cliff Curtis co-star and the show is created by Charlie Covell, who previously wrote The End of the F***ing World on Netflix.
Fallout series adds cast members: Amazon's upcoming adaptation of the Fallout games has added Kyle MacLachlan, Xelia Mendes-Jones and Aaron Moten to the cast.  Ella Purnell and Walton Goggins were previously cast.  The roles of the new additions are being kept hidden.  Westworld's Jonathan Nolan and Lisa Joy are executive producing the series.
New Bond years away from shooting: It's apparently going to be a while before James Bond returns to theaters as producer Barbara Broccoli said recently that a new Bond probably won't start shooting until at least 2024 or later.  There are no front runners for the new Bond and there's also the new dynamic with Amazon to figure out, as they purchased MGM and now share rights to Bond with the Broccoli family.
Kate Winslet returning to HBO with Trust: Kate Winslet is returning to HBO following Mare of Easttown with a new limited series, Trust.  Based on the novel by Hernan Diaz, the series is " about a wealthy financier who is dissatisfied by a novel based on his life and his wife's portrayal, so he asks a secretary to ghostwrite his memoir and set the record straight. The secretary, however, grows uncomfortably aware that he is rewriting history—and his wife's place in it".  Diaz will executive produce the series along with Winslet.
Ghostbusters: Afterlife sequel gets a release date: The sequel to Ghostbusters: Afterlife has a release date. Sony announced the movie, directed again by Jason Reitman, will be out on December 20th, 2023.  The sequel will pick up from the end credits scene of Afterlife, with Winston reopening the iconic Ghostbusters firehouse and the sequel will return to NYC.
The Old Man renewed for Season 2: The Jeff Bridges starring espionage thriller The Old Man will be back on FX for another season, as the network renewed the show for Season 2.  The show is currently four episodes into its first season and will have 7 episodes total for the season.  FX revealed it was one of their most watched shows since January of last year and one of the biggest debuts on FX on Hulu as well.
Obliterated action/comedy series coming to Netflix: Netflix is developing a new action/comedy show called Obliterated from the team behind Cobra Kai.  The show will star Nick Zano and Shelly Hennig and follows a Special Forces team who save Las Vegas from a bomb that is threatening the city.  The team parties it up in celebration but the next day, they find out the bomb they defused was a fake and the real one is still out there, which they now have to find hungover and otherwise impaired.
I'm like the J. Jonah Jameson of Everything Action, writing and editing and constantly demanding pictures of Spider-Man.
back in action
cameron diaz
fallout
ghostbusters
greek mythology
HBO
hugh grant
james bond
Jamie Foxx
kaos
kate winslet
magnum pi
millie bobby brown
movie news
mr and mrs smith
nbc
news shotgun
obliterated
the CW
the electric state
the old man
the russo brothers
tom swift
trust
tv news
zeus