Here's all the movie and TV news you need to know from the past week, it's the News Shotgun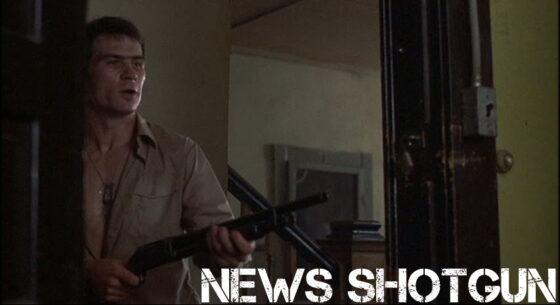 RIP: We lost a number of memorable actors this week. James Caan, who had a legendary career including The Godfather, Brian's Song, Elf, Rollerball, Thief and more, passed away at age 82.  Gregory Itzin, best known as the treacherous President Logan on 24, passed away at age 74 and Tony Sirico, best known as Paulie Walnuts on The Sopranos, passed away at age 79.
Captain America 4 gets a director: Captain America 4, which will pick up from The Falcon and The Winter Soldier with Anthony Mackie as Cap, has found a director in Julius Onah.  Onah previously directed The Cloverfield Paradox and Luce.  Malcolm Spellman, The Falcon and The Winter Soldier's creator and head writer, is writing Captain America 4.
Charlie Cox and Vincent D'Onofrio returning for Echo series: Following returns in No Way Home and Hawkeye, Charlie Cox and Vincent D'Onofrio will return as Daredevil and Kingpin respectively for the upcoming Marvel Disney+ series Echo, itself a spin-off from Hawkeye. Alaqua Cox (no relation to Charlie) returns as Maya Lopez aka Echo, who returns to her hometown to reconnect with her Native American roots but her life of crime under Kingpin catches up to her.
The Duffer Brothers working on The Talisman and Death Note series for Netflix: The Duffer Brothers are sticking with Netflix for the long haul post-Stranger Things.  The brothers have formed Upside Down Pictures, a production company for their upcoming projects, which includes an adaptation of Stephen King and Peter Straub's fantasy novel The Talisman, which has been in various forms of development since 2019.  Upside Down Pictures will also oversee a new live-action series adaptation of Death Note, which Netflix previously tried adapting with the Adam Wingard film that was not well received.
Night Sky canceled by Amazon: The Amazon original series Night Sky has been canceled after one season.  The show debuted with all 8 episodes of the first season on May 20th and starred JK Simmons and Sissy Spacek as an older couple who have a portal to an alien planet in their house.
Dark Side of Comedy coming to Vice: Continuing their Dark Side of… series, which includes Dark Side of the Ring, Football and The 90s, Vice is bring us Dark Side of Comedy.  The show will highlight stories of controversial or troubled comedians and will feature episodes about Andrew Dice Clay, Richard Pryor, Chris Farley, Greg Giraldo, Artie Lange, Roseanne, Dustin Diamond and more.  The first season debuts on August 16th and the first season will be 10 episodes.
ABC airing a live-action/animation Beauty and the Beast special: To celebrate this year's 30th anniversary of Beauty and The Beast, Disney is airing a new special on ABC.  The show will be a hybrid of the original animated movie mixed with live actors performing in front of an audience at Disney Studios.  Jon M. Chu is executive producing the special with Hamish Hamilton directing and it will be a two-hour special event on December 15th on ABC and available the next day on Disney+.
Evil renewed for Season 4: Paramount+ has renewed their horror procedural Evil for another season.  The third season is currently streaming on Paramount+, with new episodes dropping on Sundays and 10 episodes total for the third season.  Mike Colter, Katie Herber and Aasif Mandvi star as a team that investigates potentially supernatural and paranormal occurrences, most involving some sort of demonic possession.
I'm like the J. Jonah Jameson of Everything Action, writing and editing and constantly demanding pictures of Spider-Man.
alaqua cox
amazon
anthony mackie
beauty and the beast
captain america 4
charlie cox
dark side of comedy
death note
echo
evil
gregory itzin
james caan
julius onah
news shotgun
night sky
paramount plus
RIP
stephen king
the duffer brothers
the talisman
tony sirico
vincent d'onofrio