Everything Action Commentary: Grizzly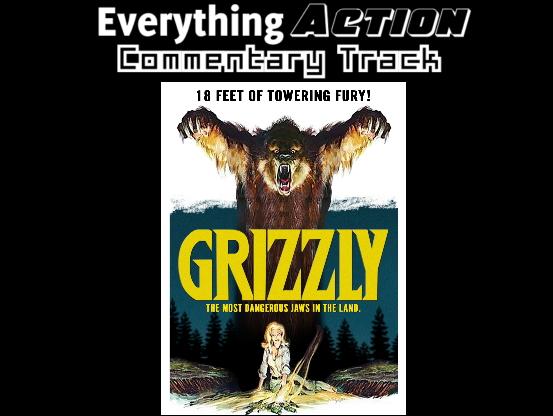 For the latest Everything Action Commentary, Zach and Chris watched the 1976 creature feature Grizzly.  Inspired by the release of Beast with Idris Elba this month, the guys were looking for another "animals attack" movie and Grizzly definitely fits that bill.  Christopher George stars as Michael Kelly, the head park ranger in an unnamed national park.  A gigantic rogue grizzly bear, which stands 18 ft tall and weights over 2,000 lbs, starts attacking and killing people in the park and Kelly has to figure out some way to stop it while butting heads with the arrogant park supervisor Kittridge (Joe Dorsey), who only cares about getting a cushy job in Washington and the way things look in the press.  Kelly gets help from Scotty (Richard Jaeckel), an animal expert who lives in the wild with the animals he studies, and Don Stober (Andrew Prine), a helicopter pilot who fought in Vietnam. While watching the movie, the guys discuss why the grizzly seems to only attack sexy ladies at first, the weird Disneyesque musical score, Bear Vision, why everyone only has World War II guns to fight a bear, the surprising amount of gore, and more.  You can watch the movie below thanks to YouTube and you can sync it up to our commentary to watch along with the Everything Action crew.
We want to hear your comments and feedback. Send them all to contact@everythingaction.com.
Also, be sure to subscribe, rate, and review us on Apple Podcasts, Stitcher, Amazon Music, & Spotify
Check us out on Twitter (@evaction) Facebook (www.facebook.com/everything.action), and Instagram (@everything.action).
Podcast: Download (Duration: 1:40:08 — 43.7MB)
Subscribe: Spotify | Stitcher | RSS
I'm like the J. Jonah Jameson of Everything Action, writing and editing and constantly demanding pictures of Spider-Man.
70s movies
andrew prine
animals attack
christopher george
creature feature
everything action commentary
grizzly
grizzly bear
joan mccall
joe dorsey
killer bear
michael kelly
movie commentary
national park
richard jaecklel
william girdler