The Pull List: Creepshow #1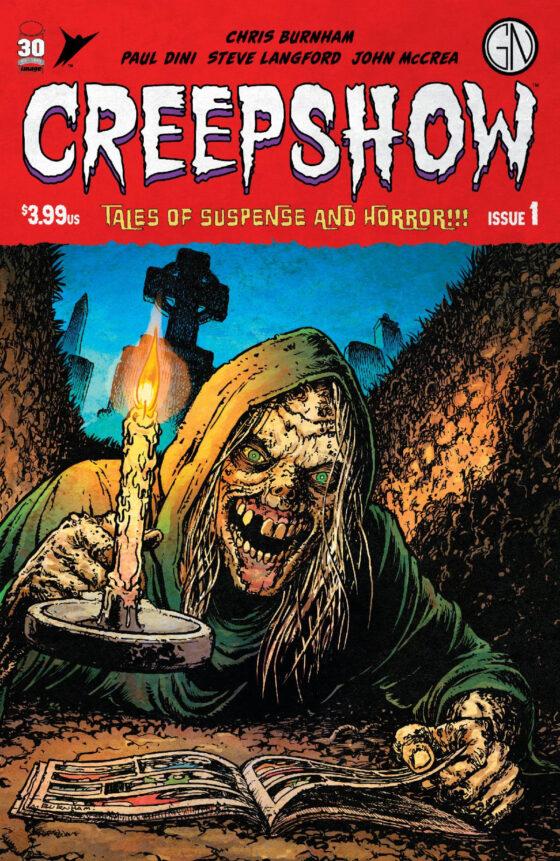 Publisher: Skybound
Writers: Chris Burham, Paul Dini, Stephen Langford
Artist: Chris Burham, John McCrea
The Creepshow franchise, from the original 80s cult classic movie to the current Shudder anthology TV show, has always worn its comic inspiration on its sleeve, literally framing each story as coming from an issue of the titular comic.  Outside of a graphic novel from the 80s based on the movie, Creepshow hasn't officially had an ongoing comic series, until now. Skybound is doing a five-issue series featuring two original horror stories each issue and issue #1 is out today (9/21).
The first story of the first issue is "Take One", written and illustrated by Chris Burham and it's a short but brutal tale of Halloween as three naughty kids ignore the sign at a house where a creepy old man lived to only "take one" of the full-sized candy bars and get some swift Halloween justice hoisted upon them from the angry spirit of the old man.  "Take One" doesn't have a lot of twists or setup but it has some brutal and gross imagery that will satisfy fans of gore and it feels a bit in tone like something from Trick R Treat and its idea of respecting the rule of Halloween or facing the consequences.
The legendary Paul Dini comes in on the second story "Shingo", co-writing the story with Stephen Langford with art by John McCrea.  Trying to book a performer for her daughter's birthday party, a divorced mom finds the business card for "Shingo" left on her doorstep and hires the entertainer, who turns out to be a bizarre ancient creature from another dimension with an appetite for anything and everything, including kids.  "Shingo" does a good job of capturing Creepshow's goofy/scary tone that the movie and TV show have in a lot of their segments and Shingo is a wacky character but is also a scarily efficient monster.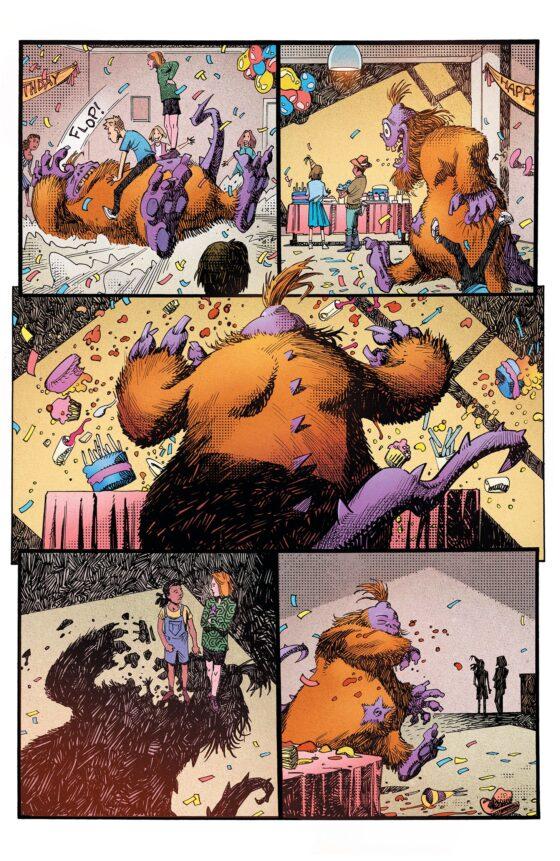 The art for both stories is great and matches the style of the movie and TV show, which itself is an homage to stuff like EC Comics like Tales from the Crypt.  I was surprised there weren't any fake ads or other throwbacks to classic comic books, which is something the movie and TV show do quite a bit but that would have been just some fun flavor and doesn't take away anything from the actual stories in the book.  If you're a fan of Creepshow, you'll probably enjoy the first official monthly comic based on the franchise and it's a fun treat as we get into the fall spooky season.
Creepshow #1 (of 5) will be available at comic book shops and digital platforms including Amazon Kindle, Apple Books, comiXology, and Google Play.
I'm like the J. Jonah Jameson of Everything Action, writing and editing and constantly demanding pictures of Spider-Man.
chris burnham
comic books
Comic reviews
comics
creepshow
george a romero
greg nicotero
horror anthology
image comics
john mccrea
paul dini
Reviews
shudder
Skybound
stephen king
stephen langford
the pull list