Here's all the movie and TV news you need to know from the last week, it's the News Shotgun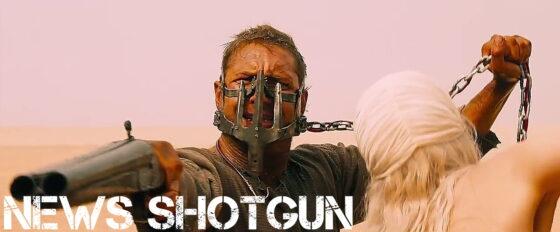 James Earl Jones retires from Star Wars: After 45 years voicing the Dark Lord of the Sith, James Earl Jones is retiring from Star Wars and Darth Vader.  Jones signed over the rights for Disney to use his voice in future Star Wars projects. Ukrainian company Respeecher will use archival performances of Jones to create new dialogue for any future Star Wars projects.  This was already done for Obi-Wan Kenobi and for replicating young Luke's voice in The Book of Boba Fett and The Mandalorian.
RIP Louise Fletcher: One of the greatest movie villains passed away this week as Louise Fletcher, who played Nurse Ratched in One Flew Over the Cuckoo's Nest, died at age 88.  Fletcher started acting in the 1950s and, along with Cuckoo's Nest, appeared in movies and TV shows like Star Trek: Deep Space Nine, Cruel Intentions, Joan of Arcadia, Blue Steel, and The Exorcist II: The Heretic.
True Detective Season 4 adds new cast members: True Detective: Night Country, the upcoming fourth season of the anthology crime series, has added several cast members this week.  Christopher Eccleston, John Hawkes, Fiona Shaw, Finn Bennett, and Anna Lambe have joined the cast to co-star with Jodie Foster and Kali Reis.  Foster and Reis play detectives that are investigating the disappearance of six men that were operating a remote research station in Alaska.  Issa López has taken over writing/directing/show running duties from Nic Pizzolatto, who is still on board as an executive producer.
New Cloverfield movie in development: A new entry in the Cloverfield series is in development at Paramount with Wounds director Babak Anvari directing.  The last movie in the series was The Cloverfield Paradox, which debuted on Super Bowl Sunday in 2018 but was critically panned. It's not clear what the new movie will be, if it will be a return to the found-footage of the original movie or be another mostly separate entry with some thematic elements, like 10 Cloverfield Lane.
Lena Headey and Nick Frost starring in thriller Svalta: Lena Headey and Nick Frost are co-starring in a new serial killer thriller called Svalta.  The pair will be a married couple who are on vacation with their family on a remote island.  They discover a serial killer is loose on the island and has targeted them and the hostile locals on the island don't offer any aid.  Dutch directors Steffen Haars and Flip van der Kuil are directing the movie.
Apple TV+ picks up Vince Gilligan's new series: Vince Gilligan's highly anticipated follow-up to Better Call Saul has found a home at Apple TV+, which has already picked up the show for two seasons.  Rhea Seehorn will re-team with Gilligan after her phenomenal work as Kim Wexler on Better Call Saul to star in this new series, which is currently untitled and is vaguely described right now as, "set in our world while putting a tweak on it, bending reality and focusing on people and exploring the human condition in an unexpected, surprising way" and being compared to The Twilight Zone.
Bradley Whitford co-starring in AMC's Parish: Speaking of Better Call Saul, Bradley Whitford will co-star with Breaking Bad/Better Call Saul co-star Giancarlo Esposito for his new series on AMC, Parish.  Esposito plays a taxi driver in New Orleans who becomes involved in the criminal underworld when he agrees to chauffeur a Zimbabwean gangster around town.  Whitford will play Anton, the head of an industrial business in Louisianna who secretly heads up a criminal organization and is in conflict with Esposito's new boss.
Scanners TV series in development at HBO: HBO is developing a series based on David Cronenberg's cult classic Scanners.  The movie follows "Scanners", individuals with powerful psychic powers, of which there are 237 in the world.  Michael Ironside played an evil Scanner who wanted to recruit the other Scanners and take over the world.  The new series is, "set in the mind-bending world of David Cronenberg's seminal film. Pursued by relentless agents with unimaginable powers, two women living on the fringes of modern society must learn to work together to topple a vast conspiracy determined to bring them to heel".  William Bridges will be the showrunner, previously working on Black Mirror and Stranger Things.
Original Beverly Hills Cop cast coming back for the fourth movie: It was officially confirmed this week that a quartet of original Beverly Hills Cop cast members will return for the upcoming fourth movie on Netflix, Beverly Hills Cop: Axel Foley.  Judge Reinhold, Paul Reiser, John Ashton, and Bronson Pinchot will all return to reprise their roles from the series.  Eddie Murphy is back to star as Axel Foley and is being directed by Mark Molloy, who is making his feature film debut after directing commercials for Apple, Go Daddy, and more.
A new Iron Man game is in development at EA: There's a slew of new Marvel games coming in the near and distant future and it was revealed this week that EA is developing a new Iron Man game.  Motive Studio, currently working on the Dead Space remake, is the developer of the Iron Man game with Oliver Proulx, who previously worked on Square Enix's Guardians of the Galaxy game, is heading up this new Iron Man game, which, much like Insomniac's Spider-Man or the aforementioned Guardians games, will be set in its own continuity, not in the MCU.  There are apparently other Marvel games coming from EA that haven't been announced yet.
I'm like the J. Jonah Jameson of Everything Action, writing and editing and constantly demanding pictures of Spider-Man.
AMC
apple tv+
beverly hills cop
bradley whitford
bronson pinchot
cloverfield
darth vader
david cronenberg
electronic arts
giancarlo esposito
HBO
Iron Man
james earl jones
john ashton
judge reinhold
lena headey
louise fletcher
Marvel
motive studios
movie news
news shotgun
nick frost
parish
paul reiser
rhea seehorn
scanners
serial killer
star wars
svalta
tv news
vince gilligan