Everything Action Commentary: Crackerjack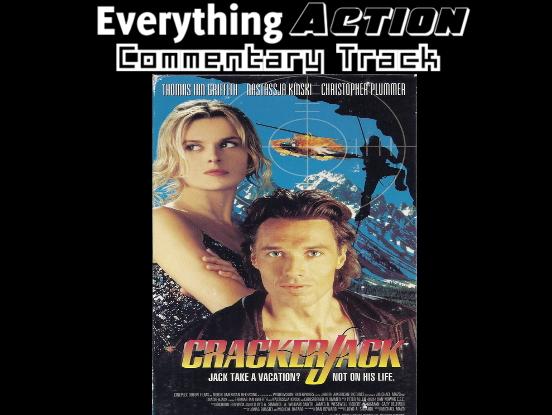 For the latest Everything Action Commentary, Zach, Chris, and special guest Addam watched the 1994 Thomas Ian Griffith movie, Crackerjack.  Best known as Terry Silver in The Karate Kid III and Cobra Kai, Griffith starred in a number of 90s action movies like Crackerjack, although he never quite broke through to a Steven Seagal/Chuck Norris/Van Damme level.  In Crackerjack, Griffith plays Jack Wild, a Chicago police officer forced on a vacation to a ski resort by his brother and his sister-in-law.  While at the resort, terrorists take over the resort, leaving Jack as the only one who can stop them and save the day.  While watching the movie, the guys wonder how they roped in Christopher Plummer to be the main villain, where Plummer got his cool guy glasses, how one of the villains is impaled by a knife stuck in a door, what exactly "crackerjack" means, why Jack is kind of a perv and more.  You can watch the movie on YouTube or watch it on services like FreeVee or Tubi and sync it up to our commentary.
You can find Adam at @addamthecomic on Twitter and Twitch and at theadman2315#2135 on Discord
We want to hear your comments and feedback. Send them all to contact@everythingaction.com.
Also, be sure to subscribe, rate, and review us on Apple Podcasts, Stitcher, Amazon Music, & Spotify
Check us out on Twitter (@evaction) Facebook (www.facebook.com/everything.action), and Instagram (@everything.action).
Podcast: Download (Duration: 1:49:21 — 48.0MB)
Subscribe: Spotify | Stitcher | RSS
I'm like the J. Jonah Jameson of Everything Action, writing and editing and constantly demanding pictures of Spider-Man.
90s action
addam
chris
christopher plummer
cobra kai
crackerjack
diamond heist
die hard
everything action
everything action commentary
freevee
ivan getz
jack wild
michael mazo
Nastassja Kinski
ski resort
terrorist takeover
terry silver
the karate kid part III
thomas ian griffith
youtube
zach