Here's what's out in theaters and on streaming this weekend, it's Admit One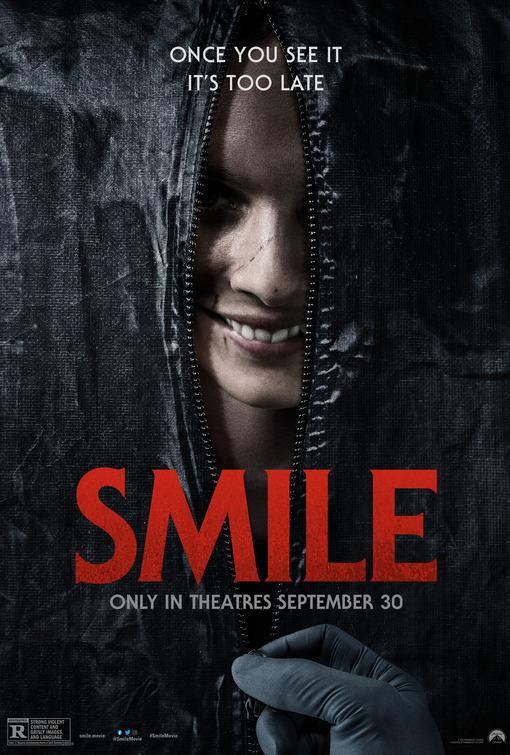 Smile (Theaters)
Starring: Sosie Bacon, Jessie Usher, Kyle Gallner, Robin Weigert, Caitlin Stasey, Kal Penn
Directed by: Parker Finn
Plot: After witnessing a bizarre, traumatic incident involving a patient, Dr. Rose Cotter starts experiencing frightening occurrences that she can't explain. As an overwhelming terror begins taking over her life, Rose must confront her troubling past in order to survive and escape her horrifying new reality.
Rotten Tomatoes Freshness: 75%
Critic Consensus: "Deeply creepy visuals and a standout Sosie Bacon further elevate Smile's unsettling exploration of trauma, adding up to the rare feature that satisfyingly expands on a short"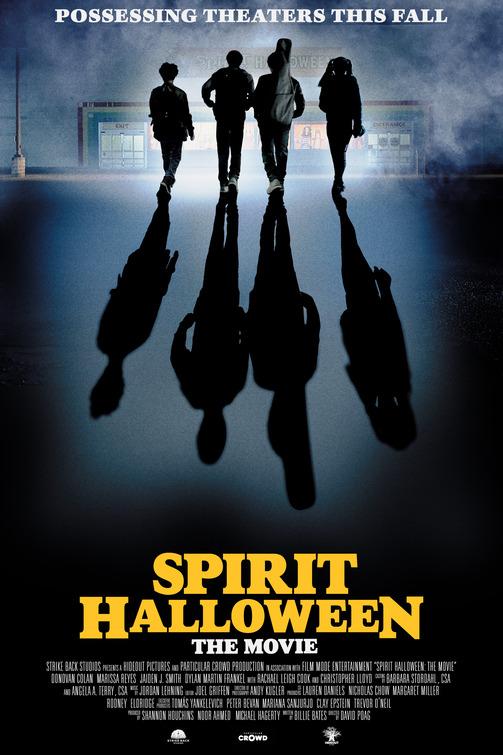 Spirit Halloween: The Movie (Theaters)
Starring: Christopher Lloyd, Rachel Leigh Cook, Donovan Colan, Marissa Reyes, Jaiden Smith, Dylan Martin Frankel
Directed by: David Poag
Plot: When a Spirit Halloween Store opens in a deserted strip mall, three middle school friends who think they've outgrown trick or treating make a dare to spend the night locked inside the store Halloween night. But they soon find out that the store is haunted by an angry evil spirit who has possessed the creepy animatronic characters. The kids will need to embark on a thrilling and spooky adventure in order to survive the night and avoid becoming possessed themselves.
RT Freshness: 50%
Critic Consensus: N/A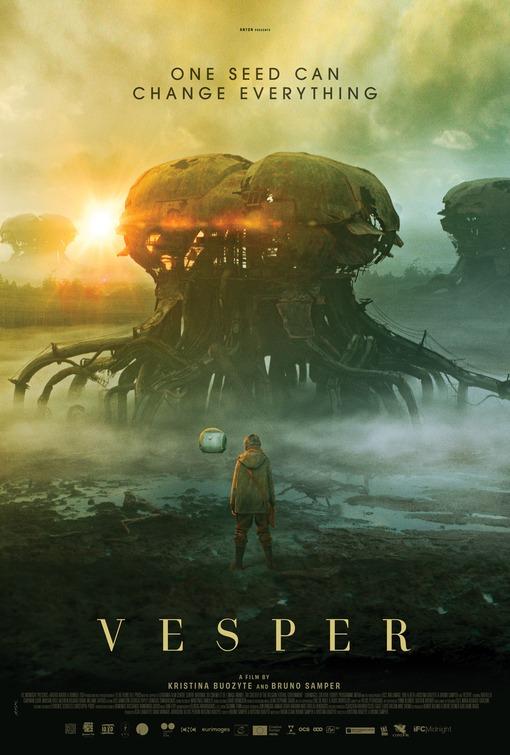 Vesper (Theaters and VOD/Digital)
Starring: Raffiella Chapman, Eddie Marsan, Rosy McEwen, Richard Brake, Melanie Gaydos, Edmund Dehn
Directed by: Kristina Buozyte and Bruno Samper
Plot: After the collapse of Earth's ecosystem, Vesper, a 13-year-old girl struggling to survive with her Father, must use her wits, strength and bio-hacking abilities to fight for the future.
RT Freshness: 86%
Critic Consensus: "More visually impressive than narratively engaging, Vesper rewards patient viewers with immersive world-building and intelligent ideas"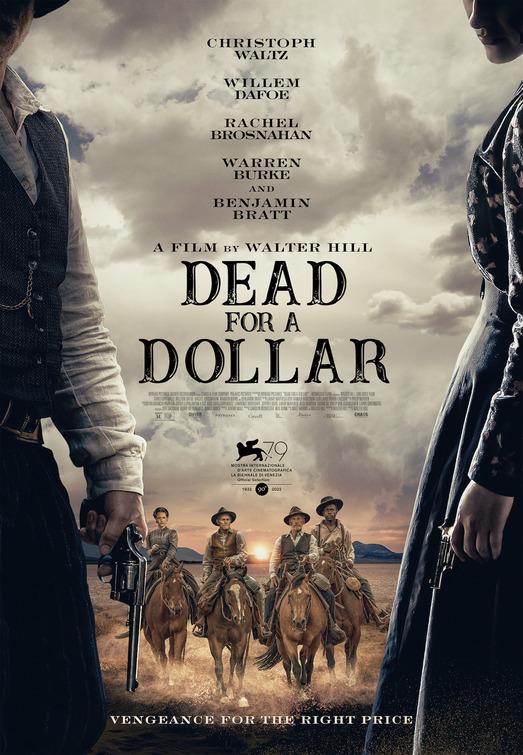 Dead for a Dollar (Theaters)
Starring: Christoph Waltz, Willem Dafoe, Rachel Brosnahan, Warren Burke, Benjamin Bratt, Hamish Linklater
Directed by: Walter Hill
Plot: When it appears a young woman has run off with an army deserter, a hired gun, Max, is contracted to go after them and bring her home. Finding out that she fled from an abusive husband, Max is faced with the choice to finish the job or look the other way while ruthless assassins and his longtime rival, Joe, close in.
RT Freshness: 52%
Critic Consensus: "There are certainly worse Westerns, but with Walter Hill behind the camera and a killer cast reporting for duty, Dead for a Dollar should have higher entertainment value"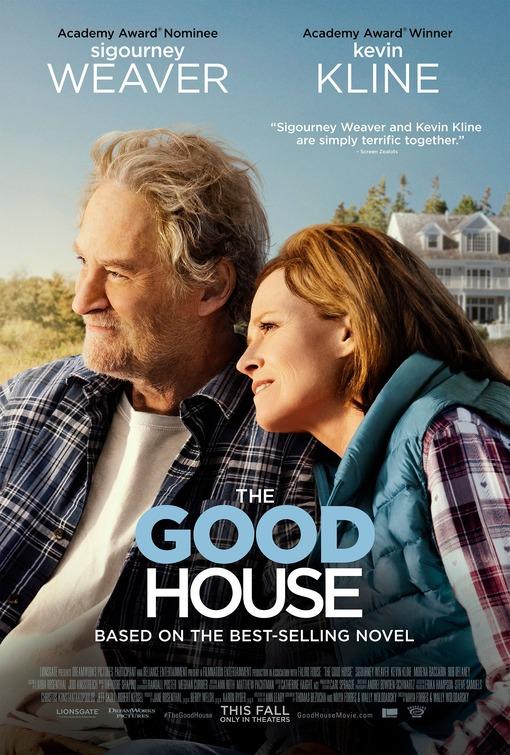 The Good House (Theaters)
Starring: Sigourney Weaver, Kevin Kline, Morena Baccarin, Rob Delaney, David Rasche, Rebecca Henderson
Directed by: Maya Forbes & Wallace Wolodarsky
Plot: Life for New England realtor Hildy Good begins to unravel when she hooks up with an old flame of hers from New York.
RT Freshness: 71%
Critic Consensus: "The Good House creaks in spots, but with Kevin Kline and Sigourney Weaver providing load-bearing performances, it's far from a fixer-upper"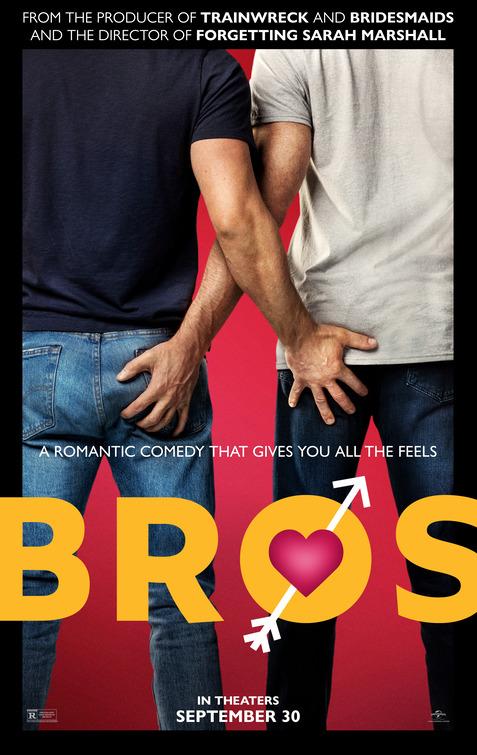 Bros (Theaters)
Starring: Billy Eichner, Luke MacFarlane, Ts Madison, Monica Raymund, Guillermo Diaz, Guy Branum
Directed by: Nicholas Stoller
Plot: Two men with commitment problems attempt a relationship.
RT Freshness: 96%
Critic Consensus: "Bros marks a step forward in rom-com representation — and just as importantly, it's a whole bunch of fun to watch"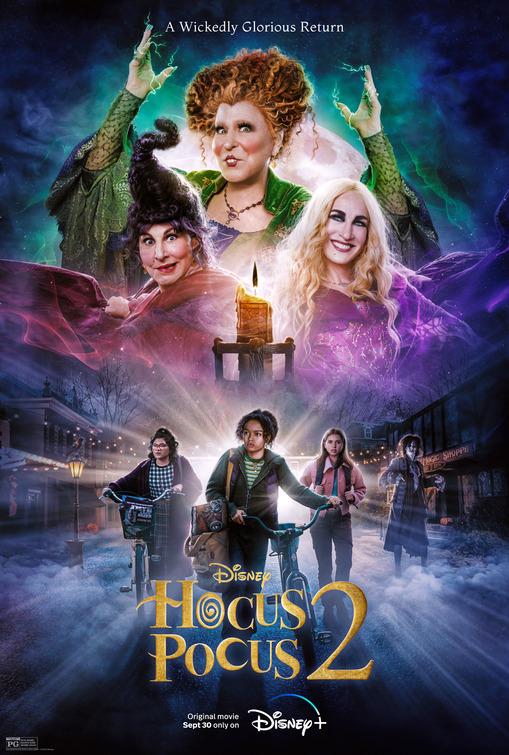 Hocus Pocus 2 (Disney+)
Starring: Bette Midler, Sarah Jessica Parker, Kathy Najimy, Doug Jones, Whitney Peak, Lilia Buckingham, Belissa Escobedo, Tony Hale, Hannah Waddingham, Sam Richardson
Directed by: Anne Fletcher
Plot: It's been 29 years since someone lit the Black Flame Candle and resurrected the 17th-century sisters, and they are looking for revenge. Now it is up to three high-school students to stop the ravenous witches from wreaking a new kind of havoc on Salem before dawn on All Hallow's Eve.
RT Freshness: 68%
Critic Consensus: "Hocus Pocus 2 is basically a boiling cauldron of nostalgia, but that's more than enough for this belated sequel to cast a reasonably effective spell"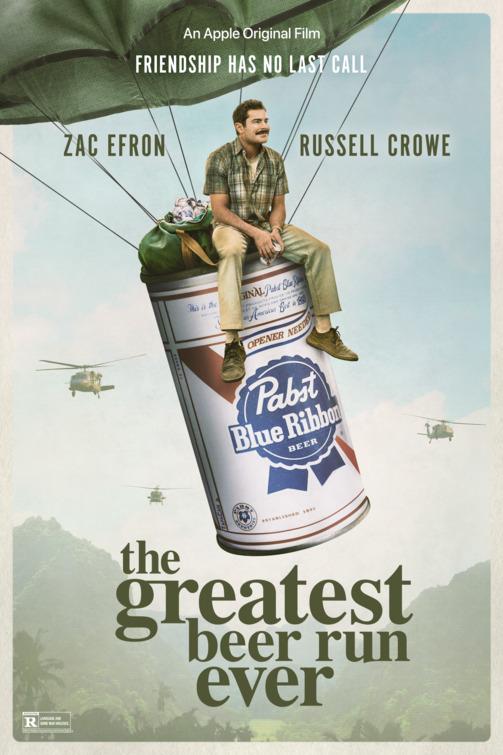 The Greatest Beer Run Ever (Theaters and Apple TV+)
Starring: Zac Efron, Russell Crowe, Bill Murray, Kyle Allen, Jake Picking, Will Hochman
Directed by: Peter Farrelly
Plot: To show support for his neighborhood friends serving in Vietnam, Chickie Donohue decides to do something totally outrageous: travel to the frontline by himself to bring the soldiers a little piece of home — their favorite can of American beer. However, what started as a well-meaning journey quickly turns into the adventure of a lifetime as Chickie confronts the reality of this controversial war and his reunions with his childhood buddies thrust him into the complexities and responsibilities of adulthood.
RT Freshness: 39%
Critic Consensus: "Far from intoxicating, The Greatest Beer Run Ever reduces its fun fact-based story to a flat, flavorless brew"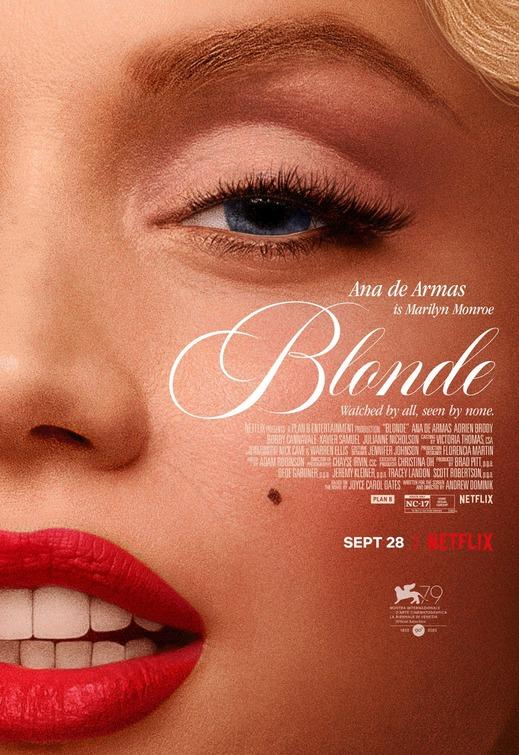 Blonde (Netflix)
Starring: Ana de Armas, Adrian Brody, Bobby Cannavale, Evan Williams, Xavier Samuel, Caspar Phillipson, Tob Huss, Sara Paxton, Julianne Nicholson, Lily Fisher
Directed by: Andrew Dominik
Plot: Blonde boldly reimagines the life of one of Hollywood's most enduring icons, Marilyn Monroe. From her volatile childhood as Norma Jeane, through her rise to stardom and romantic entanglements, Blonde blurs the lines of fact and fiction to explore the widening split between her public and private selves.
RT Freshness: 48%
Critic Consensus: "Blonde can be hard to watch as it teeters between commenting on exploitation and contributing to it, but Ana de Armas' luminous performance makes it difficult to look away"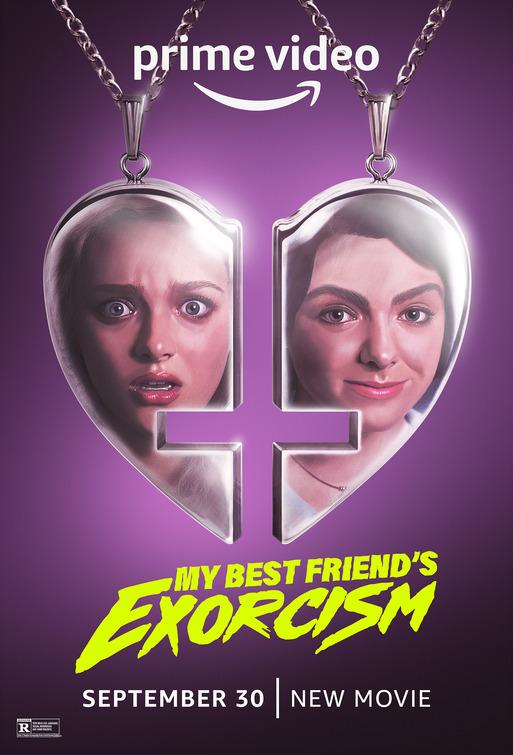 My Best Friend's Exorcism (Prime Video)
Starring: Elsie Fisher, Amiah Miller, Cathey Ang, Rachel Ogechi, Christopher Lowell
Directed by: Damon Thomas
Plot: The year is 1988. High school sophomores Abby and Gretchen have been best friends since fourth grade. But after an evening of skinny-dipping goes disastrously wrong, Gretchen begins to act… different. She's moody. She's irritable. And bizarre incidents keep happening whenever she's nearby. Abby's investigation leads her to some startling discoveries–and by the time their story reaches its terrifying conclusion, the fate of Abby and Gretchen will be determined by a single question: Is their friendship powerful enough to beat the devil?
RT Freshness: N/A
Critic Consensus: N/A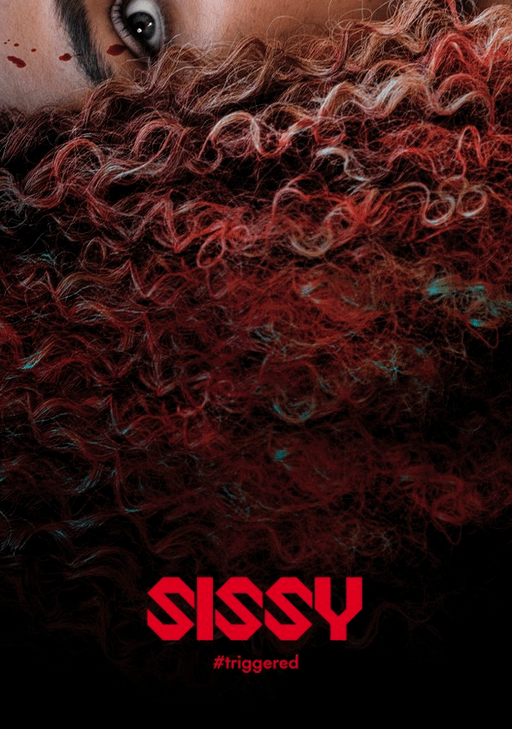 Sissy (Shudder)
Starring: Aisha Dee, Yerin Ha, Lucy Barrett, Hannah Barlow, Daniel Monks, Emily De Margheriti
Directed by: Hannah Barlow & Kane Senes
Plot: Cecilia and Emma were tween-age BFFs who were going to grow old together and never let anything come between them, until Alex arrived on the scene. Twelve years later, Cecilia is a successful social media influencer living the dream of an independent, modern millennial woman… until she runs into Emma for the first time in over a decade. Emma invites Cecilia away on her bachelorette weekend at a remote cabin in the mountains, where Alex proceeds to make Cecilia's weekend a living hell.
RT Freshness: 96%
Critic Consensus: "Sissy weaves timely themes into its rich blend of horror and dark humor, topped off by terrific work from a talented cast led by Aisha Dee"
I'm like the J. Jonah Jameson of Everything Action, writing and editing and constantly demanding pictures of Spider-Man.
Admit One
ana de armas
apple tv+
bette midler
billy eichner
blonde
bros
christoph waltz
dead for a dollar
disney
elsie fisher
hocus pocus 2
kathy najimy
kevin kline
my best friend's exorcism
netflix
new in theaters
Prime Video
sarah jessica parker
shudder
sigourney weaver
sissy
smile
spirit halloween: the movie
streaming
the good house
the greatest beer run ever
vesper
walter hill
willem dafoe
zac efron