Here's all the movie and TV news you need to know from the past week, it's the News Shotgun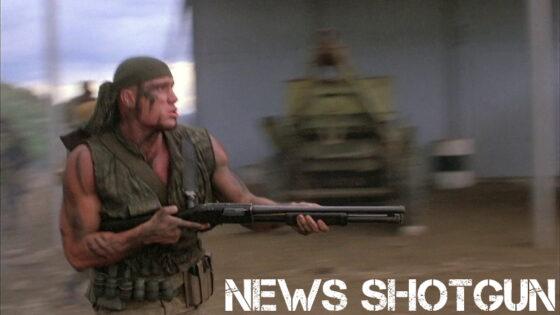 Bill Skarsgard and Lily-Rose Depp starring in Nosferatu: For his next movie, The Northman director Robert Eggers is reimagining Nosferatu and Bill Skarsgard and Lily-Rose Depp have been cast to star.  Originally the project was being developed with Anya Taylor-Joy and Harry Styles co-starring but schedules and budgeting prevented those two actors from starring.  Skarsgard will play the titular vampire while Depp the woman he is obsessed with, all set in 19th century Germany.
Community movie coming to Peacock: Community's mantra of "six seasons and a movie" is going to be fulfilled as Peacock will be the home for a Community movie.  There's no director or premiere date but Joel McHale, Alison Brie, Gillian Jacobs, Danny Pudi, Jim Rash and Ken Jeong are set to return with creator Dan Harmon back as an executive producer.  Peacock will also get the streaming rights to all six seasons of Community, which also streams on Hulu and Netflix.
Armor Wars becoming a movie: The upcoming Don Cheadle focused Armor Wars Disney+ series, set to be the follow-up to Secret Invasion, has shifted forms and will now be a theatrical movie.  The show was going to be six episodes but that will now be reworked and condensed into a film.  There's no word on a premiere date or director.
Jonathan Majors in talks to play Dennis Rodman for Lionsgate: Jonathan Majors may be dying his hair and getting tatted up to play Dennis Rodman for an upcoming movie from Lionsgate.  Based on the infamous 48 hours during the 1998 NBA Finals when Rodman disappeared to Las Vegas, the movie will follow the exploits of "The Worm" as he parties in Sin City.  The incident was discussed in Netflix's documentary series The Last Dance.
Ruben Fleischer directing new Now You See Me movie: Now You See Me is becoming a trilogy and the third movie in the series has found its director in Venom's Ruben Fleischer.  Seth Grahame-Smith is working on a new script for the movie with Fleischer.  The main cast is expected to return with Benedict Cumberbatch apparently joining the cast, possibly as the new antagonist.
RIP Coolio: Rapper Coolio was found dead this past week at age 59.  Coolio came up in the 90s and was one of the biggest rappers of that era, with his song from Dangerous Minds, "Gangsta's Paradise" becoming the #1 song of 1995.  Coolio also appeared as himself in a number of TV shows and movies and also played characters like Kwanzabot on Futurama.
Figment getting his own movie at Disney: Fans of Disney parks, specifically EPCOT, are familiar with Figment, the purple dragon who is the mascot of Journey into Imagination.  Now Figment is getting his own movie with Seth Rogen producing and Dan Hernandez and Benji Samit, the writers of Detective Pikachu, writing the script.  There are no director or plot details yet.
Dave Bautista starring in bouncer action movie Cooler: Dave Bautista will be playing a bouncer in the upcoming action movie Cooler.  Drew Pearce is directing and the movie follows Bautista as Ray Sagona, who is blackmailed into tracking down a drug-filled safe stolen from the club he provides security for before the Miami PD finds it.
Interview with the Vampire renewed for Season 2: While the show is premiering this weekend on Sunday after The Walking Dead, AMC has already renewed Interview with the Vampire for a second season.  The show is a new adaptation of Anne Rice's classic vampire novel and stars Jacob Anderson and Sam Reid.
Kevin Bacon joins Beverly Hills Cop: Axel Foley: After the announcement of a number of returning characters appearing in Beverly Hills Cop: Axel Foley, a new character has been cast with Kevin Bacon joining the cast.  It's not clear who Bacon is playing but production on the movie is underway an it will be a Netflix exclusive movie.
Lisa Kudrow starring in Time Bandits series: Taika Waititi's new version of Time Bandits has found its lead actress with Lisa Kudrow.  Charlene Yi, Kal-El Tuck, Tadhg Murphy, Roger Jean Nsengiyumva, Rune Temte, Kiera Thompson and Rachel House were previously cast.  The new Time Bandits is a TV series for Apple TV+ and Waititi will direct the first two episodes and executive produce the series.  The show follows the same premise as the movie where a group of thieves recruit a young history buff and journey across time and space.
Hugh Jackman returning as Wolverine for Deadpool 3: Along with announcing the release date of September 6th, 2024, Ryan Reynolds dropped a megaton announcement that Hugh Jackman will return as Wolverine for the upcoming Deadpool 3.  Reynolds and Jackman have been longtime friends and co-starred in the abysmal X-Men Origins: Wolverine, so it will be great to see them get to co-star in what is hopefully another great Deadpool movie.  There won't be any attempts to retcon Logan or explain how Wolverine is back and Deadpool 3 will be the first Deadpool/Wolverine appearances in the MCU proper, although it will maintain the series R rating.
I'm like the J. Jonah Jameson of Everything Action, writing and editing and constantly demanding pictures of Spider-Man.
armor wars
beverly hills cop: axel foley
bill skarsgard
community
cooler
coolio
dave bautista
deadpool 3
dennis rodman
drew pearce
figment
hugh jackman
interview with the vampire
jonathan majors
kevin bacon
lily rose depp
lisa kudrwo
movie news
news shotgun
nosferatu
now you see me 3
peacock
robert eggers
ruben fleischer
time bandits
tv news
wolverine