Everything Action Commentary: 3 Ninjas Kick Back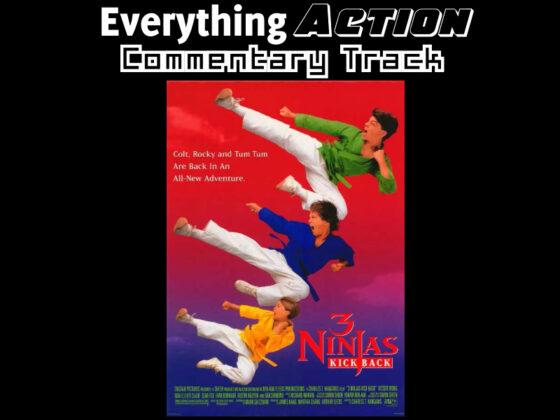 As is tradition, to celebrate Chris' birthday with a ridiculous martial arts movie, Zach, Chris, and special guests Addam, Justin, Asa, and Janice watched the 1994 classic, 3 Ninjas Kick Back.  Although it's the second movie released in the franchise, Kick Back is technically the third movie chronologically and features only Max Elliott Slade back from the original movie as Colt and Rocky and Tum-Tum played by new actors Sean Fox and J. Evan Bonifant.  Still training in martial arts with their grandfather Mori Tanaka (Victor Wong), the 3 Ninjas eventually must travel to Japan to deliver a special dagger, which Mori won years ago in a tournament, to give to the new winner of the tournament.  Mori's old rival Koga (Sab Shimono) is after the dagger as revenge against Mori for injuring him in the tournament they fought in and to use it to unlock a legendary golden treasure.  While watching the movie, the gang discusses how much baseball there is in the movie, the Korean pop songs used to set the tone for Japan, the inept ninja army of Koga, Koga's ridiculous glam rock nephew, Lisa DiMarino, and more.  You can rent 3 Ninjas Kick on services like Prime Video or sync up a DVD copy to watch along with the Everything Action crew.
You can find Justin on YouTube at: https://www.youtube.com/c/JJLomasEntertainment and on Instagram at: https://www.instagram.com/jjlomasentertainment
You can find Adam at @addamthecomic on Twitter and Twitch and at theadman2315#2135 on Discord.  Also check out his friend Mike Rainey's book On Percs here: https://www.onpercs.com/store/p/golden-mist-cup-weny8-k3h8l
We want to hear your comments and feedback. Send them all to [email protected].
Also, be sure to subscribe, rate, and review us on Apple Podcasts, Stitcher, Amazon Music, & Spotify
Check us out on Twitter (@evaction) Facebook (www.facebook.com/everything.action), and Instagram (@everything.action).
Podcast: Download (Duration: 1:45:07 — 54.2MB)
Subscribe: Spotify | Stitcher | RSS
I'm like the J. Jonah Jameson of Everything Action, writing and editing and constantly demanding pictures of Spider-Man.
3 ninjas
3 ninjas kick back
90s movies
addam
asa
birthday
chris
colt
everything action
everything action commentary
j. evan bonifant
janice
japan
justin
koga
lisa dimarino
martial arts
max elliott slade
miyo
mori tanaka
movie commentary
ninjas
rocky
sab shimono
sean fox
tum tum
victor wong
zach