Here's all the movie and TV news you need to know from the past week, it's the News Shotgun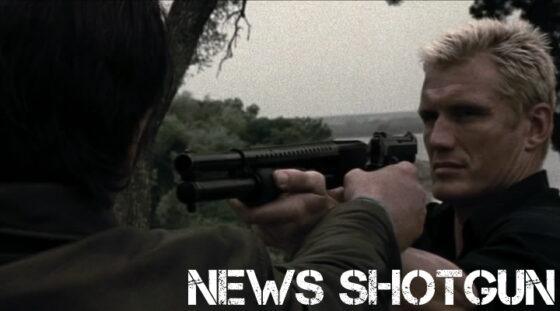 RIP Robbie Coltrane and Angela Lansbury: Two beloved actors passed away this past week with Robbie Coltrane and Angela Lansbury. Coltrane was 72 and was best known for playing Hagrid in the Harry Potter series along with roles in Goldeneye, The World is Not Enough, Cracker, and Van Helsing.  Dame Angela Lansbury was 96 and has been working since the 1940s.  She was best known for her role as Jessica Fletcher on Murder She Wrote and was also Mrs. Potts in the animated Beauty and the Beast and appeared in movies like Anastasia, Nanny McPhee, the original 60s The Manchurian Candidate, and more.  She also had a long and illustrious career in the theater on Broadway and in London.
Martin Scorsese developing a Gangs of New York TV series: Based on his 2002 movie, Martin Scorsese is developing a TV series of Gangs of New York.  The TV series will have the same premise as the movie but focus on new characters not featured in the movie and Scorsese will direct the series as well as executive produce it.  Both the original movie and this new TV series are based on the book The Gangs of New York by Herbert Asbury.
New action thriller Elevation gets stars: A new post-apocalyptic action thriller, Elevation, has cast Anthony Mackie, Morena Baccarin, and Maddie Hasson to co-star.  The movie is set in the Rocky Mountains and follows a single father and two women as they venture into a world overrun by monstrous creatures to save a child.  George Nolfi, who wrote The Bourne Ultimatum and directed The Adjustment Bureau, is directing Elevation.
Harrison Ford joining the MCU: Harrison Ford is joining another big Disney franchise as he's been cast to replace the late William Hurt as General Thaddeus "Thunderbolt" Ross.  Hurt played Ross in The Incredible Hulk, Civil War, Infinity War, Endgame, and Black Widow and Ford will make his debut in Captain America: New World Order and will also appear in Thunderbolts.
Timothy Dalton joins 1923: Timothy Dalton has joined the cast of the upcoming Yellowstone prequel, 1923.  Dalton will play Donald Whitfield, "a powerful, self-confident man who reeks of wealth and the lack of empathy it requires to attain it. He is intimidating and nefarious and is used to getting what he wants".  The aforementioned Harrison Ford and Helen Mirren are starring in the series and it follows the Dutton family of the 1920s as they deal with events like a global pandemic, record drought, the end of Prohibition, and the Great Depression.
Liam Neeson starring in a Naked Gun reboot: Liam Neeson will be stepping into the shoes of Leslie Nielsen to star in a reboot of the Naked Gun series.  Akiva Schaffer, a member of The Lonely Island and director of movies like Chip N Dale Rescue Rangers and Popstar, is directing the new Naked Gun.  There are no plot details but Neeson might possibly be playing the son of Nielsen's Detective Frank Drebin.
Mike Judge developing a new series for Paramount+: Following the incredibly successful return of Beavis & Butthead, Mike Judge and his Silicon Valley co-creator Alec Berg are producing a new series for Paramount+.  The new show is Automated Trucking and follows two men traveling across the country in a truck.  One of them is an old-school trucker and the other is a programmer who is working to develop automated trucks that will put his partner out of a job.
Kurt Sutter's new show coming to Netflix: Kurt Sutter, creator of Sons of Anarchy, has signed a deal to bring his new series to Netflix.  The Abandons is set in the American West of the 1850s and follows a group of diverse settlers who have to deal with a corrupting and powerful group that wants to take their land from them.  Sutter also has a movie, This Beast, coming soon to the streamer as well.
Operation: Kickboxer series in development: Coming from the team that brought you the two most recent Kickboxer movies, Operation: Kickboxer combines espionage thriller with martial arts fighting in a new TV series.  The show follows the youngest Sloane brother, Mike, who is forced to go undercover for various espionage missions, using his cover as an international martial arts fighter to gain access to targets.
Lucy Liu costarring in Red One: Lucy Liu is joining Dwayne Johnson, Kiernan Shipka, and Chris Evans in the upcoming holiday action movie, Red One.  There are no plot details but the movie is described as a globe-trotting holiday action/adventure.  Jumanji director Jake Kasdan is directing and Fast and Furious writer Chris Morgan wrote the script.  The movie is going to be a Prime Video exclusive.
Sydney Sweeney is the new Barbarella: Sony is developing a new spin on cult favorite Barbarella and Euphoria/The White Lotus star Sydney Sweeney has been cast in the title role.  Based on a French comic series, Barbarella is best known for the 60s Jane Fonda movie.  There have been various attempts at a new Barbarella for years, including aborted efforts from Robert Rodriguez and Nicholas Winding Refn.  There are no plot details or a director attached to this new version.
George RR Martin says House of the Dragon will run for 4 seasons: Although it could always change based on the whims of Warner Brothers Discovery, Game of Thrones author George RR Martin said on his personal blog that House of the Dragon will run for 4 seasons, with 10 episodes each season.  There are currently two more episodes for this first season of the show, which has been a rating juggernaut for HBO/HBO Max and has brought Game of Thrones back from the disappointment of the original show's final season.
Disney developing 1,001 Nights movie: Disney is developing the classic series of stories, 1,001 Nights aka Arabian Nights, into a new fantasy/sci-fi movie. Arash Amel, who wrote the Disney sports movie Rise, is writing the script.  One of Disney's biggest hits, Aladdin, came from Arabian Nights and characters like Ali Baba and Sinbad also come from the story collection.
I'm like the J. Jonah Jameson of Everything Action, writing and editing and constantly demanding pictures of Spider-Man.
1923
akiva schaffer
angela lansbury
anthony mackie
arabian nights
automated trucking
barbarella
disney
elevation
gangs of new york
george rr martin
harrison ford
house of the dragon
kickboxer
kurt sutter
liam neeson
lucy liu
maddie hasson
martin scorsese
mike judge
morena baccarin
movie news
naked gun
news shotgun
operation: kickboxer
red one
robbie coltrane
sydney sweeney
the abandons
thunderbolt ross
timothy dalton
tv news
yellowstone