Everything Action Theater: Gunmen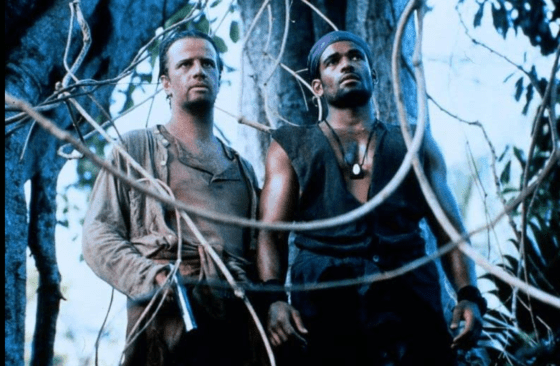 A possible hidden gem of 90s action, 1994's Gunmen teamed up Christopher Lambert and Mario Van Peebles.  Lambert played Dani Servigo, a scheming criminal who is forced to work with DEA bounty hunter Cole Parker (Peebles), as both men have pieces of information that will lead to a boat somewhere in South America that contains $400 million in stolen drug money. Racing the duo for the cast is the ruthless Armor O'Malley (Denis Leary), who works for crime boss Peter Loomis, played by none other than Patrick Stewart.  Brenda Bakke co-stars as O'Malley's right-hand woman Maria and the cast is also rounded out by a slew of 90s rappers and hip-hop artists, including Big Daddy Kane, Kid Frost, Rakim, Eric B. Doctor Dre, Ed Lover, and Christopher Williams, all playing themselves and somehow ending up playing shady clubs in South America.  The movie was directed by Deran Sarafian, who also directed movies like Death Warrant, Terminal Velocity, and The Road Killers, and it was written by Stephen Sommers, who is probably best known for directing the Brendan Fraser Mummy movies and Van Helsing.  Gunmen has had many issues behind the scenes, including being cut down and edited by Miramax to get an R rating and then only being released in 800 theaters and also never getting a properly formatted DVD, with the only widescreen version available for purchase being the version currently on iTunes.  You can watch the entire movie below thanks to YouTube.
I'm like the J. Jonah Jameson of Everything Action, writing and editing and constantly demanding pictures of Spider-Man.
90s action
armor o'malley
big daddy kane
brenda bakke
chistoher williams
christopher lambert
cole parker
dani servigo
denis leary
deran sarafian
Ed Lover
Eric B. Doctor Dre
everything action theater
Kid Frost
mario van peebles
patrick stewart
Rakim
south america
stephen sommers