Here's all the movie and TV news you need to know from the past week, it's the News Shotgun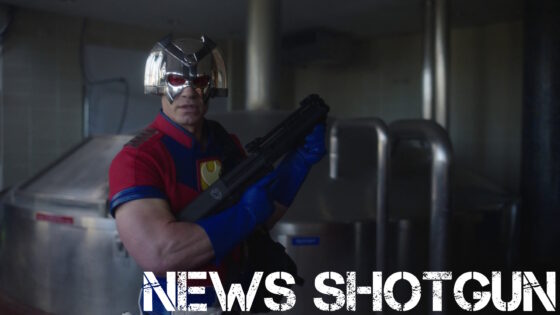 Megan Mullally, Nick Offerman, and David Cross join The Umbrella Academy: A trio of comedic all-stars is coming to The Umbrella Academy for its final season with Nick Offerman, Megan Mullally, and David Cross joining the cast.  Mullally and Offerman will play Drs. Gene and Jean Thibedeau, a married pair of community college professors in New Mexico while Cross is play Sy Grossman, "an upstanding, shy business owner and family man desperate to reconnect with his estranged daughter, who will stop at nothing to get her back".  Elliot Page, Tom Hopper, David Castañeda, Emmy Raver-Lampman, Robert Sheehan, Aidan Gallagher, Justin H. Min, Ritu Arya, and Colm Feore are all back for the fourth and final season.
Succession ending with Season 4: HBO's critically acclaimed series Succession will be wrapping up with this year's fourth season.  Creator Jeff Armstrong confirmed the news in a New York Times interview recently.  The fourth and final season begins on March 26th on HBO.
New Lord of the Rings movies in development at WB Discovery: After striking a new deal for the rights to Lord of the Rings from current rights hold Embracer Group, New Line and WB Discovery are reteaming for new movies in the world of Middle Earth.  The new movies won't retread material covered in Peter Jackson's movies but be new stories set in the world of Middle-Earth.  There is an anime film, Lord of the Rings: The War of the Rohirrim coming next year that was in development before this new deal was made.  Amazon made a separate, massive deal with Embracer to get the rights to some LotR material for The Rings of Power and the global TV rights.
Mortal Kombat 12 coming this year: In more WB Discovery news, CEO David Zaslav revealed that Mortal Kombat 12 is coming out this year on a recent investor call.  The latest game from NetherRealm Studios will be out sometime in 2023, but there's no trailer or other details yet.  Creator Ed Boon hinted on Twitter that they may be trying to get The Boys' Homelander into the game as a guest character and also mentioned the game would be out this year.
Thanksgiving casts Addison Rae to co-star: Last week we learned that Patrick Dempsey had signed on to star in Eli Roth's full-length version of his fake Grindhouse trailer Thanksgiving and this week we learned that Addison Rae will co-star.  The TikTok superstar previously signed a massive deal with Netflix and starred in the remake of the 90s movie She's All That, He's All That. Shooting on Thanksgiving begins next month.
Guillermo Del Toro sticking with animation for upcoming project: Following up on the potential Best Animated Feature winner Pinocchio, Guillermo Del Toro is staying with animation for his next project.  Del Toro will direct an adaptation of The Buried Giant by Kazuo Ishiguro, a novel that follows an elderly couple that lives in "a fictional post-Arthurian England in which no one is able to retain long-term memories".  Netflix is producing the movie and Pinocchio's stop-motion studio, ShadowMachine, will animate it.
IT prequel series greenlit at HBO Max: Ordered straight to series, Welcome to Derry is coming to HBO Max.  The show is a prequel to the IT movies and the director of those movies, Andy Muschietti, is developing the series with his sister Barbara Muschietti.  It's not clear what the series will be about but Pennywise is almost guaranteed to show up in some form, although there's no word yet if Bill Skarsgard will reprise his role.
Steven Yeun joins Thunderbolts: Steven Yeun is coming to the MCU, joining the cast of Thunderbolts in an undisclosed role that could expand beyond this one movie.  Thunderbolts is being directed by Jake Schreier and teams up Florence Pugh, David Harbour, Olga Kurylenko, Hannah John-Kamen, Wyatt Russell, and Sebastian Stan as the titular team with Julia Louis Dreyfuss co-starring.  Ayo Edebiri was also cast in an undisclosed role previously and the movie is arriving on July 26th next summer.
Mike Grist action novels becoming a TV series: Author Mike Grist's series of action/espionage novels featuring ex-CIA operative Christopher Wren are becoming a TV series with production company Mandalay Television developing the series.  The novels follow Wren as he tracks down the worst cult in American history and is shocked to discover their leader is his father, whom he escaped from as a teenager.  The cult is looking to destroy America by spreading discord and anarchy across the population.  The series was spread across six books and Mandalay has the rights to the entire series.
My Spy 2 on the way at Prime Video: Dave Bautista is back on Prime Video with a sequel to My Spy, My Spy: The Eternal City.  Along with a returning Bautista, Anna Faris, Chloe Coleman, Kristen Schaal, Ken Jeong, Craig Robinson, and Flula Borg are the main cast of the sequel.  The sequel follows CIA operative JJ (Bautista) and Sophie (Coleman) as JJ reluctantly agrees to chaperone Sophie's class trip to Italy but they find themselves up against international terrorists targeting the CIA director and his son, who happens to be Sophie's best friend.  Peter Segal is returning to direct the sequel.
Steven Spielberg developing Stanley Kubrick's Napoleon as a series: Steven Spielberg is turning one of Stanley Kubrick's lost projects into a massive HBO series with Napoleon.  Spielberg is turning Kubrick's Napoleon film project, which the filmmaking master was trying to get into development post-2001: A Space Odyssey, into a seven-part series for HBO.  Different factors led to the project being scrapped and Kubrick focused instead on Barry Lyndon.  This will be the second high-profile Napoleon project coming soon, as Ridley Scott is working on a film for Apple TV+ starring Joaquin Phoenix as Napoleon.
CBS renewals: CBS has renewed three of their crime procedurals with NCIS, NCIS: Hawai'i, and CSI: Vegas all getting renewed for new seasons.  NCIS will be entering its 21st season while both NCIS: Hawai'i and CSI: Vegas will be going into their third seasons.  Fire Country, The Equalizer, FBI, FBI: International, FBI: Most Wanted, Young Sheldon, Ghosts, The Neighborhood, Bob Hearts Abishola and So Help Me Todd were all previously renewed at CBS.
Blumhouse creates Blumhouse Games subsidiary: Blumhouse is getting into the world of video games with the creation of Blumhouse Games.  The new studio will partner with indie-game developers to produce original horror, indie games, with a budget under $10 million in a similar move to how they produce their movies.  Zach Wood was named president, a veteran of the industry with 25 years in the business and previously working on games like Prey: Mooncrash, Redfall, Hohokum, The Unfinished Swan, and Bound.
RIP Richard Belzer: Comedian and Law & Order star Richard Belzer passed away this week at age 78.  Starting out as a stand-up comic and becoming the opening act in the early years of SNL, Belzer became famous for playing Det. John Munch, first on Homicide: Life on the Streat and then in the Law & Order franchise.  Belzer guest starred as Munch on numerous other shows, becoming one of the main factors to validate the St. Elsewhere "Everything takes place in the Snowglobe" TV fan theory.  Belzer's last appearance on Law & Order: SVU was in 2016.
New Hellboy reboot movie in development: Millenium Media is taking another crack at Hellboy, despite the failure of the David Harbour version, with another reboot, Hellboy: The Crooked Man.  Brian Taylor, formerly of the Neveldine/Taylor directing team that brought us movies like Crank, is directing the new movie with Hellboy creator Mike Mignola co-writing the script.  The movie is based on Mignola's 2008 comic of the same name, which finds Hellboy in the 1950s investigating a mysterious community of witches in the Appalachian mountains.  Millenium is hoping this new movie will kick off a new series of Hellboy movies.
I'm like the J. Jonah Jameson of Everything Action, writing and editing and constantly demanding pictures of Spider-Man.
addison rae
andy muschietti
blumhouse
brian taylor
cbs
dave bautista
david cross
eli roth
guillermo del toro
hellboy
It
lord of the rings
megan mullally
mike grist
mortal kombat 12
movie news
my spy 2
napoleon
news shotgun
nick offerman
richard belzer
stanley kubrick
stephen king
steven spielberg
steven yeun
succession
thanksgiving
the buried giant
The Umbrella Academy
thunderbolts
tv news
welcome to derry