Here's all the movie and TV news you need to know from the past week, it's the News Shotgun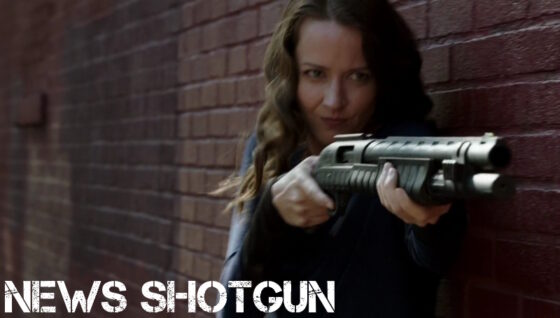 Fall sequel in development: Last year's survival thriller Fall is getting a sequel, mostly thanks to its performance on Netflix.  The movie is doing gangbusters internationally in places like the UK on Netflix and the movie's British producer, Tea Shop Productions, and director Scott Mann are discussing ideas for a sequel.  It's not clear if star Grace Caroline Currey, currently co-starring as Mary Marvel in Shazam! Fury of the Gods, but no decision has been made either way.  The first movie found Currey and co-star Virginia Gardner trapped at the top of a massive 2,000 ft radio tower with seemingly no way to get down.
Twister sequel finds star: The sequel to 1996's Twister has found its star in Daisy Edgar-Jones, most recently seen in Where the Crawdads Sing and Under the Banner of Heaven.   The new movie is called Twisters and is being directed by Lee Isaac Chung, which is looking at a July 2024 release.
Denzel Washington in talks to join Gladiator 2: A huge bit of potential casting for Gladiator 2 came this week as Denzel Washington is in talks to co-star with Oscar nominees Paul Mescal and Barry Keoghan in the new Ridley Scott movie.  Scott is directing and Mescal is playing the grown version of Lucius, who was the son of Connie Nielsen's Lucilla in the first movie while Keoghan is in talks to play Emperor Geta.  It's not clear who Washington would play if he signs on.  This would reteam Denzel with Ridley Scott, as the two previously made American Gangster together in 2007.  Gladiator 2 has a release date of November 22nd, 2024.
RIP Lance Reddick: In shockingly sad news, it was announced that beloved character actor Lance Reddick died at age 60 of "natural causes" this past week.  Reddick co-starred in the John Wick movies, including next week's John Wick Chapter 4, along with Fringe, The Wire, Oz, and countless other shows.  He also appeared in video games like Destiny and Horizon Zero Dawn.
Keri Russell thriller The Diplomat gets Netflix release date: The Keri Russell starring political thriller The Diplomat will release on April 20th on Netflix.  The show finds Russell as Kate Wyler, the US ambassador to the UK who has to deal with international crises, and her marriage to fellow diplomat and rising star Hal Wyler, who is played by Rufus Sewell.  The show will be 8 episodes for the first season.
More Thanksgiving casting: Eli Roth has rounded out the main cast for his full-length version of the fake Grindhouse trailer Thanksgiving with Gina Gershon, Tim Dillon, and Rick Hoffman joining the cast.  Patrick Dempsey and Addison Rae were previously cast to star.
Gattaca TV series in development: A TV adaptation of Andrew Niccol's cult classic Gattaca is being developed by Sony and Showtime, to be a Showtime/Paramount+ series.  Alex Gansa and Howard Gordon, the team that previously developed Homeland are in talks to be the showrunners of the series.  The original movie starred Uma Thurman and Ethan Hawke in a future world where parents can use eugenics to screen their unborn children for genetic defects and guarantee a perfect child while anyone born by conventional means is dubbed an "in-valid" and relegated to a life of menial labor.
Monk sequel movie in development: Possibly riding high off the success of Poker Face, Peacock is bringing back another unconventional detective as Monk will return in a reunion movie.  Tony Shalhoub will reprise his role as Monk with original cast members Ted Levine, Traylor Howard, Jason Gray-Stanford, Melora Hardin, and Hector Elizondo also returning.  The original creative team behind the scenes, including executive producers Andy Breckman, Randy Zisk, and David Hoberman are returning as well.  The new movie will debut on Peacock and follows Monk returning for one last case that involves his stepdaughter Molly, who is preparing for her wedding.
James Gunn directing Superman: Legacy: James Gunn is personally bringing the first major piece of he and Peter Safran's new DC Universe to the screen as it was announced this week that Gunn will direct Superman: Legacy.  At the press event a few weeks ago when the plan for the new DC universe was revealed, it was announced that Gunn wrote Superman: Legacy but there wasn't an official decision on a director.  The new movie will follow Clark Kent early in his career at The Daily Planet and trying to reconcile his upbringing in Smallville and his Kryptonian legacy.  There is no casting yet for the new Superman.  The movie has a release date of July 11th, 2025.
Return to Silent Hill casts its leads: The new Silent Hill movie has cast its leads with Jeremy Irvine and Hannah Emily Anderson.  Based on Silent Hill 2, Irvine will play James Sunderland, who comes to Silent Hill after receiving a letter from his wife Mary (Anderson), who he believed was dead after suffering a mysterious illness.  Christophe Gans, who directed the original Silent Hill movie back in 2006, is returning to direct this new movie.  To coincide with the film, Konami is developing a remake of Silent Hill 2, similar to how Capcom has been remaking Resident Evil games.
Guillermo Del Toro making a Frankenstein movie for Netflix: After winning another Oscar for Pinocchio, Guillermo Del Toro is staying at Netflix for one of his next projects, his take on the iconic horror classic Frankenstein.  While no official casting is confirmed yet, the apparent top choices to star in the movie are Andrew Garfield, Oscar Isaac, and Mia Goth. Del Toro is still working on the script but has met with all three of the aforementioned actors.
Willow series may or may not be canceled: Conflicting reports came out this week about the Disney+ sequel series to Willow, as early in the week it was announced that the show was canceled but then showrunner Jon Kasdan came out and said, while they had released the cast from their contracts, they have been developing a second season but there's no clear idea of when or if they would actually go into production but it would be at least a year or more until anything may happen.
Garrett Hedlund joins Bass Reeves: Tulsa King co-star Garrett Hedlund is sticking with Taylor Sheridan and Paramount+, signing on to be a recurring role on the upcoming Bass Reeves series that will debut on the streaming service.  David Oyelowo is playing the legendary lawman Bass Reeves and is executive producing the show with Lauren E. Banks, Demi Singleton, Forrest Goodluck, and Barry Pepper previously cast as series regulars with Dennis Quaid and Grantham Coleman also appearing.  Hedlund is playing Garrett Montgomery, "a so-called posse man of the era who Bass hires for his riding know-how and expertise of the area".
Nathalie Emmanuel co-starring in The Killer remake: Fast & Furious co-star Nathalie Emmanuel will join Omar Sy in a remake of John Woo's The Killer, directed by the master himself.  The movie will be a Peacock exclusive, although details about the plot and characters remain under wraps.  The original movie followed Chow Yun-Fat as a hitman who takes on one last big job in order to make enough money to pay for surgery for a singer that he's fallen for that was injured in one of his previous assignments.
Theo Rossi joins The Penguin: The Penguin continues to round out its cast with Theo Rossi joining the cast in a key role.  The movie is a spin-off in the Matt Reeves Batman universe and follows Colin Farrell's Oswald "Ozy" Cobblepot as he makes his way up the ranks in the Gotham underworld.  Cristin Milioti was previously cast to co-star as Sophia Falcone.  The show is going to be an HBO Max exclusive series.
I'm like the J. Jonah Jameson of Everything Action, writing and editing and constantly demanding pictures of Spider-Man.
andrew garfield
bass reeves
christophe gans
daisy edgar-jones
denzel washington
eli roth
fall
frankenstein
garrett hedlund
gattaca
gladiator 2
guillermo del toro
hannah emily anderson
james gunn
jeremy irvine
john woo
jon kasdan
keri russell
lance reddick
mia goth
Monk
movie news
nathalie emmanuel
netflix
news shotgun
oscar isaac
peacock
return to silent hill
ridley scott
superman: legacy
taylor sheridan
thanksgiving
the diplomat
the killer
the penguin
theo rossi
tony shalhoub
tv news
twister
twisters
willow