Here's all the movie and TV news you need to know from the past week, it's the News Shotgun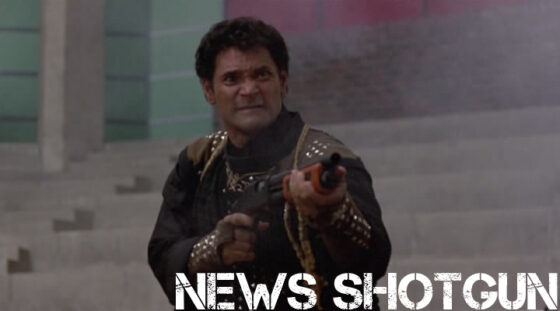 Lars Mikkelsen returning as Thrawn for Ahsoka: Teased in the Ahsoka trailer, it was confirmed at Star Wars Celebration that Lars Mikkelsen will reprise his role of Grand Admiral Thrawn in live-action after playing the character in animated form in Star Wars Rebels.  Rosario Dawson is returning as Ahsoka Tano with Natasha Liu Bordizzo playing Sabine Wren and Mary Elizabeth Winstead playing Hera Syndulla.
Three new Star Wars movies announced: Also at Star Wars Celebration, three new Star Wars movies were announced.  Dave Filoni, showrunner on the Star Wars animated shows as well as The Mandalorian and Ahsoka, will direct a movie that will conclude all the storylines he's been telling across all his shows while James Mangold will direct a movie that goes back to the beginning of the Force, pre-Old Republic, and explore how the Force was discovered and the earliest Jedi.  Emmy and Oscar-winning documentary director Sharmeen Obaid-Chinoy will direct a new movie set post Rise of Skywalker that will see the return of Daisy Ridley as Rey, who is training a new generation of Jedi.
IT prequel series begins casting: The first residents of Derry have been cast for the upcoming IT prequel series, Welcome to Derry.  Taylour Paige, Jovan Adepo, Chris Chalk, and James Remar were cast to star in the HBO Max series, which is being executive produced and directed by Andy Muschietti, who directed the two most recent IT movies.
Priyanka Chopra Jonas joins Heads of State: Priyanka Chopra Jonas is sticking with Amazon as, along with starring in the upcoming series Citadel, she's signed on to co-star with John Cena and Idris Elba in the action movie Heads of State.  Ilya Naishuller, who directed Nobody, is directing the movie, and the movie is pitched as "Air Force One meets Midnight Run".
MaXXXine cast announced: Ti West is going big with the third movie in his and Mia Goth's X trilogy, MaXXXine, by adding several big stars to the cast.  Along with Goth starring as Maxine, the movie has cast Giancarlo Esposito, Kevin Bacon, Elizabeth Debicki, Moses Sumney, Michelle Monaghan, Bobby Cannavale, Lily Collins, and Halsey.  The movie is set in the 80s, post-X, where Maxine is in Los Angeles trying to make it as an actress but enters the seedy underworld of the porn industry.
Phillip K. Dick adaptation of Clans of the Alphane Moon coming to Amazon: Amazon is dipping back into the world of Phillip K. Dick with an adaptation of Clans of the Alphane Moon.  The novel is set following a war between Earth and planet Alpha III, which Earth has won.  Earth now wants to secure their new colony of Alpha III M2 under their control but the government forces have to deal with the numerous clans, designated by different mental disorders.  John Leguizamo is producing the new series and the series is being described as "a subversive, genre-bending, sci-fi comedy about desperately trying to escape, and ultimately having to embrace our flaws, told through the prism of a Latinx family en route to a new, faraway moon".
Michael Mann moves forward with Heat 2: Based on the novel he co-wrote with Meg Gardiner, Michael Mann is in negotiations with Warner Bros. Discovery to turn Heat 2 into a movie.  The novel told the story of what happened following the events of Heat, as Vincent Hanna pursues Chris Shiherlis after killing Neil McCauley and the book also jumps back to 1988 to follow a young McCauley and his crew as they pull off some of their earlier scores in Chicago, along the Mexican border and the West Coast.  Along with negotiations to develop the movie, there's talk that Adam Driver might be in talks to play the young Neil McCauley, originally played by Robert DeNiro in Heat.  Driver starred in Michael Mann's upcoming movie Ferrari.
Harry Potter reboot series in development: HBO Max is looking to turn the Harry Potter novels into a TV series and is in talks with series author JK Rowling to finalize a deal and move forward.  The series, if it moves forward, would reboot the Harry Potter franchise and retell the story of the book series, with each book getting a full season of episodes.
Napoleon gets November release date: Apple TV+'s Ridley Scott epic Napoleon is coming out on November 22nd in theaters, with a release on the streaming service afterward.  The movie is a historical action epic in the vein of Scott's previous movies, like Kingdom of Heaven and Gladiator, with Joaquin Phoenix playing the French emperor and military conqueror and Vanessa Kirby playing Empress Josephine.
Legendary gets Street Fighter rights: Legendary Entertainment, the production company behind Dune and the Monsterverse, has obtained the film and TV rights to Street Fighter from Capcom.  A new movie was announced as being in development, with Capcom co-producing, but there were no other details at the current time.
Moana live-action remake in development: Announced by Dwayne Johnson and Disney CEO Bob Iger, a live-action "reimagining" of Moana is in development at the studio.  Johnson will produce along with Moana co-star Auli'i Cravalho, but it's not clear if they will reprise their roles or have new actors cast as Moana and Maui. Jared Bush, who wrote the animated movie, will return to work on the live-action version.
Amazon thriller Killer Heat gets cast: A new Amazon thriller has found its main cast with Joseph Gordon-Levitt, Shailene Woodley, and Richard Madden co-starring in Killer Heat.  Based on the short story The Jealousy Man by Jo Nesbø, the movie, "follows twin brothers who are caught in a violent love triangle on a remote Greek island. A damaged detective, known as "The Jealousy Man," is called in to investigate".  Philippe Lacôte is directing.
Paddington 3 filming this summer: Paddington is coming back with Paddington in Peru, the third movie in the beloved franchise, which starts shooting in July this year.  Dougal Wilson is making his feature debut while the previous director of the Paddington series, Paul King, is producing along with Simon Farnaby and Mark Burton.  The movie follows Paddington as he journeys to Peru, the country he was born in, to find out more about his past and get into new, sticky situations.
Robert DeNiro starring in Paramount+ series Bobby Meritorious: Robert DeNiro is coming to Paramount+ with a crime drama series called Bobby Meritorious.  The series, written by Billy Ray and "is set amid the U.S. Attorney's Office for the Southern District of New York, which is a sovereign kingdom with seemingly unlimited power and scope. But now an informant in SDNY's biggest case, Avery "The Sage" Accomando, played by De Niro, is poised to tear this storied institution apart. Only one man can stop him, a fabled ex-cop-turned-prosecutor affectionately known as Bobby Meritorious. The battle between these two giants is a fight for justice itself".  Former U.S. Attorney for the Southern District of New York, Preet Bahara, is an executive producer on the series and Paramount also optioned his book, Doing Justice: A Prosecutor's Thoughts on Crime, Punishment, and the Rule of Law.
Ballerina gets a release date: Ana De Armas' John Wick spin-off, Ballerina, has gotten a release date of June 7th, 2024.  The movie is being directed by Len Wiseman and follows De Armas as the titular Ballerina, an assassin trained under The Director, played by Anjelica Huston in John Wick Chapter 3 (and returning in this movie), who sets out on her own mission of revenge.  Keanu Reeves, Ian McShane, and the late Lance Reddick are reprising their roles from the main John Wick series with Gabriel Byrne, Catalina Sandino Moreno, and Norman Reedus co-starring.
I'm like the J. Jonah Jameson of Everything Action, writing and editing and constantly demanding pictures of Spider-Man.
ana de armas
andy muschietti
ballerina
bobby meritorious
clans of the alphane moon
grand admiral thrawn
harry potter
heads of state
heat 2
It
joaquin phoenix
john wick
killer heat
lars mikkelsen
legendary
maxxxine
mia goth
michael mann
moana
movie news
napoleon
news shotgun
paddington 3
paramount
phillip k dick
Prime Video
Priyanka Chopra Jonas
ridley scott
robert deniro
star wars
street fighter
ti west
tv news
welcome to derry